Hi guys, what's up? =) Today I have a quick review for you.
Golden Rose
came out with 10 different magnetic polishes, and they are gorgeous. I really like the quality and the wide selection.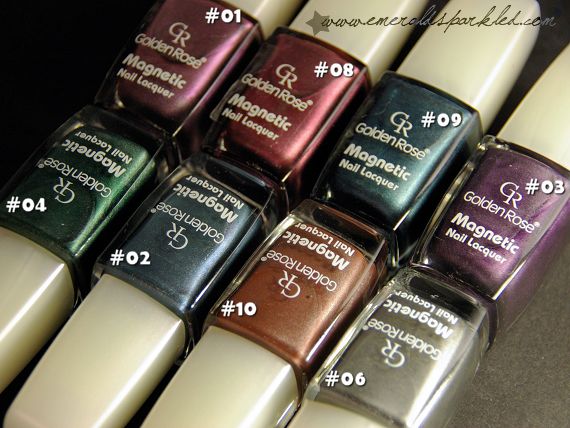 Golden Rose Magnetic Collection
I bought 8 of 10 polishes. The ones I left behind were very similar to the taupe and the rosy red and I felt no need to get them. Since my torn nail has not grown out yet, I only did skittle swatches instead of full.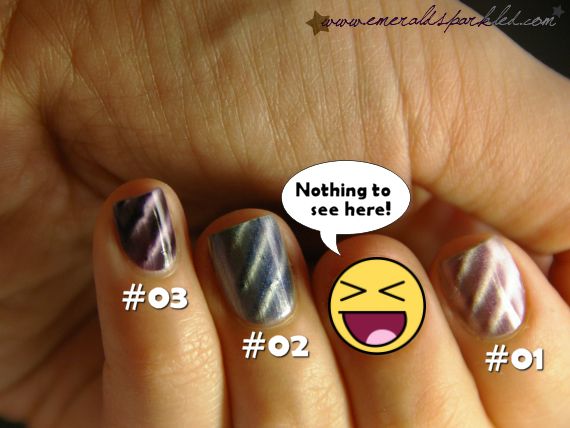 Golden Rose Magnetic Collection #03, #02 and #01
#03
is a dark purple,
#02
is slate blue and
#01
is lilac.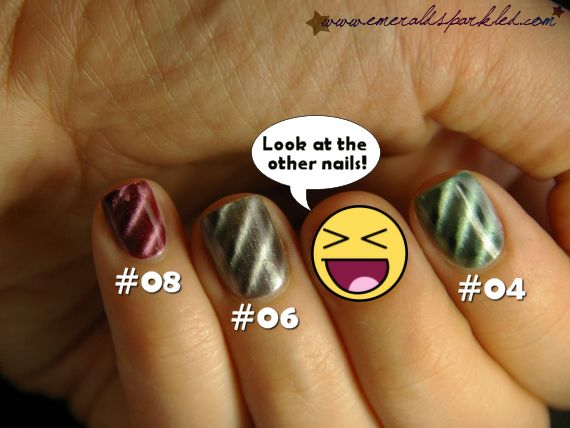 Golden Rose Magnetic Collection #08, #06 and #04
#08
is a rosy red,
#06
is gunmetal gray and
#04
is emerald green.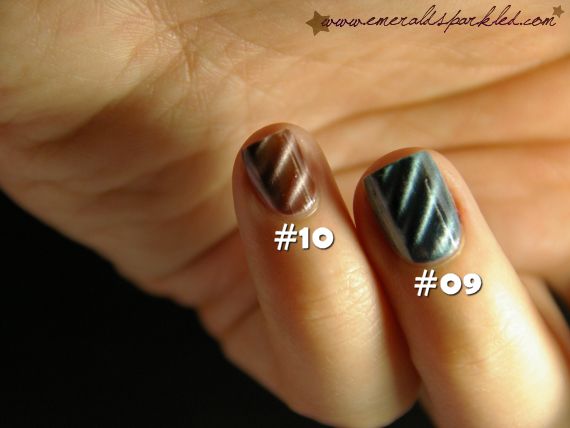 Golden Rose Magnetic Collection #10 and #09
#10
is taupe and
#09
is a very dark blue green.
My absolute favorites are #03, #04, #06, #08 and #09. Actually I love them all. They all look excellent once the magnet is applied.
Each box contains a striped magnet. The magnet is pretty strong and very easy to use. The closer you hold it after application the stronger your pattern will be.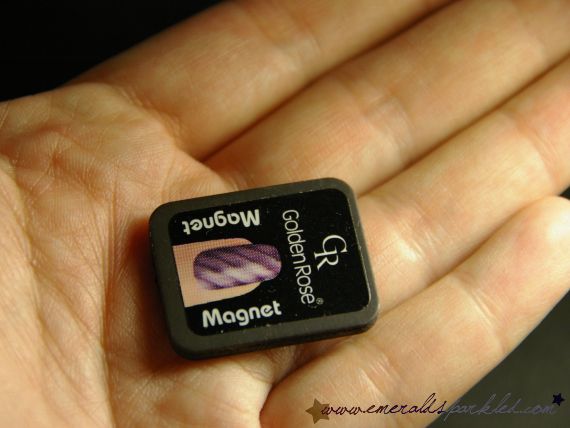 Each box contains a striped magnet
You have to hold the magnet to your nail immediately after application, that means you have to do your nails one by one. After application I held the magnet above my nail for a couple of seconds, and that was enough for a strong pattern to show up.
Golden Rose Magnetic Polishes retail here for about $3.50, and I don't know if they will be available internationally. If you never tried a magnetic polish before, this line has great variety, works excellently and is pretty inexpensive.
I hope you enjoyed this post. Till next time, take care!
Selam millet, nasılsınız? =) Bugün oldukça hızlı bir tanıtım yapacağım. Belki duymuşsunuzdur, Golden Rose 10 farklı renkte manyetik oje çıkardı piyasaya. Renkler başarılı, kalite süper. Ben 10 renkten 8 tanesini aldım, diğer ikisini ise koleksiyondaki bazı renklere çok benzemeleri sebebiyle bıraktım. Yırtılan tırnağım hala iyileşmediği için, her tırnağıma farklı bir renk sürerek tanıtmayı tercih ettim.
Resimlere gelecek olursak;
#03 koyu mor, #02 soluk mavi ve #01 lila.
#08 gül pembesi, #06 kurşun grisi ve #04 zümrüt yeşili.
#10 köstebek rengi ve son olarak #09 koyu petrol mavisi.
Benim en çok beğendiklerim #03, #04, #06, #08 ve #09 oldu. Aslında hepsine bayıldım. Mıknatıs tutunca kedi gözü gibi oluyorlar, gözünüzle görmeniz gerek...
Her kutuda çizgili desen oluşturan mıknatıslardan var. Mıknatıs oldukça güçlü, üstelik ne kadar yakın tutarsanız desen de o kadar belirgin oluyor.
Uygulamayı merak ediyorsanız, her tırnağınıza ojeyi sürer sürmez mıknatıs tutuyorsunuz. Mıknatısı tırnak yüzeyinin birkaç milimetre yukarısında tutmanız gerekiyor. Tırnağınıza değdirmeyin, yoksa oje bozulur. Ben her tırnağıma oje sürdükten sonra mıknatısı birkaç saniye boyunca tırnak yüzeyime yaklaştırıp bekletiyorum. Zaten başka da bir şeye gerek kalmıyor, ortaya çıkan desen gayet belirgin oluyor.
Golden Rose Manyetik ojelerin fiyatı 7 TL. Ojeleri Golden Rose kioskları ve Erkul Kozmetik mağazalarında bulabilirsiniz.
Umarım hoşunuza gitmiştir. Bir dahaki yazıda buluşmak üzere!

Türkçe için tıklayın | Click here for Turkish