Hello everyone! I've been missing for the past week - first I was infected with flu and it was a very persistent one, I was even prescribed an IV bag and 5 different pills to speed up the recovery. Then I went to this place:
Do you know which city I'm talking about? German folks probably guessed right, I was in Munich for the Easter holidays =) Sadly I was too sick to remember that it was Easter, shops were closed! O_o We were lucky to have them opened on Easter Saturday, though, and I could get my hands on Nintendo 3DS Aqua Blue! =DDD And my brother got it in Cosmo Black. It's sold for about 360 EUR in my country, and I only got it for about 220 EUR! (249 EUR minus Tax.) Anyone wants to exchange friend cards? Just e-mail me!
(Done using bm16 and black on top of
China Glaze Happy Go Lucky
.)
Other than that, we visited Deutsches Museum, Dachau Concentrations Camp, Olympic Village and Starnberg Lake =) Here is a picture of me and my brother, near Olympic Park Lake =)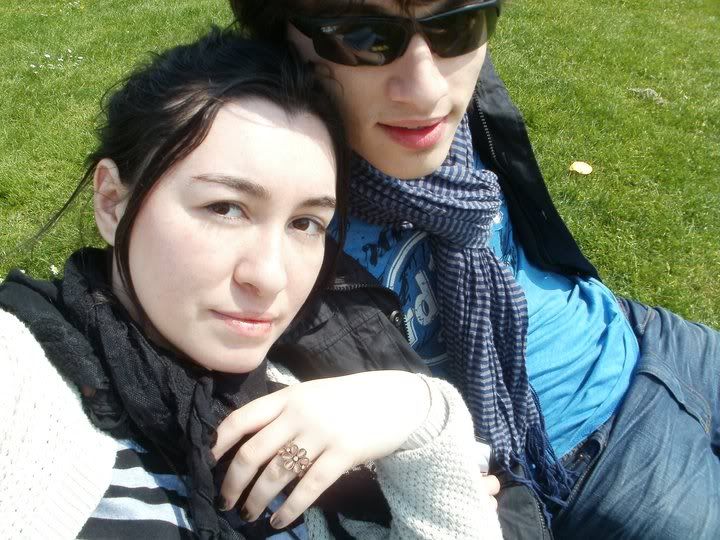 I was still sick here, after 10 days! =/
Here is another manicure I did in the past week, using
OPI Fiercely Fiona
and the Hello Kitty Fauxnad plate.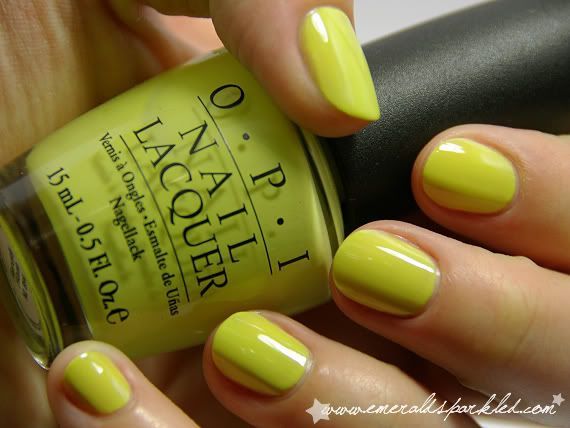 I really liked the combination of Fiercely Fiona with purple =)
Finally, here is a design inspired by the tape manicures of
Erika
. She is amazingly talented & creative with her Scotch tape manicures, I'm always inspired by how amazing such simple ideas can look! Here is my first try, using
Essence Dress For A Moment
, black and
China Glaze IDK
:
German tap water doesn't agree well with my skin. Look how dry & ragged the skin on my fingers looks! Even Lemony Flutter didn't help much. I guess it's a matter of getting used to a new environment.
That's all for now, have a great day/evening =)
Herkese merhaba! Bir haftadan fazladır yoktum - öncelikle çok inatçı bir gribe yakalandım, en sonunda serum bağlayıp beş tane ilaç & kesin istirahat vermek zorunda kaldı doktor. İşe gidemedim, hatta yataktan bile pek çıkmadım. Sonra biraz kendime geldiğimde hop, ver elini Münih gibi bir durum oldu.
Normalde önemli günleri yakından takip eden biri olduğum halde, hastayım diye mi bilinmez, Paskalya olduğu tamamen aklımdan çıkmış! Bir gittik ki her yer kapalı. Allahtan biraz şansımız vardı da Cumartesi günü dükkanlar açıldı. Böylece ben ve kardeşim birer Nintendo 3DS alabildik =) Buradaki fiyatı 800 TL iken, Tax Free oluşunu da hesaba katarak 500 Lira gibi bir fiyata gelmiş oldu. Friend Card değiş tokuş etmek isteyen olursa, bana mail atsin =)
Bunun dışında Deutsches Museum, Dachau Toplama Kampı, Olimpik Köy ve Starnberg Gölü'ne gittik =) Resimde ben ve kardeşim Olimpik Park Gölü'nün kenarında, 25°C'ye varan sıcaklıkta yayılıyoruz =) Kemiklerim ısındı valla, yoksa zor iyileşirdim herhalde...
Yaptığım başka bir manikür,
OPI Fiercely Fiona
üzerine Hello Kitty Fauxnad diski ile mor çiçekler. Sarıyla mor kontrast renkler olduğu için çok uyumlu oluyor, ama benimkisi biraz aceleye geldi.
Son olarak,
Erika
'nın muhteşem bant manikürlerinden esinlendiğim bir desen. Bant manikürlerinde o kadar basit fikirlerden yola çıkarak o kadar harika gözüken şeyler yapıyor ki, aklım gidiyor! Bu da benim ilk denemem,
Essence Dress For A Moment
, siyah ve
China Glaze IDK
kullandım.
Bu arada Almanya'nın çeşme suyu ya kireçli ya da genel olarak çok sert, çünkü elimi yıkadıktan sonra sanki aseton değmiş gibi derim kabuk kabuk soyuluyor. Lemony Flutter bile işe yaramadı, sanırım alışmak gerekiyor olmaması için...
Şimdilik bu kadar, görüşmek üzere =)
Türkçe için tıklayın | Click here for Turkish