Earth Day is April 22nd, but I had some spare time on the weekend, so I decided to go ahead with the idea on my mind.
I chose
OPI Suzi Says Feng Shui
as my base color, then painted the continents with green acrylic paint. On my thumb it says: Earth Day, 04.22.2011 =) I know Australia is very wonky, because I ran out of space and had to squeeze it =D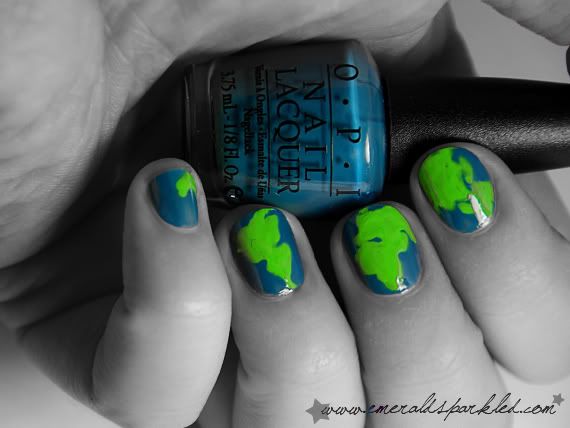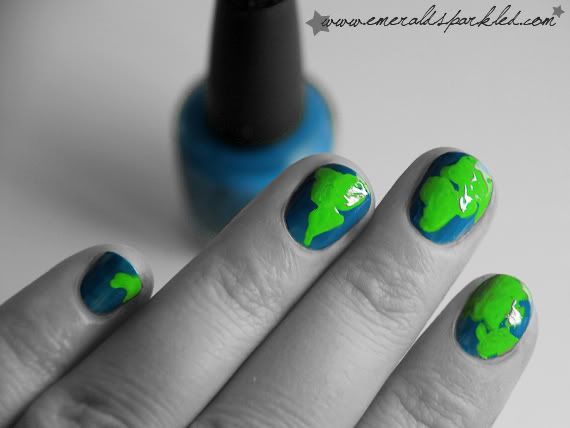 Thumb: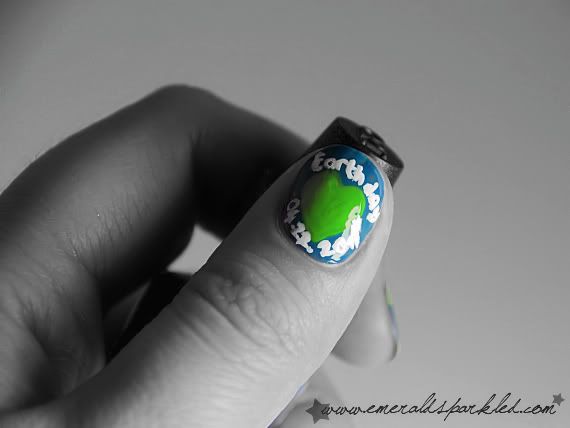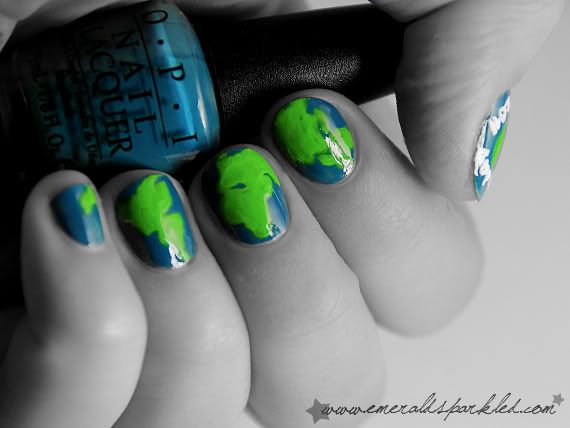 I couldn't help but think of the MJ song "Heal The World" when I did this manicure. Listen to it
here
=)
Do something for the Earth, don't buy more than you can use, don't pollute, dispose your items carefully, use recycled stuff, environment friendly energy, etc. Maybe there's not much a single person can do, but together we can achieve something. =)
Dünya Günü aslında 22 Nisan, fakat hafta sonu biraz boş zamanım oldu, ben de aklımdaki fikri hayata geçirmeye karar verdim.
Baz olarak
OPI Suzi Says Feng Shui
sürdüm, sonra kıtaları yeşil akrilik boya ile çizdim ve içlerini boyadım. Baş parmağımda "Dünya Günü, 04.22.2011 (4 Nisan 2011)" yazıyor =) Biriyorum Avusturalya kıtası biraz garip oldu, alan kalmamıştı ben de biraz sıkıştırdım =)
Bu manikürü yaparken aklıma hep Michael Jackson'un en anlamlı şarkılarndan "Heal The World" geldi. Siz de
buradan
dinleyebilirsiniz =)
Bu hızla gidersek, Dünya'nın fazla ömrü kalmadı. Siz de Dünya için birşeyler yapın, örneğin kullanacağınızdan fazlasını satın almayın, çevreyi kirletmeyin, çöplerinizi ayrıştırarak atmaya çalışın, geri dönüştürülmüş ürün kullanmaya çalışın, çevre dostu enerjiden yana olun, vs. Belki tek kişinin yapabileceği fazla birşey yok, ama bunu yüzlerce, binlerce, milyonlarca insan uygulamaya başlarsa gerçekten işe yarayacaktır. =)