Essie Smokin' Hot
is hot indeed! I almost decided not to buy it, but I'm so glad I did =) Smokin' Hot is a muted, purple leaning dark taupe. I would describe it as someplace between

Wenge
and

Dark Taupe
. It's very edgy and looks delicious =) It's like the non-shimmery version of Chanel Paradoxal, also the darker version of China Glaze Below Deck (a.k.a. Channelesque). I also tried this color with a matching holo layered over it, also with Zoya Vegas Freeze on top, and every version looked amazing!
This manicure is not my own idea, I've seen it someplace called "Miracle Nail Art" a long time ago, but I can't seem to find the source now. If you already know what I'm talking about, please leave me a link in the comments, so I can give proper credit.
The nails are painted with Essie Smokin' Hot and a franken of mine, a mix of Orly Prince Charming and a grey by Claire's. Fingers are alternating, 2 Smokin' Hot & 3 Franken on my left hand, and vice versa on the other. On the franken-nails I stamped the rose-y design from m65 in black, and on Smokin' Hot nails I added clear rhinestones. Sealed everything with Sally Hansen Insta-Dri. (In case you were wondering which topcoat I'm using!)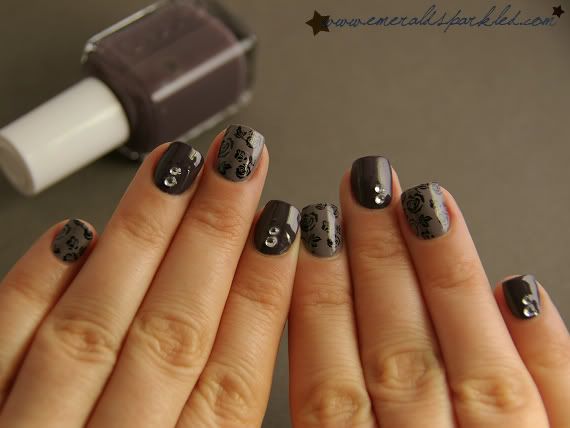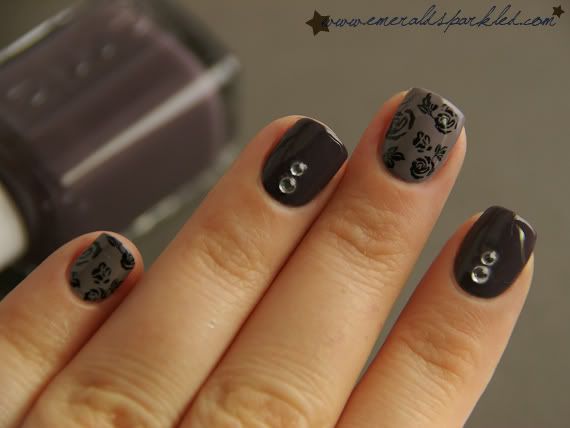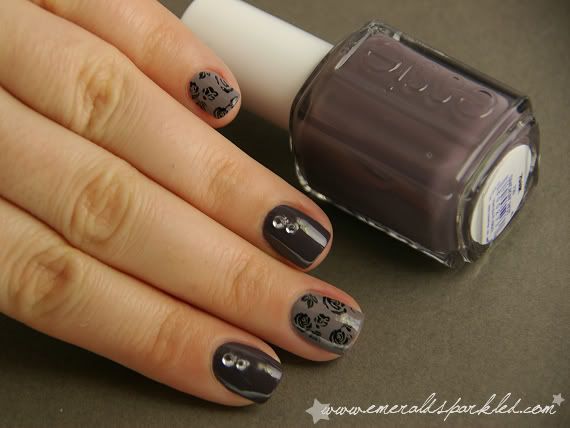 I'm really digging this look! =D Thank you for the idea, Miracle Nail Art!
Essie Smokin' Hot gerçekten de adı gibi, türkçeye çevirmek gerekirse "taş" =D Az daha bu ojeyi almayacaktım, sonra Dilek Going Incognito'yu alınca ben de gaza geldim ve ani bir kararla aldım, iyi ki de almışım =) Smokin' Hot mora çalan, soluk, koyu köstebek rengi. Renk tanımlarken kendimi deli gibi hissediyorum, kulağa saçma geliyorsa hoş görün lütfen =) Gerçekten bu senenin modasına farklı bir soluk, şahane bir renk =) Chanel Paradoxal'ın ışıltısız versiyonunu düşünün, ya da China Glaze'in ısrarlara dayanamayarak Below Deck adı altında yeniden piyasaya sürdüğü Channelesque isimli ojenin koyusunu. Ben bu rengi üzerine benzer renkte holo sürerek, Zoya Vegas Freeze sürerek denedim, her hali muhteşem oldu.
Bu manikür benim fikrim değil, "Miracle Nail Art" diye bir yerde görmüştüm uzun zaman önce, ama aradığımda böyle bir site bulamadım. Eğer nereden bahsettiğimi biliyorsanız yorumlarda linkini verin, doğru düzgün kaynak belirtebilirim böylece.
Tırnaklarımda Essie Smokin' Hot ve kendi yaptığım, Orly Prince Charming ve Claire's gri karışımı bir oje var. Tırnaklarımı iki ojeyi sürekli değiştirerek boyadım. kendi yaptığım oje olan tırnaklara m65 diskindeki gül desenini siyah oje kullanarak damgaladım, Smokin' Hot olan tırnaklara ise taşlar ekledim. Üstlerinde Sally Hansen Insta-Dri cila var. Eğer tırnaklarınızın parlak görünmesini istiyorsanız, çabuk kurutucu bir cila kullanabilirsiniz, Insta-Dri ya da Golden Rose Quick Dry gibi. Kurutucu damlalar bu işi görmez, birbirine karıştırmayın =)
Böyle manikürleri çok seviyorum =D Fikir için teşekkürler, Miracle Nail Art!

Türkçe için tıklayın | Click here for Turkish