Hello everyone =) Sorry for the lack of posts, I hope everyone had a splendid time at New Year's Eve =) Mine was alright, I didn't support any special manicure, my pinky nail was broken and I was demotivated.
Did you know that now you can get them internationally? Thanks to Sideral from Makeupalley, I'm very happy to inform that you can buy them from a Bulgarian online store, and the shipping prices are very decent! =) Check out the beginning of my
holo review post
for more information!
Today I'm wearing
Catherine Arley #669
. It's a greyed out champagne with a pale gold flash. The holographic effect is definitely there, but it was a bit harder to capture with my camera, trying to hide my pinky at the same time =)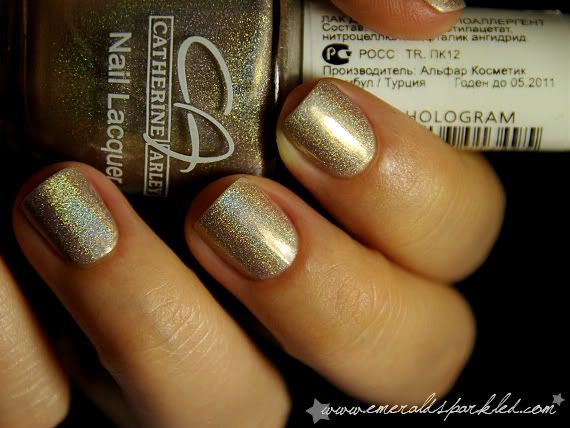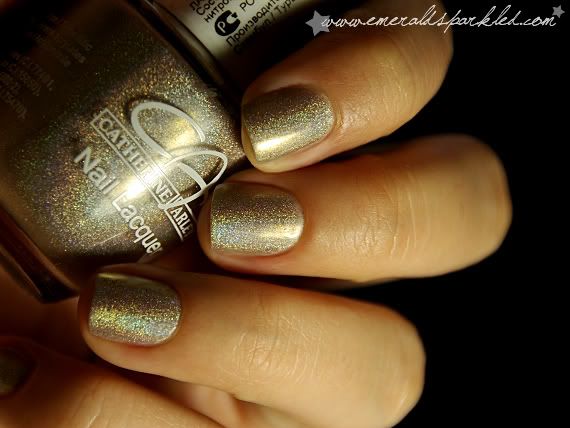 My cuticles are a bit ruined because of the cold and acetone-free remover. I'm giving them Lemony Flutter bath 2 times a day =D
Herkese merhaba =) Bu aralar biraz az yazıyorum, üzgünüm bunun için. Umarım hepinizin yılbaşı çok eğlenceli geçmiştir! Benimkisi güzeldi, özel bir manikür yapamadım çünkü serçe parmağımın tırnağı kırılmıştı ve bütün motivasyonum gitti.
Bugün ise tırnağımda Catherine Arley #669 var. Griye çalan bir şampanya rengi olduğunu söyleyebilirim, soluk altın rengi flaşa sahip. Holografik etki bir önceki #676 kadar olmasa da gayet güçlü, sadece serçe parmağımı saklamaya çalışırken yakalamakta biraz zorlandım =)
Tırnak diplerim de soğuktan ve asetonsuz oje çıkarıcıdan mahvoldu. Günde 2 kez Lemony Flutter banyosu yaptırıyorum, anca kendine gelecek herhalde =D