Can you guess what's coming up tomorrow? CAN YOU? =) Yesss, that's right! Tomorrow I'll post about the Hunger Games Giveaway! But before that, here is my Hunger Games manicure for you.
For this manicure I used all nail polish and no acrylic paint. On my three nails with flames, I started with yellow, went on with orange and red for the core of the flames, outlined & painted the top part with black nail polish. I used orange hexagonal glitter to represent embers. =)
On my ring finger I painted one of President Snow's white roses. You fans should already know why it's dripping blood, right? =) Also, the blood is sparkling because I can't get enough of
China Glaze Ring In The Red
=D
On my thumb is a poor execution of the Mockingjay, I painted it using
China Glaze 2030
.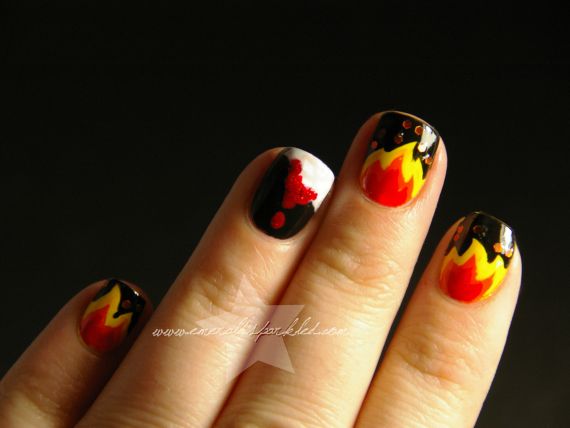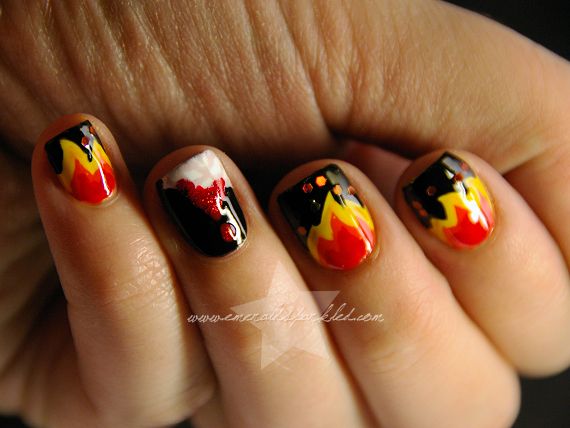 That was me rushing this post because it's way past bedtime. Good night, peeps! =D
Hunger Games fanları, ne olduğunu tahmin ettiniz mi? Yarınki çekilişi bekleyin çünkü bir şanslı kişiye Tanaçan sponsorluğunda Hunger Games koleksiyonunun 12 ojesi gidecek =) Ama ondan önce, size kendi yaptığım Hunger Games tırnaklarını göstereyim dedim.
Bu sefer bir değişiklik yaptım ve sadece oje kullandım. Alevli tırnaklar için önce sarı oje sürerek başladım tüm tırnağıma, daha sonra turuncu ve kırmızı ile alevlerin içini çizdim. Son olarak siyah ile alevlerin dış hatlarını çizdim ve üst tarafı boyadım.
Yüzük parmağının tırnağında beyaz bir gül var, Başkan Snow'un gülü. Niye kan damladığını anladınız herhalde =) Bu arada kan damlası simli, çünkü resmen China Glaze Ring In The Red kullanmak için bahane arıyorum =)
Son olarak baş parmakta Hunger Games'in sembolü olan Alaycı Kuş var, onu da China Glaze 2030 ile çizdim.
Yatma saatini geçtiğim için acele acele yazdım, hepinize iyi geceler! =)

Türkçe için tıklayın | Click here for Turkish