Hey guys =) Have you missed me? =) I'm going to make it short: I broke two nails, they grew back, I have been looking for inspirations ever since. Today's inspiration is: Rainbow Dash!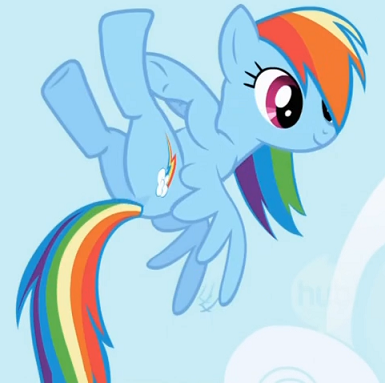 Rainbow Dash
Rainbow Dash is my favorite Pony. I decided to do a quick and messy nail art dedicated to her, using acrylic paint. Thumb and ring are
Zoya Gilda
, the rest is my pastel blue franken. I drew Rainbow Dash, the rainbows & the clouds using acrylic paint.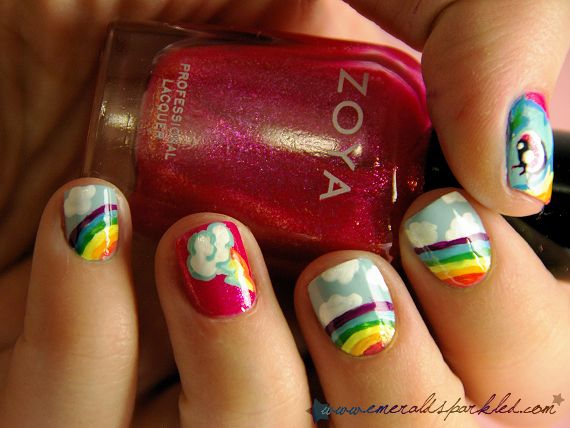 Rainbow Dash Nail Art
Rainbow Dash Nail Art
Rainbow Dash Nail Art, Thumb
By the way, although I don't post every single nail polish I wear on my blog, I still change my polish every single day. That's why I started using an iPhone app called
my365
, to show my daily manicures. It automatically shares the link on twitter, but you can also view them
here
. I like the idea of posting my casual manicures somewhere else, because I want this place to be somewhere I can show the very best manicures I can do.
Sorry for the quick post, I managed to regulate my sleep cycle & I'm going to bed now! =)
Selam millet =) Özlediniz mi beni? Kısaca anlatayım: İki tırnağım kırıldı, dolayısıyla şevkim de kırıldı. Sonra tırnaklarım uzadı, bu sefer fikir bulmakta biraz zorluk çektim. Ama artık bir başlangıç yapma vaktiydi, gerisi gelir diye umuyorum =)
Bugünün ilham kaynağı, My Little Pony'den Rainbow Dash. Baş ve yüzük parmaklarımda
Zoya Gilda
, diğerlerinde ise kendi yaptığım pastel mavi oje var. Rainbow Dash, bulutlar, gökkuşakları hep akrilik boya ile boyandı.
Bu arada, yaptığım her manikürü bloga koymak istemiyorum. Hem kalabalıklaştırmak gibi geliyor, hem ben zaten her yaptığım şeyi beğenmiyorum. Bunun için yakın zamanda
my365
isimli bir iPhone uygulaması kullanmaya başladım. Her gün için tek bir fotoğraf paylaşıp bir takvim oluşturmayı hedefleyen bir uygulama. Ben nasıl olsa ojemi her gün değiştirdiğim için, uygulamayı oje fotoğraflarını paylaşmak amacıyla kullanmaya karar verdim. Twitter'da her yeni fotoğraf için link paylaşıyor ama siz
buradan
da bakabilirsiniz. Burayı ise sadece yapabildiğimin en iyisini göstermek amacıyla kullanmak istiyorum.
Bugünlük biraz kısa oldu ama sonunda uykumu düzene sokmayı başardım, şimdi yatıyorum iyi geceler! =)