Hello everyone =) Here is another Valentine's Day idea for you. I sat down to do my manicure with something completely different in my mind, and I came up with this manicure. I used
China Glaze Cheers To You
as my base color, then I added rose-shaped blobs in the corners using
China Glaze Rose Among Thorns
and my dotting tool. I drew the outlines & the thorns using black acrylic paint and a fine brush, finally I added some highlights using
China Glaze Flip Flop Fantasy
.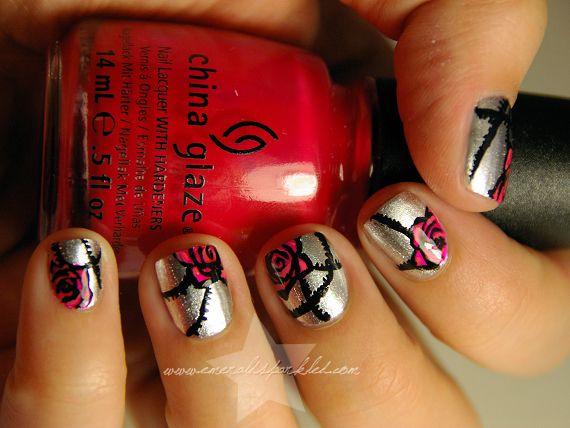 Rose Among Thorns Nail Art
Rose Among Thorns Nail Art
I hope you liked it =)
I also have some giveaway news for you. China Glaze Turkey and I decided to make a great giveaway. This should be my early 4000 follower giveaway, and it will be open to everyone. All I need is your input on which upcoming China Glaze Collection you would prefer to win. My vote automatically goes to Hunger Games, but I saw wheel swatches of the other two collections and I must say that Summer Neons look pretty awesome, too.
Please vote in the poll below. You can vote for multiple collections, the collection getting the most votes will be my giveaway price, and all 12 colors will go to a single winner =) Here is a little help:
Hunger Games
,
Summer Neons
,
On Safari
.
I also added my International Followers blogroll back, but right now it only accepts 166 blogs. Any blog added afterwards causes the widget to hang. Funny, huh? Please don't be sad if you don't see your blog on my blogroll. I will try to add the rest every day, in hopes of Google finally fixing the widgets.
Herkese merhaba =) Bir başka Sevgililer Günü manikürü ile karşınızdayım. Aslında tırnaklarımı boyamak için oturduğumda aklımda alakasız bir fikir vardı, ama sonra ortaya bu çıktı. Tabanda
China Glaze Cheers To You
kullandım, daha sonra
China Glaze Rose Among Thorns
kullanarak tırnakların köşelerine gülü andırabilecek şekiller çizdim. Bunu yaparken benek yapma aletini kullandım. Daha sonra dış hatları ve dikenleri siyah akrilik boya ve ince bir fırça kullanarak çizdim, son olarak da
China Glaze Flip Flop Fantasy
ile aydınlatmalar yaptım.
Umarım hoşunuza gitmiştir =)
Bu arada, sizin için bazı haberlerim var. China Glaze Türkiye (Tanaçan) ve ben, sizin için bir çekiliş hazırlamaya karar verdik. Bu erken gelen bir 4000 izleyici çekilişi gibi bir şey olacak, ve hem yurt içi hem yurt dışına açık olacak. Tek ihtiyacım olan, çıkacak hangi koleksiyonu kazanmak istediğinize dair oyunuz. Benim oyum Hunger Games'e giderdi, fakat hem Safari hem de Summer Neons'un kartela'ya sürülmüş hallerini gördüm, özellikle Summer Neons o kadar muhteşem ki, aklım durdu.
Lütfen yukarıdaki ankette oy verin. Birden fazla koleksiyona oy verebilirsiniz, en çok oy alan koleksiyondaki tüm ojeler bir kişinin olacak. Fikir olması için:
Hunger Games
,
Summer Neons
,
On Safari
.