First of all
, guys, there is no malware on my blog. Looks like Iris has been having some problems with her blog and I've informed her about the issue, let's hope she gets it resolved quickly. Sadly I can't remove her blog from my blog list as a temporary solution, because there's an ongoing problem with blogger widgets and I don't want to remove and lose my international blogroll. Feel free to continue when Chrome displays a warning, your computer won't be infected with something malicious =)
Today's manicure is as seen by wonderful
Rina
. Everytime I see a new manicure of her, I can't help but wonder: How is she both creative & does picture perfect manicures? Do her skills have a limit? =) I always find myself going through
her awesome blog
when I'm out of ideas.
This manicure
, I loved it so much I knew I was doing it sooner or later. I really envy her bigger nail beds & even nails, she has 10 perfect canvases to work on! I had to keep my hearts smaller & the final look is not even close to her awesome manicure, but I still love the design so much =) Kudos, Rina, for being so simple yet awesome, you will always be one of my biggest inspirations =)
I used
China Glaze Second Hand Silk
, a cool toned pink. Then I drew the hearts using black and white acrylic paint, according to the tutorial in Rina's post above.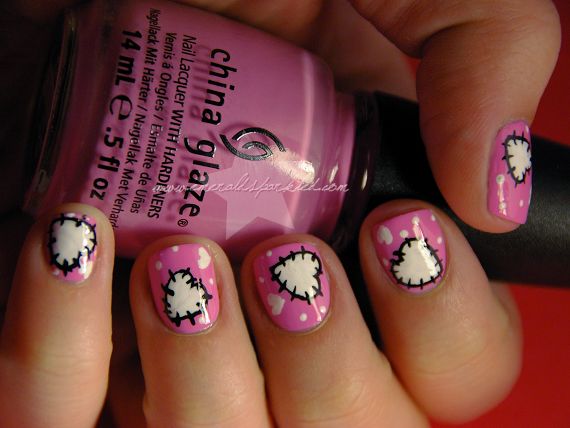 Heart Patches Nail Art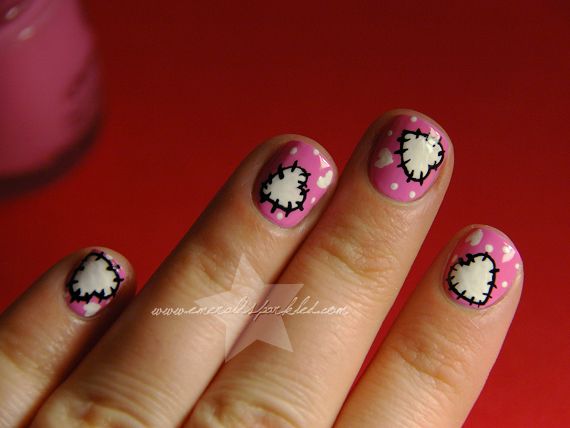 Heart Patches Nail Art
Ain't this a great Valentine's Day idea? Plus, if you're careful, it's simple enough to do on both hands! =)
This is it for tonight, see you soon!
Öncelikle arkadaşlar
, blogumda kötü amaçlı yazılım filan yok. Bahsedilen blog Iris'in blogu ve kendisine haber verdim, umarım yakın zamanda bir çözüm bulur. Bu blog benim sadece blog listemde bulunuyor, ancak geçici bir çözüm olarak silemiyorum blog listemden, çünkü widget doğru çalışmıyor bir süredir, Blogger kaynaklı bir sorun bu. Ve blog listemi tamamen silersem takip ettiğim bütün yabancı blogları tekrar eklemek zorunda kalacağım, bunu da istemiyorum. Bu yüzden şimdilik "Devam et" seçeneği ile blogumda güvenle gezebilirsiniz =)
Bugünün manikürü, hepinizin bildiği gibi bayıldığım
Rina
'dan esinlendi. Bu kızın her yeni manikürünü gördüğümde şaşmadan edemiyorum: Nasıl hem bu kadar yaratıcı, hem bu kadar becerikli olabilir? Acaba yeteneğinin bir sınırı var mı? =) Ne zaman iyi bir fikrin eksikliğini çeksem, kendimi
Rina'nın harika blogunda
buluyorum.
Bu manikürü
ise o kadar beğendim ki, er ya da geç yapacağımı biliyordum. Ben kalpleri sığsın diye daha küçük tutmak zorunda kaldım ve son hali asla Rina'nın yaptığının yanına yaklaşamaz, ama yine de çok mutlu oldum tırnaklarıma bakınca =)
Tabanda
China Glaze Second Hand Silk
kullandım, soğuk tonlu bir pembe. Daha sonra, yukarıdaki linke tıklarsanız görebileceğiniz videodaki gibi kalpler çizdim, siyah ve beyaz akrilik boya kullandım.
Sevgililer Günü için süper bir fikir olurdu, değil mi? Üstelik eğer eliniz biraz alışkınsa, iki ele de uygulamak için çok uygun =)
Bu akşamlık da bu kadar, görüşmek üzere!