I saw
this manicure
on
The Illustrated Nail Tumblr
, and thought it was badass. I decided to give something similar a try, but keep it simpler. Since my nails are not oval, I decided to keep the frame as thick as the round glitter I was going to use. This glitter sample was sent to me by
Viva La Nails
about two years ago. I checked out their website and it looks like they don't sell this kind of glitter anymore. I can easily find hexagonal shaped glitter that changes color according to light, but not these round, uniform, metallic-looking glitter.
I started off by painting the nails with
China Glaze Midnight Kiss
, neutral gold foil. Then I left a tiny frame of gold outside and filled in with black acrylic paint. I could have just painted my nails black & frame the outside with glitter, but I didn't want black to peek out from the empty spaces between glitter pieces. After framing with glitter pieces, I sealed with two coats of topcoat. I couldn't resist adding a Chanel logo on the middle nail =)
The end result surely looks rich, but it's actually pretty wallet-friendly =)
Look Rich, Be Cheap Nail Art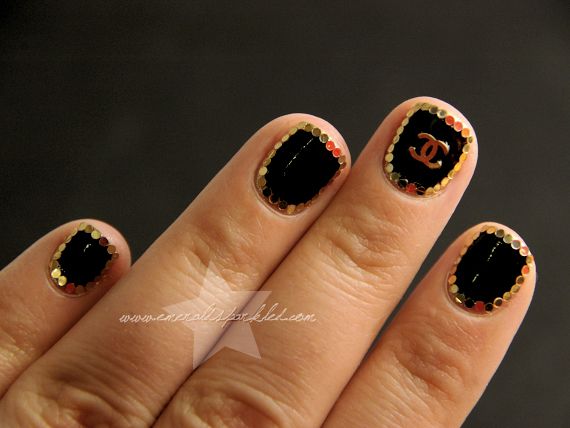 Look Rich, Be Cheap Nail Art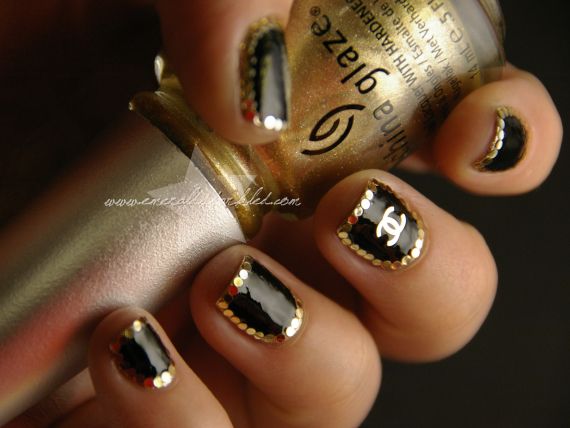 Look Rich, Be Cheap Nail Art
Thank you for your input on my Giveaway Poll, you can vote till Feb 20th, it's on the sidebar for easy access =)
Bu manikürü
The Illustrated Nail
Tumblr'ında gördüğümde resmen "Off..." dedim, sizce de çok güzel değil mi? Ben de benzer bir şey denemek istedim, ama daha basit olsa daha iyi olacaktı çünkü tırnaklarım o kadar uzun ya da geniş değil... Tırnak şeklim kare olduğu için, sadece kullanacağım altın rengi simin genişliğinde bir çerçeve bırakmaya karar verdim. Bu simler, iki yıl kadar önce
Viva La Nails
tarafından gönderilmişti. Şu an web sitelerine baktığım zaman, bu tarz bir sim göremedim. Bu simler altıgen değil, ayrıca ışıkta renk değiştirmiyor, metalik altın rengi duruyor.
Tırnaklarıma
China Glaze Midnight Kiss
sürerek başladım. Midnight Kiss, altın rengi, folyo görünümlü bir oje. Daha sonra, ince bir altın rengi çerçeve bırakacak şekilde iç kısmını siyah akrilik boya ile boyadım. Tabi tırnaklarımı tamamen siyaha boyayıp sadece dış tarafa altın renkli simlerle bir çerçeve yapmak da mümkündü, üstelik daha zahmetsiz olurdu, ancak ben simlerin arasından siyah oje gözükmesini istemedim. Ya da öyle başladığım için öyle devam etmiş de olabilirim, kim bilir? =) Altın rengi simleri yerleştirdikten sonra, iki kat cila sürerek tamamladım. Bu arada orta parmağıma da bir Chanel logosu yerleştirmeye engel olamadım =)
Sonuç, son derece lüks gözüküp aslında maliyeti çok düşük olan bir manikür.
Bu arada çekiliş anketine katıldığınız için teşekkür ederim! Ayın 20'sine kadar oy verebilirsiniz, anket kolay erişebilmeniz için sağ tarafta =)