Today is Day 23, nails
INSPIRED BY A MOVIE
.
Lion King is one of my favorite movies of all time. I was actually torn between Lion King and the Matrix, but then I chose Lion King because I thought it would be more fun to do and appeal to a bigger crowd.
I started by painting my nails with
Flor Mar #41
, a sunshine yellow. Then I surrounded the sun using
Zoya Tamsen
, brick red. I highlighted the red sky using
Orly Teeny Bikini
. Finally I drew the characters using black acrylic paint.
Thumb is
Orly Teeny Bikini
, and just the name Lion King written in acrylic paint.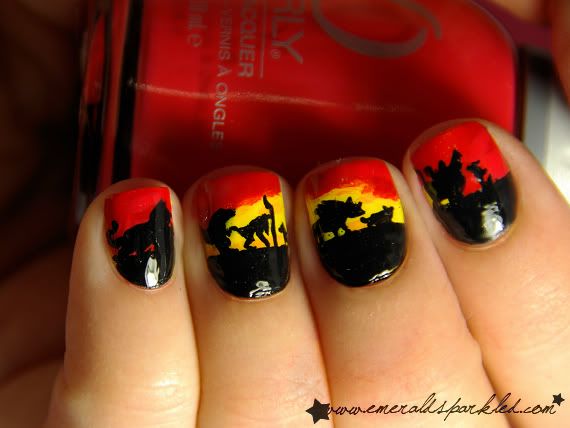 Lion King Nail Art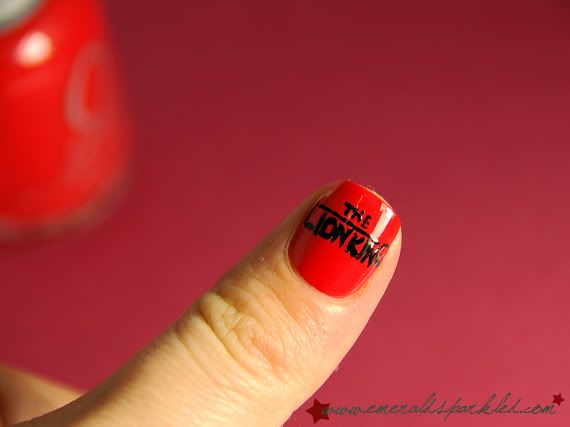 Lion King Nail Art, Thumb
By the way, thank you so much for your support yesterday! I just found some time and I'm going to answer your comments =)
Sometimes short comments go into the spam bin, which I forget to check regularly. But I retrieve them as soon as I see them =)
I hope you liked this manicure. See you on Day 24!
Bugün 23. Gün, yani BİR FİLMDEN İLHAM ALAN TIRNAKLAR.
Aslan Kral hayatta en çok sevdiğim filmlerden biri olageldi her zaman. Aslında Matrix ile Aslan Kral arasında kalmıştım, ama sonra Aslan Kral'ı seçtim çünkü hem uğraşmanın daha zevkli olacağını, hem de daha geniş bir kitleye hitap edeceğini düşündüm.
Zeminde Flor Mar #41 var, favori sarı ojelerimden biri. Daha sonra Zoya Tamsen ile çevresine gökyüzünü çizdim, Orly Teeny Bikini ile kırmızı gökyüzündeki kırmızı bulutları ekledim. Son olarak karakterleri siyah akrilik boya ile çizdim.
Baş parmağımda ise Orly Teeny Bikini üzerine siyah akrilik boya ile Lion King (Aslan Kral) yazdım.
Bu arada dünkü yorumlarınız ve desteğiniz için teşekkür ederim! Şu an ancak fırsat bulabiliyorum, mümkün olduğunca yorumlarınızı yayınlamaya çalışacağım.
Ha bu arada, bazen kısa yorumların spam olarak işaretlendiğini fark ettim. Ben oraya kırk yılda bir bakıyorum ama bundan sonra daha çok dikkat edeceğim. Görür görmez kurtarıyorum, merak etmeyin =)
Umarım hoşunuza gitmiştir, 24. Gün görüşmek üzere!
Türkçe için tıklayın | Click here for Turkish