The day has arrived. The day everyone is trying to avoid like the day of doom. It's Day 20,
WATER MARBLED
nails.
I never liked water marbling, the result is never worth the mess I create during the process. Plus, I can never get the base color + marble colors + ideal polish consistency combination right. Yesterday, I sat down and tried. And tried. I started from the scratch for about 4 times. It always went like this: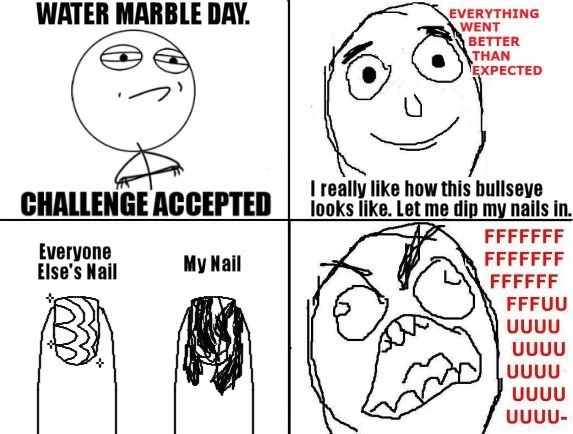 Finally I painted my nails white and used Essie polishes, which work really great with marbling. I used
Haute As Hello
,
Nice Is Nice
,
Mint Candy Apple
and
Flirt
.
Water Marble Nail Art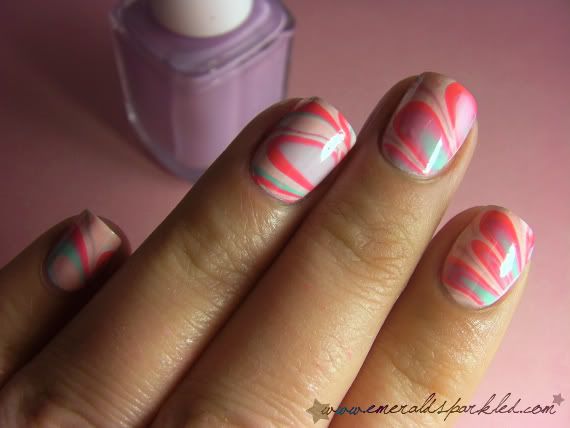 Water Marble Nail Art
I'll probably never ever do that again.
For those who asked for a detailed explanation & list of polishes in my previous post, I'm going to do a video tutorial & prepare the list of polishes for each individual nail for you. Stay tuned!
Herkesin ödünü patlatan gün sonunda benim için geldi. 20. Gün, yani
EBRU
tırnaklar.
Suya ebru yapmak gerçekten kolay bir şey değil. Hem doğru baz oje, hem suda iyi dağılan ojeler, hem de bunların üst üste nasıl duracaklarını iyi kestirebilmek lazım.
Dünden beri oturdum ve 4 kez sil baştan yaptım. Yaparken de biraz kafayı çizdim ama en sonunda 4 adet Essie oje kullanarak insan içine çıkabileceğim bir manikür yapmayı başardım. Kullandığım ojeler beyaz üzerine
Haute As Hello
,
Nice Is Nice
,
Mint Candy Apple
ve
Flirt
.
Benden bu kadar, bir daha da asla yapacağımı sanmıyorum.
Bu arada bir önceki yazımda galaksi tırnakların yapım aşamaları ve kullandığım ojelerin listesini öğrenmek isteyenler olmuş, bununla ilgili bir video çekip aynı zamanda her tırnak için kullandığım ojeleri tek tek listelemeyi düşünüyorum, çok yakında =)