Yesterday something happened that made many nail polish bloggers freak out. A blogger wrote about how people with uneven nails & untidy cuticles should not bother posting about their manicures, because they can't stomach the look of them. Plus, people who draw
cupcakes
and think they look cute should stop doing that because cupcake nail art looks like a mix of nail fungus and nails dipped in cupcake cream. (?) And to top that, she asked why people even bother wearing something other than red and french when guys don't like other colors anyway, to add up to her bigotry. Oh, and she can't simply look away or decide not to visit these blogs anymore, because whatever she does, she always encounters some sort of hideous nail art. Riiiight.
When I tried to comment on her blog, she decided to not publish my comment because I supposedly "attacked" her, and that I'm one of those people anyway if the post bothered me so much.
Well, let me say a few words here. This will be my unpublished comment, not meant to attack anyone, but defend those people who are being attacked.
Blogs are our personal space, and whatever annoyance it might cause you will not stop anyone from doing anything that makes them feel good about themselves. And who here draws cupcakes on their nails to please a guy? That would be incredibly desperate.
Getting good at nail art & learning to control your brush is a lot of work, which requires so much time & patience. Most of the time you want to give up. Most of the time you're not pleased with your work or with yourself. There is no need to attack people in this tender state by saying things like: "Oh your nails are ugly! Your nail art sucks! Why bother posting? You make me want to gag!" Flash news: The world doesn't revolve around you or your standards. Clicking X in the upper corner helps you avoid anything you don't want to see, and this is certainly a more humane way than bullying people by making them feel insecure & stop posting altogether.
I can draw cupcakes on my nails. I can even dip my nails in cupcake cream & call it nail art. It's my blog and you don't have any right over it.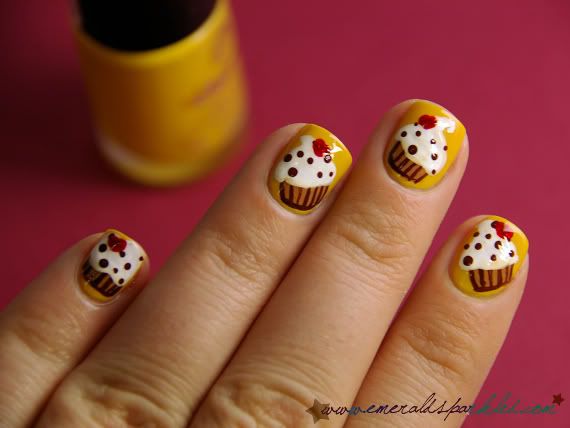 Cupcake nails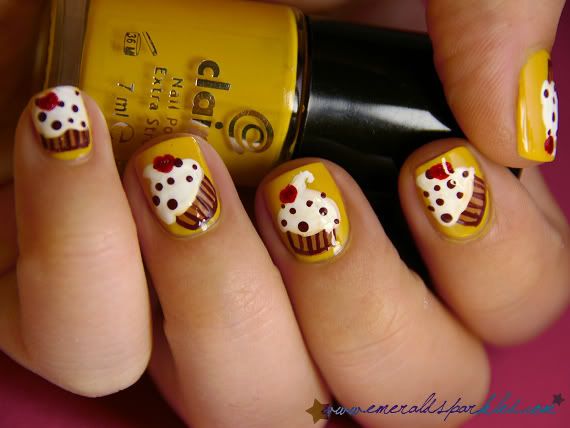 Cupcake nails
If you ever feel offended by anyone, blogger or not, feel free to take this badge & shove it in their face. /endrant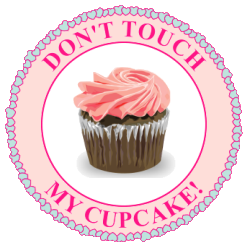 Here is everyone who contributed:
Dün çok can sıkan bir yazıyla karşılaştık, hem makyaj, hem stil, hem de oje bloglarına saldırgan bir üslupla yazılmış bir yazıydı. Benim canımı sıkan kısmına gelecek olursak, tırnakları farklı boylarda, tırnak etleri düzgün olmayan insanların neden manikür yapıp göz zevkini bozduğundan, böyle resimlerin bloglara konulmaması gerektiğinden bahseden bir yazıydı. Kendi beğenmediği tırnakları en hafif tabirle mide bulandırıcı olarak niteleyen bir üslüpla yazılmış bu yazı, aynı zamanda cupcake gibi şeylerin tırnağa çizildiğinde mantar kapmış tırnak, cupcake kremasına sokulmuş tırnak gibi görüntüleri anımsattığından ve bu yüzden iğrenç olduğundan bahsediyordu. Bir de zaten fransız manikürü ve kırmızı hariç tırnakların zaten erkeklerin hoşuna gitmediğini, hala neden başka renkler sürdüğümüze anlam veremediğini yazmıştı. Zaten kadınlardaki oje bağnazlığının güzelleşmeyi yalnızca erkekler için istemek zihniyetiyle birleşmiş hali olan bu son cümleye diyecek hiçbir lafım yok. Ha bir de görmek istemediği şeylerden kaçmanın mümkün olmadığını, takip etmemeyi seçmekle olayın bitmediğini çünkü bir şekilde karşısına çıktığını yazmış bunların. Eveeet.
Bloguna bıraktığım yorumu yayınlamadığı gibi, kendi alaycı ve saldırgan üslubundan sonra kullandığım kelimelere "carlamak", "saldırmak" gibi yakıştırmalar yapması da ilginç oldu. Yaptığım yorumun uğradığım haksızlıktan ve karalamadan ötürü biraz daha nezaketten arınmış halini burada yazacağım, ki saldırganlıkta malum yazının yakınında bile olmayacakır. Merak eden varsa twitter hesabımdan yorumun içeriğini görebilir.
Öncelikle bu yazım saldırmak için değil, saldırıya uğrayan arkadaşlarımı savunmak içindir.
Bloglar bizim kişisel alanımız olduğuna göre, kimin canını ne ölçüde sıkarsa sıksın, midesini ne derece rahatsız ederse etsin insanın kendisini iyi hissetmesine sebep olan şeyler yapmasını etkilemeyecektir. Zaten kim tırnaklarına bir erkeği etkilemek için desen yapacak kadar çaresiz durumda olabilir ki? Bu zihniyeti insanın önce kendinde araması gerekir.
Tırnak desenlerinde iyiye gitmek için önce fırçayı, daha sonra da nail art fırçalarını iyi kullanabilmek gerekir, bu da çok zaman ve sabır isteyen bir şeydir. Çoğu insan yolun ortasında pes eder, yaptıklarından nefret eder, yapamıyorum ben diye düşünerek kesip atar. İnsanlar zaten böyle aşamalardan geçiyorken "Tırnakların çok yamuk! Beceremiyorsan yapmayacaksın! Midem bulanıyor böyle şeylerden!" gibi şeyler söylemenin anlamı var mı? Sana bir haberim var: Dünya senin ve standartlarının etrafında dönmüyor. Köşedeki çarpıya basıp çıkman inan çok kolay, üstelik insanları tartaklayıp kendilerine olan güvenlerini kaybetmelerine sebep olmaktan ve bir şeyler üretmeye olan heveslerini kırmaktan çok daha insancıl bir çözüm.
Ha bir de, tırnaklarıma ister cupcake çizerim, ister tırnaklarımı kremaya daldırıp "sanat yaptım" der geçerim. Burası da benim blogum, ve kimsenin burada söz sahibi olmaya hakkı yok.
Eğer sizi de böyle inciten, hevesinizi kıran, moralinizi bozan insanlar oluyorsa; ya da böyle atıp tutarak destek bekleyen, kafasına uymayan bir tepki görünce de saygısızlaşan zihniyete karşıysanız, aşağıdaki rozeti blogunuza koyabilirsiniz.
Tırnaklarınıza istediğiniz her şeyi çizebildiğiniz günler dilerim.
Katılanlar: