Hey guys =) Here is a quick post of Day 18,
HALF MOON
nails. For this manicure I used
Konad Pastel Purple
as my base color, then I painted the moons using
Flor Mar Miracle Colors U33
. I used
Flor Mar Supermatte m120
&
Pastel #82
for the roses, and
Essence Trust In Fashion
&
P2 Artful
for the leaves. I also used white acrylic paint for the stripes.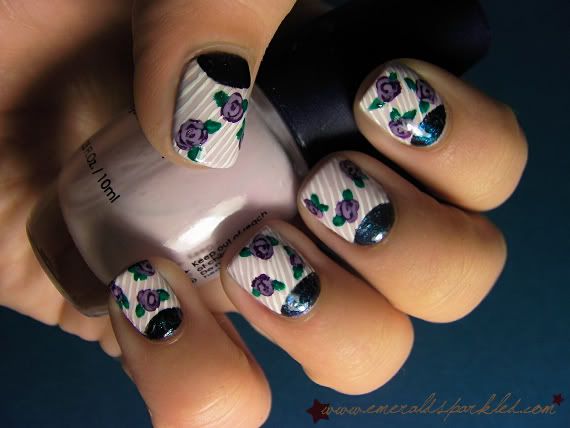 Vintage Half Moon Nail Art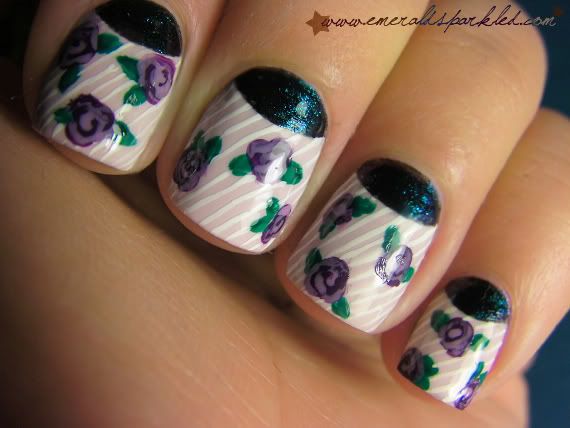 Vintage Half Moon Nail Art
I'm too tired to write more, see you on Day 19! =D
Selam millet =) Çok uykum geldiği için kısa bir yazı olacak. Bu günün teması YARIM AY manikürü. Bu manikür için öncelikle Konad Pastel Purple oje üzerine Flor Mar Miracle Colors U33 ile yarım ay desenlerini çizdim. Flor Mar Supermatte m120 ve Pastel #82 kullanarak gülleri, Essence Trust In Fashion ve P2 Artful kullanarak yaprakları çizdim. İnce çizgiler için beyaz akrilik boya kullandım.
Bu günlük böyle olsun, 19. Gün görüşmek üzere =D