Hey everyone! Today I have
T
R
I
B
A
L
nails to show you. This is my first attempt at Tribal Nails, and I must admit it was not easy at all. It requires very detailed work, and even if I tried my best, it came out nowhere near what some people out there managed to create.
I started off with
Orly Glitz & Glamour
, then I painted the designs using black & white acrylic paint.
I chose Glitz & Glamour because for me it's by far the best gold polish out there and it reminds me of Aztec Gold =)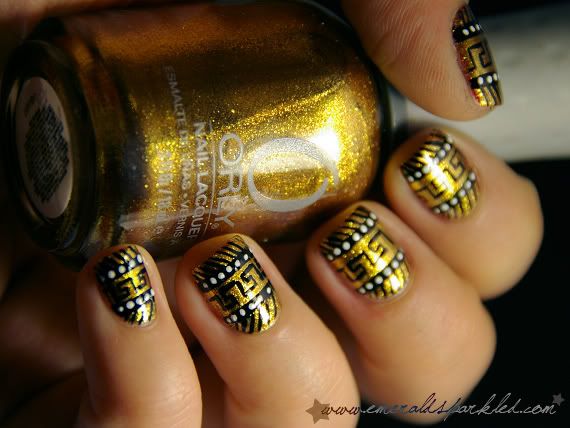 Aztec Nail Art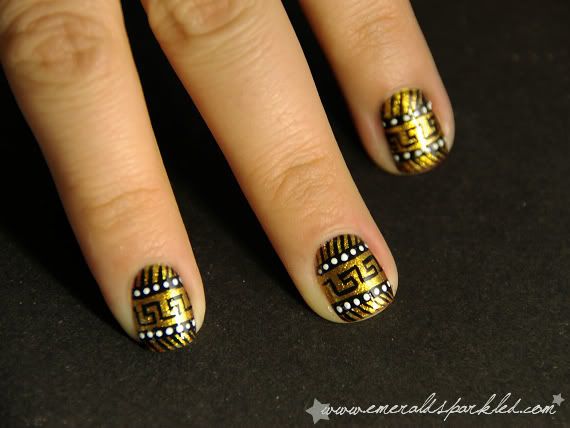 Aztec Nail Art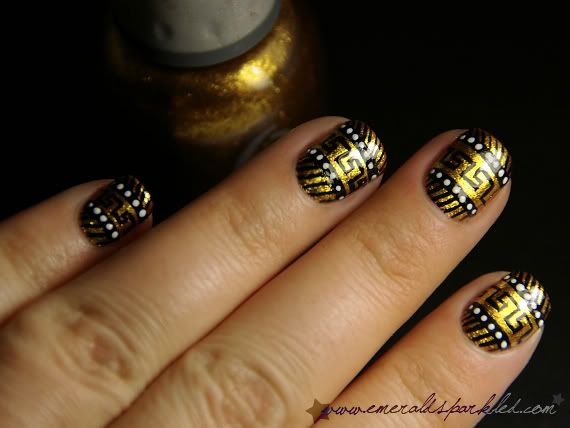 Aztec Nail Art
See you on Day 17!
Herkese merhaba! Bugün tırnaklarımda
K
A
B
İ
L
E
D
E
S
E
N
L
İ
bir manikür var. Son zamanlarda inanılmaz tutulan bir tema bu, kabile deseni dediğimiz şey aslında bize Afrika Kabileleri, İnka, Maya, Aztek, Kızılderili vs. uygarlıklarını çağrıştıran manikürler. Bu benim ilk denememdi, ve itiraf etmek gerekirse oldukça zorlandım. Çok dar bir alanda çok ince çalışmak gerekiyor, ve elimden geleni yaptığım halde internette gördüğüm bazı manikürlerin yanına bile yaklaşamaz...
Maniküre
Orly Glitz & Glamour
sürerek başladım, daha sonra siyah ve beyaz akrilik boya kullanarak desenleri çizdim. Glitz & Glamour benim en sevdiğim, hatta aşık olduğum ojelerden biri. Yapılmış en başarılı altın rengi oje bence. Bana Aztek Altınları'nı hatırlattığı için seçim bu ojeyi.
17. Gün görüşmek üzere, iyi geceler! =)