Hello guys! Today is Day 17, day of
GLITTER
nails!
I'm not very fond of glitter nails on me. Surely they look awesome, but I hate the removal. Ugh! Foil method doesn't seem to work for me, either. So I usually try to avoid glitter.
Today's manicure was not intended to come out this way. I first applied
Flor Mar N015
, a dark blue jelly. The color reminded me of the underwater anytime I looked at my nails today, so I decided to do an underwater manicure when I came home. I applied a coat of
Inglot #203
, green flakies. On top of that I drew the corals using acrylic paint, and topped them off with
China Glaze Mrs. Claus
. Then I drew the fish, and in the end I applied some
OPI Simmer & Shimmer
on the tips. Here is the end result: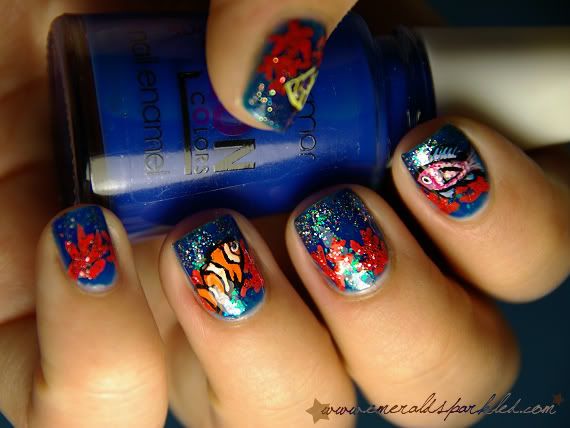 Underwater Nail Art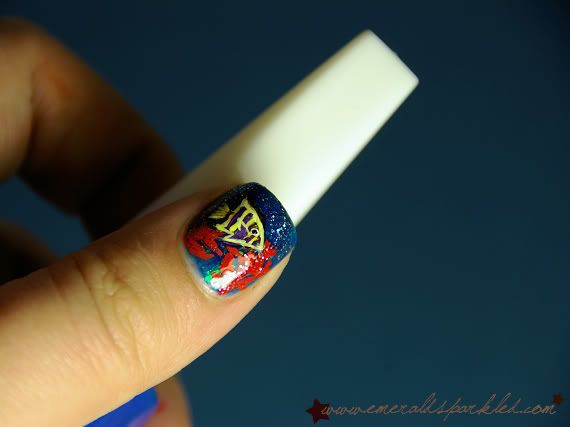 Underwater Nail Art
Underwater Nail Art
Although I couldn't really capture it on camera, it's all glittery in real life, so it fits the theme =)
I hope you liked this manicure, see you on Day 18!
Herkese merhaba =) Bugün 17. Gün, tırnaklarımda SİMLİ bir manikür var.
Aslında simli ojeleri pek tercih etmiyorum. Tamam çok güzel gözüküyorlar ama çıkarmak bir kabus adeta. Folyo metodu bende nedense hiç işe yaramıyor, bu yüzden mümkün olduğunca simden kaçınmaya çalışıyorum.
Bugünkü manikür aslında hiç aklımda olan bir şey değildi. Sim için bir fikrim yoktu, işe giderken Flor Mar N015 sürmüştüm. Çok güzel bir oje, jel yapıda koyu mavi. Bütün gün tırnaklarıma bakıp bakıp rengin bir su altı manikürüne ne kadar uygun olacağını düşündüm. Bu yüzden eve gelince üzerine Inglot #203 yeşil flakie oje sürdüm. Üzerine akrilik boya ile mercanlar çizdim ve üzerlerinden China Glaze Mrs. Claus ile geçtim. Daha sonra balıkları çizdim ve son olarak OPI Simmer & Shimmer simli ojeyi en uçlara sürdüm. Kamera pek yakalayamadı ama çok simli, ışıl ışıl oldu gerçekte. Temaya uyuyor yani ;)
Umarım hoşunuza gitmiştir, 18. Gün görüşmek üzere!