I obtained this polish about two months ago, on my birthday; but I never got around to sit down and take pictures.
Sephora Diving In Malaysia
has become famous day by day for being a cheaper alternative for Chanel's Peridot. I don't own Peridot, but from the comparison pictures I've seen online, I can say that they're really close. Peridot might have more green around the edges though, plus it's rather chrome than metallic.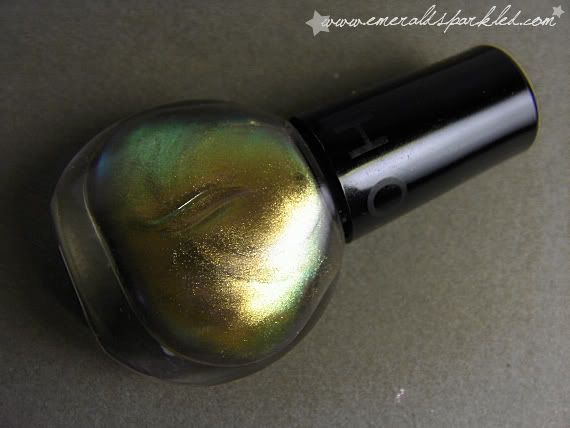 Sephora Diving In Malaysia
Here I'm wearing two coats of Diving In Malaysia. It's not exactly what I expected, most of the time it looks old gold, the duochrome effect barely shows up. I expected more of a pale gold-green shift, which is always visible. The consistency is great, though; you're good to go after two coats. There are minimal brushstrokes, most of them disappear when the nails are dry.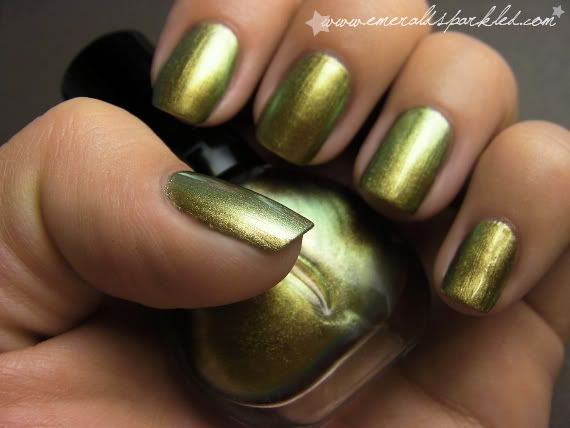 Sephora Diving In Malaysia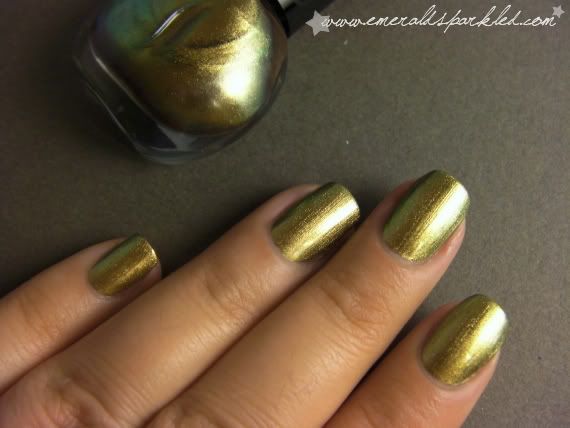 Sephora Diving In Malaysia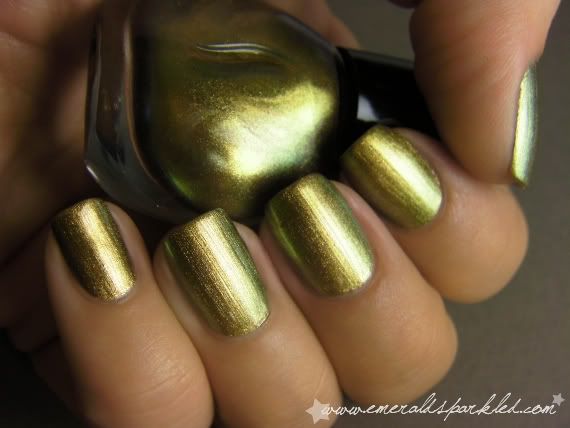 Sephora Diving In Malaysia
Sephora Diving In Malaysia
is only available in European Sephoras I believe, and it retails for about 6 EUR for a 5 ml (0.16 fl. oz.) bottle. Please leave a comment if you know where to get DIM online, so I can update this post with information.
I'm doing a big clean-up before starting work on Monday, it's been going on for the past 3 days, I'm so tired! I even can't find words to review a polish, my head has gone blank =) When I'm finished, and I'm going to have
Stash pics

Reviews

New Fall Polishes

Past Pink Wednesday Post for you! Till next time, take care!
Bu ojeyi iki ay kadar önce, doğumgünümde almıştım; fakat bir türlü sürüp resmini çekmeye fırsat bulamadım.
Sephora Diving In Malaysia
Chanel Peridot'un ucuz bir alternatifi olarak günden güne ün kazandı. Peridot bende yok, ama internette gördüğüm karşılaştırma resimlerine bakacak olursam, çok yakın olduklarını söyleyebilirim. Ama sanki Peridot'un kenarlarında biraz daha yeşil yanardöner etki var, bir de yapısı metalikten çok krom gibi geldi bana. Bu resimlerde tırnaklarımda 2 kat var. Tam olarak resimlerde görüp beğendiğim gibi olmadı tırnağımda; ben daha açık, daha soluk bir altın rengi beklemiştim, ayrıca kenarlardaki yeşil yanardöner etkinin her an görünür olacağını düşünmüştüm. Fakat öyle değil, yanardöner etki mevcut ama oje çoğu ışıkta yeşilimsi altın rengi gözüküyor. Kedi gözü rengi de diyebiliriz. Aslında çok güzel bir oje ama sanırım Peridot'un bazı resimleri beklentimi biraz yükseltti. Kıvamı çok güzel yalnız, tek katta bile opak oluyor. İki kat sürünce daha iyi oldu ama. Fırça izlerinin çoğu ise oje kuruyunca kayboldu.
Sephora Diving In Malaysia
sadece Avrupa'daki Sephora mağazalarında var bildiğim kadarıyla, ben 5 ml'lik şişesini 11 TL'ye aldım. Eğer Avrupa dışında bir ülkeye gönderim yapan bu ojenin satıldığı bir site biliyorsanız yorumlara yazabilirsiniz, ben de yazıya eklerim bu bilgiyi. Pazartesi günü işe başlayacağım için odamda büyük bir temizlik harekatı başlattım, 3 gündür bununla uğraşıyorum, canım çıktı! Kafam o kadar durmuş ki, resmen ojeyi tarif ederken ne yazsam, nasıl yazsam bilemedim =) İşim bittiği zaman sizin için
Tüm ojelerimin ve malzemelerimin resmi

Yeni tanıtımlarım

Sonbahar renklerinde oje yazılarım

Geçtiğimiz pembe çarşamba manikürüm olacak! Bir dahaki sefere kadar kendinize iyi bakın!
Türkçe için tıklayın | Click here for Turkish