Hey guys! Catching up fast, am I not? =) Today's manicure is inspired by Pinkberry, the frozen yogurt. I've always loved frozen yogurt, and I jumped in joy when I heard it would start swirling in Istanbul, and even better, in 5 minute walking distance to where I live! So I've been eating a huge Pinkberry every day since July. I always get a passionfruit one, with strawberries & pomegranate on top. I love tart & tangy flavors combined with yogurt, and I can safely say I've developed an addiction =)
Yesterday my brother's girl friend came back from UK, and she brought me a couple of polishes, including
Barry M Peach Melba
and
Beauty UK Soft Green
. When I saw these together, I immediately thought of Pinkberry (Where we were just about to go.). And today I decided to give the Pinkberry manicure a try, using those two colors.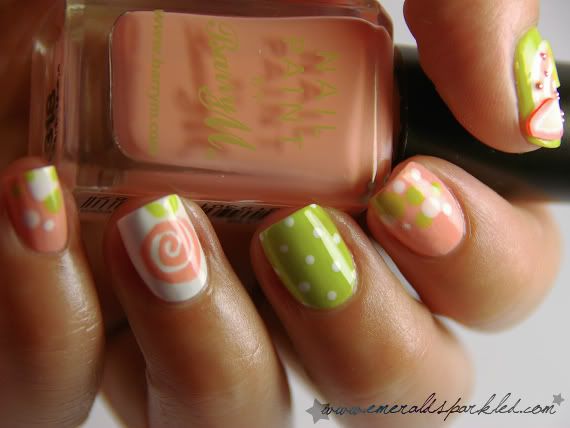 Pinkberry Manicure
Pinkberry Manicure, Thumb
Pinky and Index are random blobs of
Soft Green
and White over
Peach Melba
, Ring is the Pinkberry logo over white, Middle is white polka dots over
Soft Green
, and Thumb is a Pinkberry with various toppings.
So what do you think of frozen yogurt? Do you like it? Which one is your favorite?
Selam millet! Bu kadar ayrı kaldıktan sonra arayı çabuk kapatayım dedim. =) Bugünkü manikür Pinkberry'den esinlendi. Donmuş yoğurdu eskiden beri severim, bu yüzden Pinkberry'nin evime 5 dk mesafeye açılacağını öğrendiğim zaman mutluluktan uçmuştum. Böylece Temmuz'dan beri her gün adeta bir bağımlı gibi bir büyük boy Pinkberry yemeye başladım. Tropikal üzerine çilek ve nar tavsiye ederim, muhteşem oluyor =)
Dün kardeşimin kız arkadaşı İngiltere'den döndü. Bana birkaç oje getirmiş, aralarında Barry M Peach Melba ve Beauty UK Soft Green de var. İkisini bir arada görünce aklıma hemen Pinkberry manikürü yapmak geldi (Zaten o sırada oraya gidiyorduk.). Böylece bugün bu manikürü yaptım.
İşaret ve serçe parmaklarımda Peach Melba üzerine Soft Green ve beyaz ile yapılmış benekler var. Yüzük parmağımda beyaz üzerine yapılmış Pinkberry logosu, orta parmağımda Soft Green üzerine beyaz puantiyeler, ve başparmağımda üzerinde çeşitli şeyler olan bir Pinkberry var.
Donmuş yoğurt hiç denediniz mi? Sevdiniz mi? En sevdiğiniz kombinasyonlar hangileri?