This manicure is a monster. It's so hungry that it consumed 4 coats of polish & 4 coats of topcoat. It all started with 2 easy coats of
China Glaze Aquadelic
. I just love the color and the formula. It flows like water! It's like For Audrey; but darker, greener & more saturated. Then I applied
China Glaze Snow Globe
&
China Glaze Techno
in that order. For the roses I used
Essie Haute As Hello
& acrylic paint for the outlines.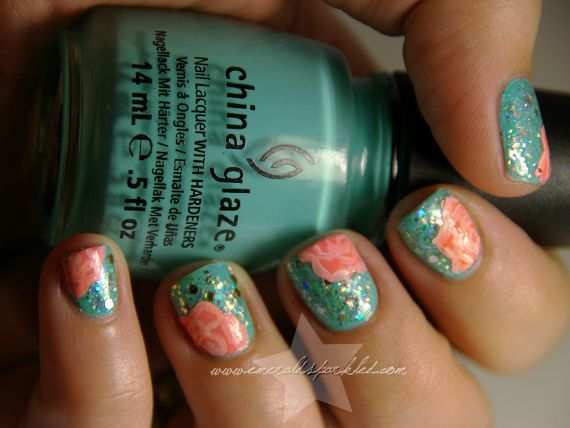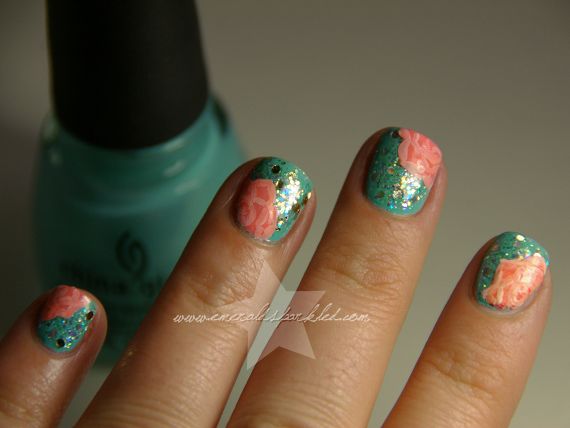 By the way, thank you for voting! Voting is now closed, and I'll be giving away The Hunger Games Collection =) Hunger Games fans, unite! =D
Bu manikür resmen bir canavar oldu. Gördüğünüz tam 4 kat oje & 4 kat ciladan oluşuyor. Daha sonra kalıp halinde çıkınca hiç şaşırmadım zaten =D
Önce
China Glaze Aquadelic
ile başladım. For Audrey'i formülünden dolayı beğenmeyenler ya da kendine pek yakıştıramayanlar buna bayılabilir; daha yeşil tonlu, daha canlı ve daha koyu. Ben hastası oldum =) Daha sonra ise sırasıyla
China Glaze Snow Globe
ve
China Glaze Techno
sürdüm. Son olarak da
Essie Haute As Hello
ile gül formlarını oluşturup akrilik boya ile yapraklarının hatlarını çizdim.
Bu arada çekilişte oy verdiğiniz için teşekkür ederim, oylama bitti =) Tanaçan sponsorluğunda Hunger Games ojeleri bir şanslı kişiye gidecek. Bir Hunger Games fanı olarak buna çok sevindim =)
Bu arada China Glaze ojelerine sahip olmak istiyorsanız, en yeni gelen ojeleri
DenizRio
ve
Tanaçan
'da bulabilirsiniz. Hunger Games, Safari ve Summer Neons koleksiyonları Mart ortası gibi geliyor, bilginize =)