Have you watched Black Swan? I watched it yesterday, and oh my God, it was amazing... I haven't liked a movie this much for a while now, I was blown away by the beauty and terrified of it at the same time. I found it very inspiring, that's why I decided to do a Black Swan manicure today.
I used
Zoya Sarah
on my thumb, then drew the swan with acrylic paint. I have black polish on the middle, stamped with feathers from m77. All other nails are
Essie Body Language
, stamped with black feathers and splattered with blood. I never knew splattering was such hard work! I had to mix various reds, dilute the mix with polish thinner, then dip a small pipe into the mix and blow through it till I get some realistic looking splatter.
I tried to protect the feathered nails from flyaway red polish, but they got some in the end anyway. I decided to keep it like that =) If you've already watch the movie, you will understand! =)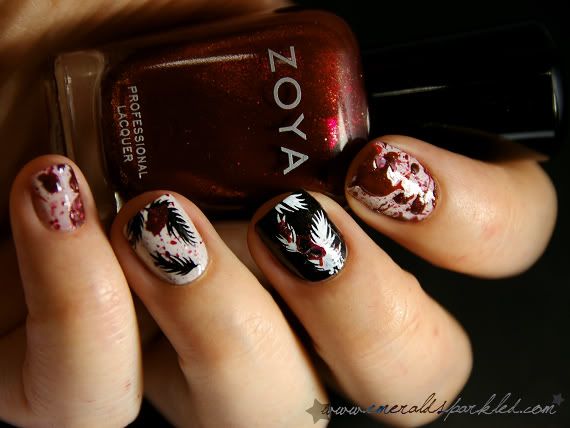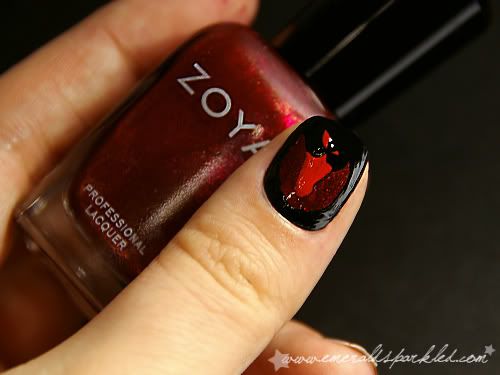 Maybe I'll do another Black Swan inspired manicure soon! =)
Natalie Portman'ın Black Swan'ını izlediniz mi? Ben dün izledim, inanılmazdı... Uzun zamandır bir filmi bu kadar beğenmemiştim, hem filmin güzelliğinden dolayı kendimi kaybettim, hem de rahatsız oldum ve korktum. Bence çok ilham verici bir filmdi, ben de bu yüzden bugün bir Black Swan manikürü yapmaya karar verdim.
Baş parmağımda Zoya Sarah var, üzerine siyah ve kırmızı akrilik boyayla kuğu çizdim. Orta parmağımda siyah oje üstüne beyazla damgalanmış tüyler var, m77 diskinden. Diğer tüm tırnaklarımda Essie Body Language var, üzerinde siyah tüyler ve sıçramış kanlar ile. Kan sıçratmanın beni bir saate yakın uğraştıracağını hiç tahmin etmezdim... Önce birkaç farklı kırmızıyı üst üste damlattım, üzerine incelsin diye tiner döktüm, ince plastik bir boruyu karışıma daldırıp diğer ucundan üfledim, ta ki gerçekçi bir kan sıçrama efekti elde edene kadar. Tabi bu esnada oje damlaları sağa sola uçuşuyor, aman dikkat =) Üzerinde tüy olan tırnaklarımı her ne kadar korumaya çalışsam da, onlara da biraz kan geldi, ben de böyle bırakmaya karar verdim. Filmi izleyin, anlayacaksınız =)
Belki Black Swan ile ilgili bir manikür daha yaparım, kim bilir? =)