Hello guys... I just caught a bad flu, this is the 3rd time this year. I'm just grateful it started on Friday, because I can't imagine going to work feeling this bad. I hope it gets a bit better till Monday.
April 15th was my boyfriend's birthday. I was very tired on Friday after work, so I only did this manicure on Saturday.
Since my boyfriend is an artist, I decided to go on with a brush & some paint splatter. I freehanded the brush using acrylic paint, and stamped some messy paint splatter with various konad polishes. I didn't clean the plates inbetween, because I wanted to mix the colors. The splatter is from plate m21. Then I stamped digits 2 and 9 from m42, to represent his age. The hearts on my thumb are from m18.
The base is
OPI Suzi Says Feng Shui
, two coats only. Great application, didn't need any clean-up. The color is close to

French Blue
to my opinion.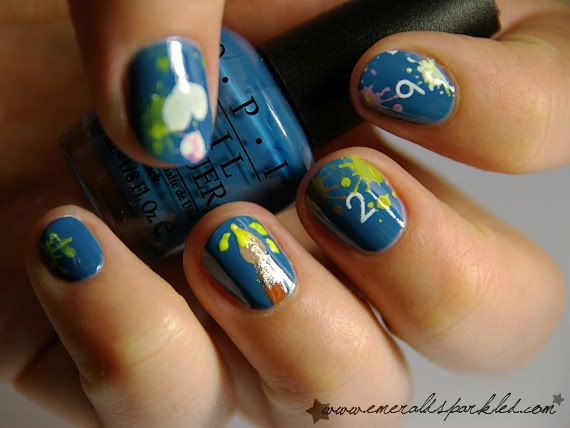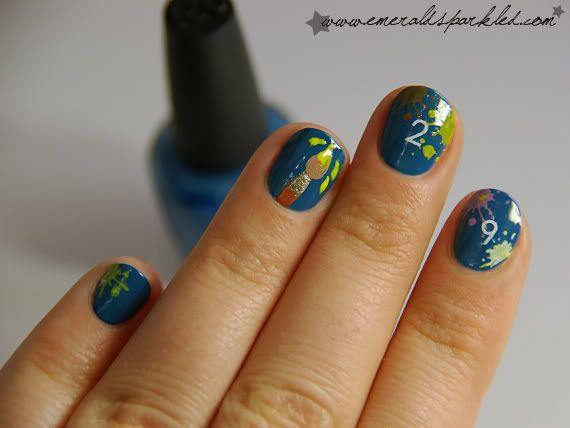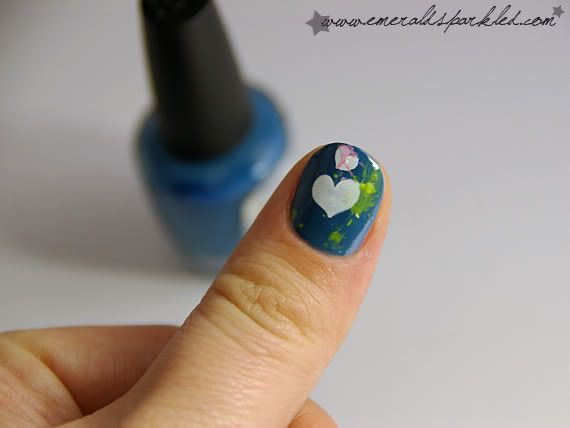 Happy Birthday, my love...
Selam arkadaşlar... Çok kötü grip oldum aniden, ki bu sene üçüncü oluyor. Şükürler olsun ki cuma akşamı başladı, haftasonu olabildiğince yatarak dinlenmeye çalışıyorum. Bu halde işe gittiğimi düşünemiyorum bile. Umarım pazartesiye kadar düzelir biraz...
15 Nisan erkek arkadaşımın doğum günüydü. Cuma kendimi çok yorgun ve hasta hissettiğim için ancak bugün tırnaklarımla uğraşabildim ve bu manikürü yaptım.
Kenidisi sanatçı olduğu için, bir fırça ve sıçramış boya üzerinden gitmeye karar verdim. Fırçayı akrilik boya ile çizdikten sonra, karmakarışık renklerde boya lekeleri yaptım. Diski hiç temizlemedim ki, renkler karışsın. Bu arada bu boya deseni m21 diskinden. Sonra m42 diskindeki 2 ve 9 rakamlarını uyguladım, yaşını temsilen. Baş parmağımdaki kalpler ise m18 diskinden.
Tabandaki oje
OPI Suzi Says Feng Shui
, iki kat sürdüm. Uygulaması çok rahattı, hiç temizlik gerektirmedi.
Daha görmedi ama umarım beğenecek =)
Seni unutarak baktığımda bile
Dünyanın her yerlerinden geçiyorsun
Yayılıyorsun kalabalıklara.
Yalnız yayılmak mı...
Aşkın en büyüğü, en dayanılmazı demeli buna.
- Edip Cansever