What's up guys? I'm still ill, today I barely moved in order to spare energy for tomorrow. I just spiked a fever, too. I really hope today's the worst day and I'll be able to go to work tomorrow.
In the afternoon I was feeling a bit better, so I tried the new items Jessica from
Born Pretty Store
sent me for review. I received a set of stamping plates, including the Hello Kitty one. I also received a rhinestone wheel (2 mm) and a matte polish which goes by the brand name BK.
I first tried the nail polish. On the bottom it says #10. The polish is really nice. I don't know anything about the ingredients because the label is written in Chinese, I applied 2 coats over a base coat, just to be safe. It's a bright pink but not neon. Dries to a smooth, satiny matte finish. And it's gorgeous with a topcoat, too.
First, the polish alone: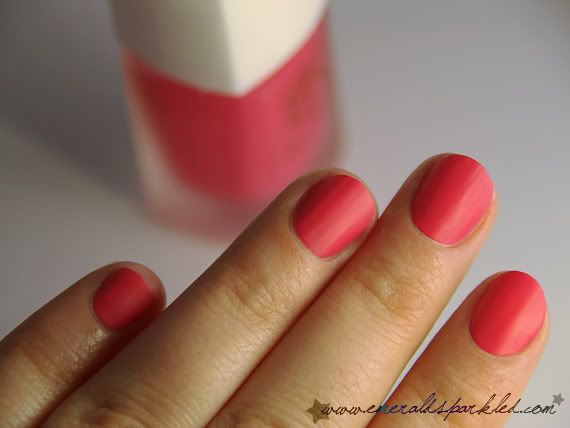 Mom really, really liked this look. She's supporting matte pink nails right now. She has olive skin and it looks amazing on her.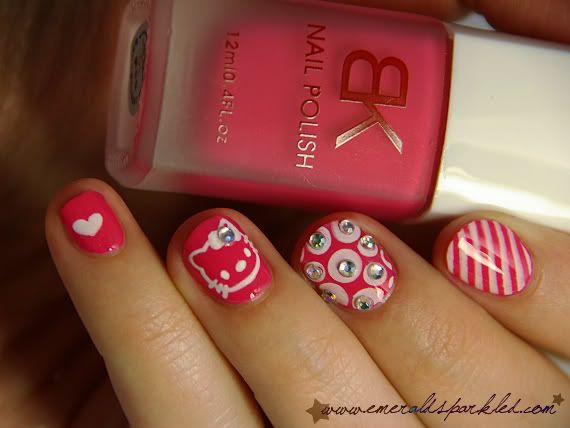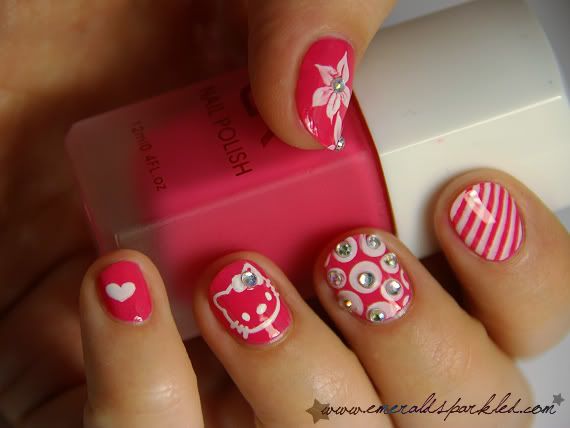 I also tried the Hello Kitty plate and the new rhinestones. The images on my index and middle nails are from my Essence plate. Hello Kitty, flower and the heart pattern all come from the Born Pretty Store fauxnad plates. The rhinestones I used might look like clear ones, but they actually have a rainbow effect, which reminds me of Swarovski Aurora Borealis.
I like the items a lot, especially the Hello Kitty plate, the BK matte pink polish and the rhinestones =)
*The items were sent for review.
Sevgili okuyucularım, nasılsınız?Ben hala hastayım, bugün resmen enerji tasarrufu modundaydım, sürekli hareketsiz durmaya çalıştım çünkü yarın işe gitmem gerekiyor mutlaka. Bu arada akşamüstü ateşim de çıktı. Tek umudum bugünün en kötü gün olması ve yarın sabah biraz daha iyi kalkmak.
Öğlen biraz daha iyi hissediyordum, bu yüzden
Born Pretty Store
'dan Jessica'nın göndermiş olduğu ürünleri denemeye karar verdim. Yolladıkları arasında diskler (Hello Kitty diski de aralarında), içinde 2 mm'lik taşlar bulunan bir çember ve BK marka mat bir oje var.
Öncelikle ojeyi denedim. Şişenin altında #10 yazıyor. Oje çok hoşuma gitti, sürümü ve fırçası çok güzel, rengi de öyle. İçeriği hakkında hiçbir fikrim yok çünkü etiketinde çince yazıyor. Ne olur ne olmaz diye alta baz sürün böyle içeriğinden emin olamadığınız ojelerde. Ben baz üzerine 2 kat sürdüm. Rengi tarif etmek gerekirse sıcak tonlu, parlak bir pembe; ancak neon değil. Kuruduğunda yüzeyi düzgün, saten gibi mat bir hal aldı. Ben bir de üzerine cila sürdüm sonra, inanılmaz hoşuma gitti o hali de =)
İlk resimde ojenin mat halini görüyorsunuz. Annem bu rengi çok beğendi, şu anda mat haliyle tırnaklarında. O bana kıyasla daha buğday tenli, ve onun tenine çok yakıştı mat pembe oje.
Ben daha sonra Hello Kitty diskini ve taşları denedim. İşaret ve orta parmağımdaki desenler, Essence diskinden. Geri kalan desenlerin hepsi yeni gelen Fauxnad disklerinden. Kullandığım taşlar şeffaf gibi dursa da, aslında hafif bir gökkuşağı etkisi var. Daha önce denk gelmemişti böyle taş, Swarovski Aurora Borealis taşlarına benziyor. Merak ediyorsanız Google'da aratın, daha iyi anlayacaksınız =) Diğer taşlar ise normal renklerde.
Ürünleri çok beğendim, özellikle Hello Kitty diski, BK mat oje ve taşları =)
*Ürünler denemem için gönderilmiştir.