Hey guys, I'm so sorry for the lack of posts lately. When I come home in the evening, time just flies by and suddenly it's too late and I have to go to sleep. I barely find time to paint my nails!
Nubar Reclaim
is hands down one of the most gorgeous polishes I've ever owned. It's a linear holographic, blue leaning medium green. The consistency and the finish is just like China Glaze OMG polishes, this feels like the 13th polish to add to that collection. I got my hands on this polish thanks to
Basak
, we had a little swap together =) I hope she's happy with her baby, too!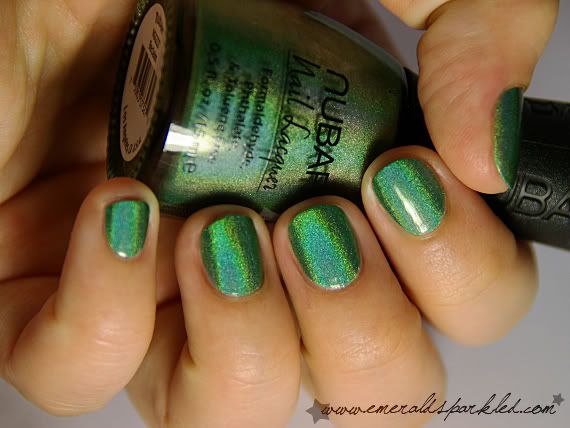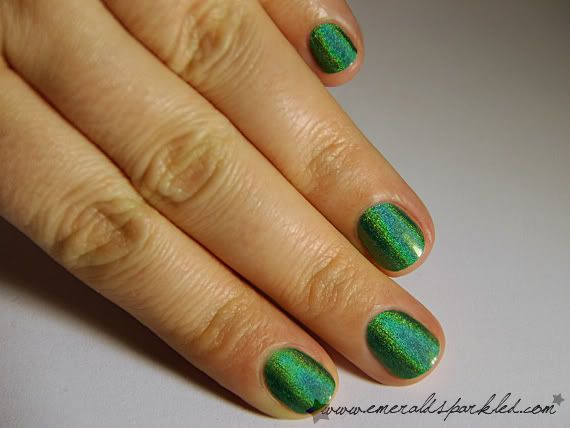 Just look at eet! <3
Selam arkadaşlar, son zamanlarda çok seyrek yazdığımın farkındayım ve inanın benim de hiç hoşuma gitmiyor bu durum... Eve geliyorum, zaman uçup gidiyor ve bir bakıyorum, yatma vakti gelmiş bile... Tırnaklarıma oje sürmeye bile anca vakit buluyorum...
Nubar Reclaim
, bugüne kadar sahip olduğum ojeler arasında en güzellerinden biri, bunu kesin olarak söyleyebilirim. Linear holografik yapıda, orta tonlu, maviye dönük bir yeşil. Bitişi tamamen China Glaze OMG ojeleri gibi, o koleksiyonda eksik olan tek oje bu sanki =) Bu ojeye
Başak
sayesinde kavuştum, kendisiyle küçücük bir takas yaptık. Umarım o da yeni ojesiyle benim kadar mutludur!
Şuna bir bakın... Şişesine sarılıp uyuyasım geliyor =D
Bu arada
Özgürce Pazarlama
muhteşem bir konad yarışmasından bahsediyor. Detaylar için
buraya bakabilirsiniz
=)