Guys, I'm sorry for the lack of updates lately. I was either too busy, not even home, or I didn't even feel like polishing my nails. Today I've purchased the domain name,
www.emeraldsparkled.com
for a year, but I didn't transfer my blog yet. When I tried to redirect my blog to the new URL, I realized that my reactions will be gone forever. It makes me feel uneasy, because I hate like losing content of any kind. Also, redirecting may not work for a few days, so if you see that my Google Friend Connect seems produce a configuration error, you may try loading www.emeraldsparkled.com. But I'm thinking about waiting for a few days to make the transfer anyway.
Today, I'm wearing
Claire's #55
, and I bought it because it looked so much like Zoya Kelly. I must say it totally killed my lemming, because it looks exactly like how people described Kelly; a dark grey creme with a hint of blue/purple. I think the shade that describes this color the best would be

Payne's Grey
. And I must add that the purple is less obvious in real life than on the pictures, it's really close to the colordrop.
I sponged
Orly Lunar Eclipse
to the upper 2/3, then applied another thin coat of Lunar Eclipse to the uppermost 1/3.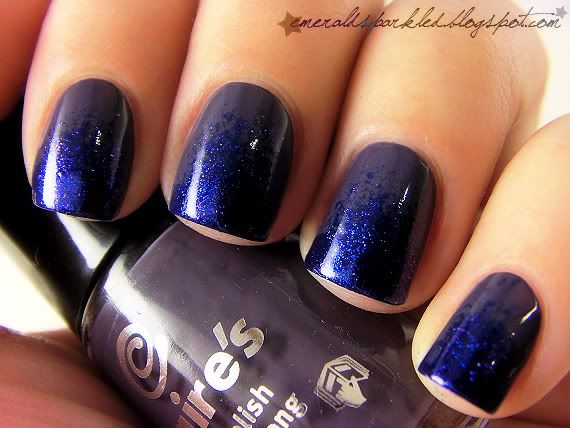 Close-ups: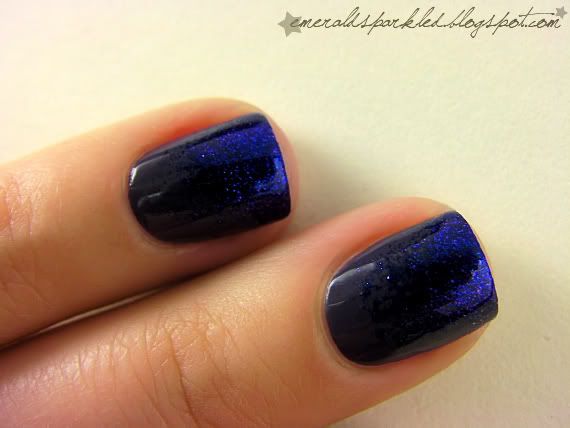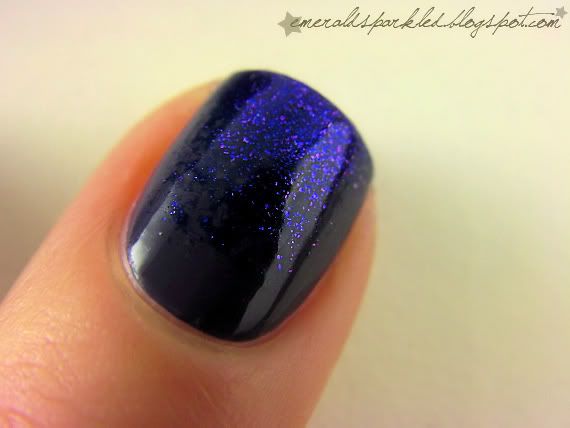 This manicure looked so amazing in the sun, and attracted many looks. I think it's one of my favorite manicures up to date; it's simple, yet doesn't fail to draw attention. =)
Son zamanlarda biraz seyrek güncelliyorum, farkındayım. Bazen çok meşgul oluyorum, hatta eve bile uğrayamıyorum; bazen de tırnaklarıma oje sürmeye bile halim olmuyor.
Bugün www.emeraldsparkled.com alan adını bir yıllığına satın aldım, ama yönlendirmeyi henüz yapmadım. Yönlendirme yaptığım zaman bazı bilgileri kaybedeceğimi farkettim, mesela yazıların altındaki reaksiyonlar gibi. Ve ben de bu durumdan hiç hoşlanmadım. Bu arada yönlendirme birkaç gün çalışmayabilir, eğer Google Friend Connect size bozuk görünüyorsa, www.emeraldsparkled.com'u deneyin, çalışacaktır. Ama zaten daha birkaç gün taşımayı düşünmüyorum.
Bugün tırnaklarımda Claire's #55 var. Zoya Kelly'nin tarifine tamamen uyduğu için aldım bu rengi, içinde mavi/mor tonları bulunan koyu gri bir krem oje. Resimlerde gerçek hayatta olduğundan biraz daha mor gözükmüş, aslında bu kadar belirgin bir mor tonu yok içinde. Mavimsi/morumsu bir ton içeren, ama bunun fazla bariz olmadığı bir gri olduğunu söyleyebilirim.
Daha sonra tırnağın üstten 2/3'lük kısmına süngerle Orly Lunar Eclipse uyguladım, en üst 1/3'lük kısma da ince bir kat Lunar Eclipse sürdüm.
Güneş altında çok güzel gözüküyor. Hem kremden ışıltılıya, hem de griden maviye geçtiği için çok hoş duruyor. Bu güne kadar kendi yaptığım manikürler arasında en beğendiklerimden biri oldu, yapılışının basitliğine ve sade duruşuna rağmen çok dikkat çekti. Tırnağımın köşesi kırıldı zaten, nazar. =)