Hello guys =) Sorry for the little break I had to take. I took a break because one of my nails decided to take a break by breaking =) I'm talking about my left pinky. My left pinky is an outcast, it has nothing to do with my other nails. It's narrow and the nailbed is very, very short, just about 5 mm by height. It was torn at the free edge, and now I'm stuck with ultra short nails. Although all my nails are as short as they can be, my pinky is still too small and different than the others.
Anyway, yesterday (August 7th) was our 7th Anniversary. I decided to do some doodle nails on notebook papers. I applied white creme polish, did the lines with acrylic paint and also the black doodles. I was very random with doodles, there are moons, stars, clouds, lightnings, sun, hearts, flowers, etc. And also our initials. I wanted the nails to look a bit childish, my intention was to draw some stick figures, too; but sadly I ran out of space.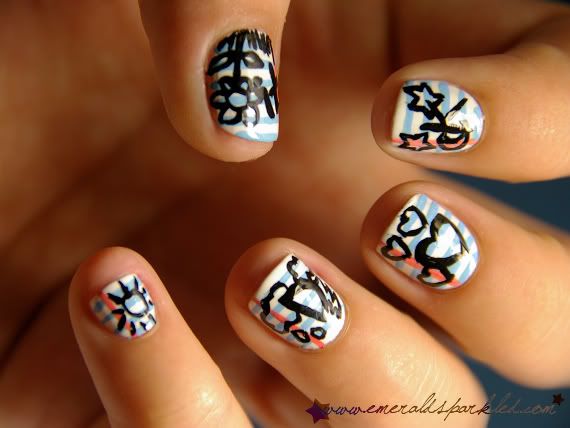 7th Anniversary Doodle Nails
7th Anniversary Doodle Nails
7th Anniversary Doodle Nails, Thumb
You are the only "you"
There is no such thing as your replacement.
Please don't wilt, lone flower...
Till now, and from now on
If the whole world turns against you,
Even if that time comes,
I'll protect you till the end.
So don't give up, lone flower...
(High and Mighty Color - Ichirin No Hana)
Herkese merhaba =) Bir süredir yoktum çünkü tırnaklarımdan biri kırıldı. Kırılan serçe parmağımın tırnağı diğer tırnaklarıma hiç benzemiyor, bir kere hem tırnak yatağı çok kısa hem de eni dar, yani kırıldığında diğerlerini de kesmeme rağmen çok alakasız duruyor. Bütün tırnaklarımı dibinden kestiğim halde serçe parmağım yine de daha kısa ve uyumsuz görünüyor, ama yapabileceğim birşey yok ne yazık ki...
Neyse, dün (7 Ağustos) bizim 7'nci yıldönümümüzdü. Aklımda kağıt üzerine rastgele çizilmiş çocukça çizimler vardı, ben de bu şekilde bir manikür yaptım. Beyaz ojenin üzerine akrilik boyayla mavi ve pembe çizgiler çizdim, defter görünümünü elde etmek için. Daha sonra siyah akrilik boya ile çizimleri yaptım. Karmaşık şeyler çizdim; ay, yıldızlar, güneş, kalpler, bulutlar, şimşekler, çiçekler gibi. Bir de ismimizin baş harflerini yazdım. Tırnakların biraz çocukça görünmesini amaçladım, aslında çöp adamlar da çizecektim ama tırnaklarım kısa olduğu için yerim kalmadı =)