First of all, guys, sorry for neglecting you & the blog. Sometimes life just gets in the way =(
Zoya generously sent me their Spring 2012 colors & Fleck Effect polishes. As a person who uses artificial lighting to take pictures, I tried to capture the colors the best way I could.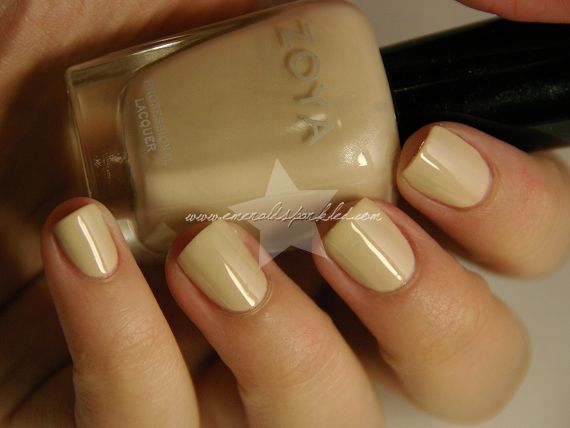 Cho
was the one I only wanted for the name & didn't really expect to love that much. I was wrong. Cho is a yellow toned nude with a tiny amount of shimmer. It looked so flattering on my neutral/yellowish skintone, I couldn't believe how soft & clean it looked. This could be my default nude from now on. Application was like a breeze, 2 coats.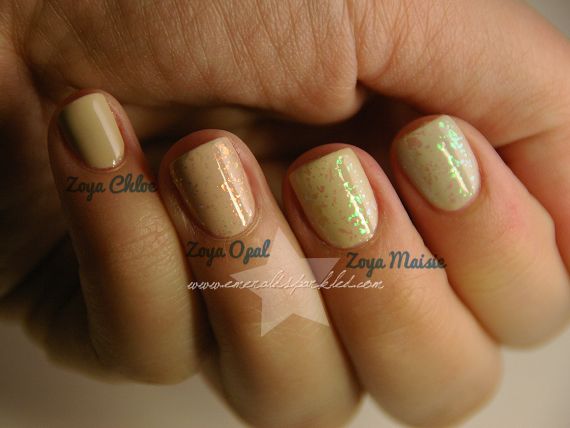 Cho with
Chloe
,
Opal
and
Maisie
, 1 coat each. I decided not to review the Fleck Effect polishes on their own, because my nails are a bit stained right now. (I'm looking at you, Aquadelic!)
Chloe
is the one with reddish pink tint & red/green flakies with occasional green/blue flakies thrown in.
Opal
is green/blue flakies in a green tint, and
Maisie
is green/blue flakies in a blue tint. Opal and Maisie look very similar when layered on a darker color, but on lighter colors they look different because of their bases.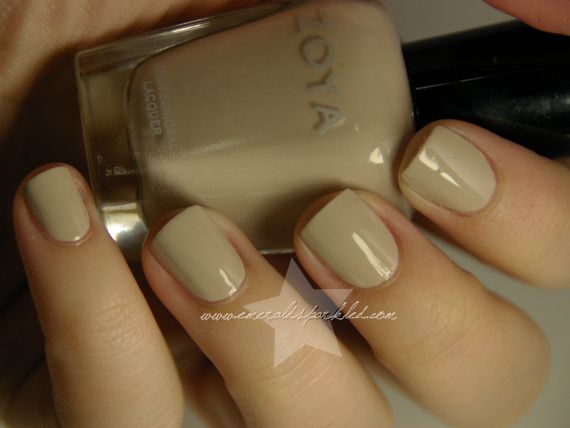 Farah
is a greenish looking nude creme. I love colors that look a bit dirty. This was made for the cooler toned folks, I believe, but I could still pull it off because I only lean slightly towards being yellow-toned. I loved the formula, not a bit chalky at all. 2 coats.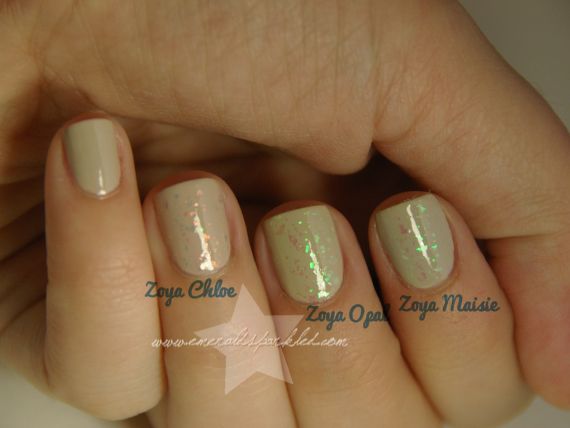 Farah with Chloe, Opal and Maisie, 1 coat each.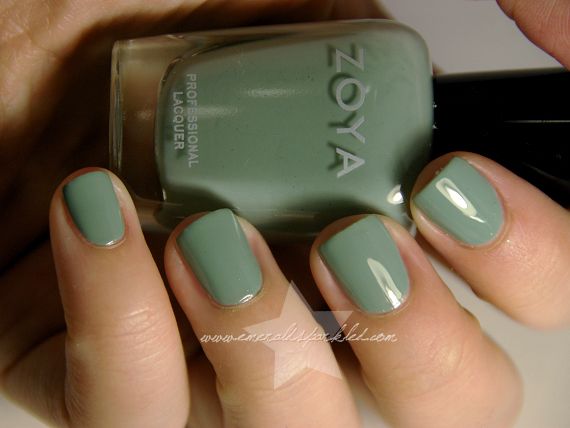 Bevin
is a sage according to Zoya, but I think Bevin is a very soft, muted, greenish aqua. I think it looks very romantic & perfectly appropriate for Spring. Again, great formula, breezy application.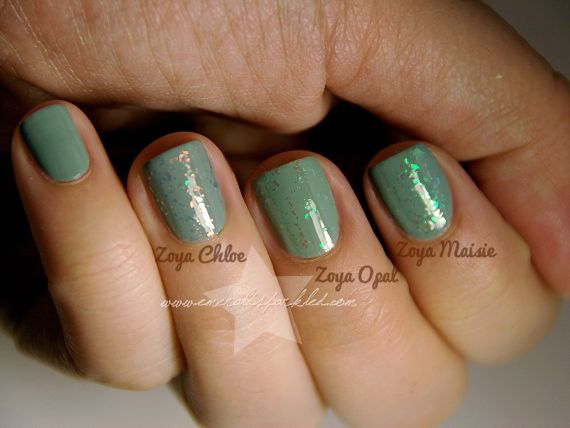 Bevin with Chloe, Opal and Maisie, 1 coat each.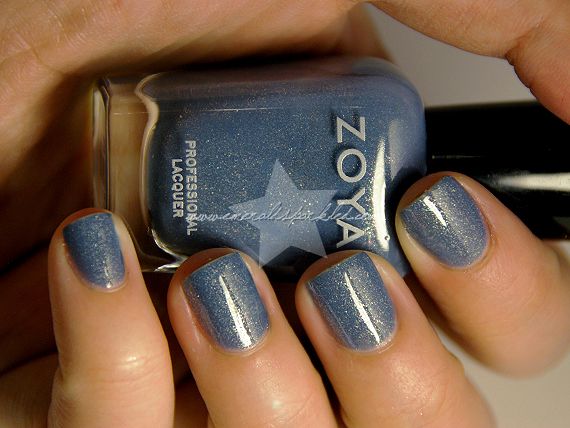 Skylar
is my favorite from this collection. It's a medium, denim blue with a slightly greenish cast to it. It contains gold, silver & pink shimmer, which lightens it up quite a bit, giving it a gold glow. I instantly wore this one as a full manicure. Application was consistent with the others, 2 perfect coats.
Skylar with Chloe, Opal and Maisie, 1 coat each.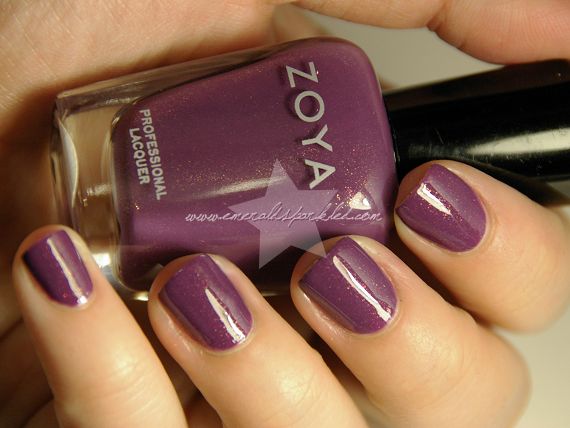 Tru
is my runner-up favorite. Warm purple base with gold/bronze shimmer. It makes me think of
Zoya Zara
, I think this could be her older sister =) I had a hard time to capture all the shimmer but trust me, it's there and it's gorgeous IRL. Formula was the same, great formula as her friends.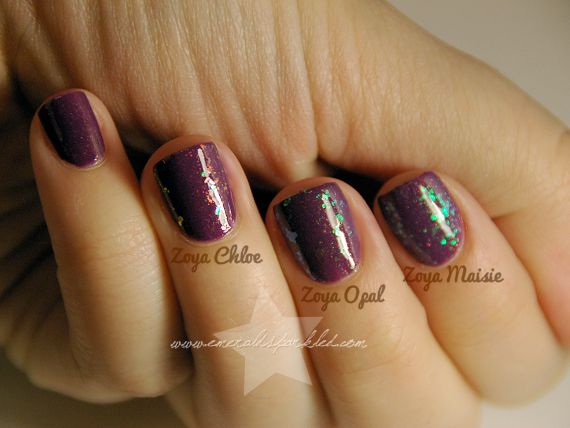 Tru with Chloe, Opal and Maisie, 1 coat each.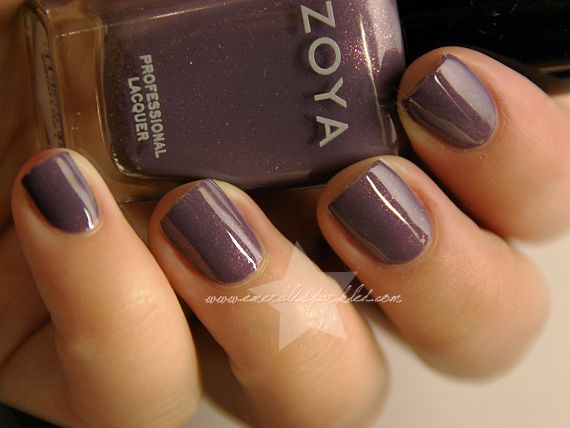 Lotus
is a cool toned, dusty purple with pink shimmer. Again, I couldn't capture how strong the shimmer was, but it definitely peeks through the polish. Formula was, again, great.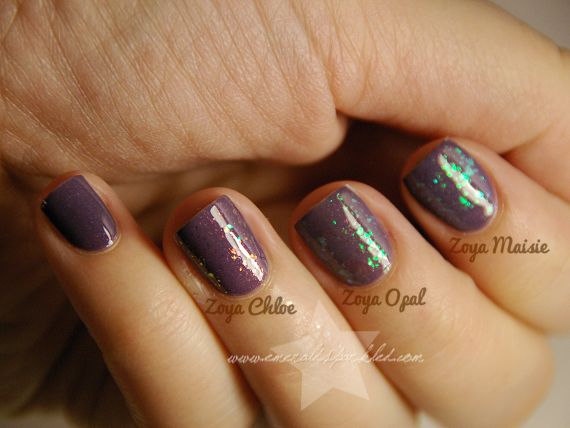 Lotus with Chloe, Opal and Maisie, 1 coat each.
Altogether, great Spring Collection with a fun twist. Flakies are big at the moment, and Zoya gave us great ones. Colors are soft, romantic & season appropriate, there is a polish for everyone in this collection, and colors unique without being harsh. Zoya polishes retail for 8$ each, and you can get them on
Zoya.com
.
*Polishes were sent for my review by Zoya PR.
By the way, here is a quick peek at Zoya Beach & Surf Collections for Summer 2012:
Öncelikle, blogu bir süredir ihmal ettiğim için özür dilerim... Hayat bazen yoğun oluyor, sevgilim bir hafta önce İstanbul'a taşındı, dolayısıyla biraz koşturmaca halindeyim =)
Zoya bana Tru Koleksiyonu'nu ve Fleck Effect ojelerini tanıtmam için göndermeyi teklif edince nasıl mutlu oldum anlatamam. ABD dışına gönderim yapmadıkları için,
Öykü
devreye girdi ve ojeleri onun adresine gönderdiler. Sonra Öykü ojeleri yanında getirdi =) Kendisine buradan bir kez daha teşekkür ediyorum!
Işık yapay olduğu için renkleri olabildiğince doğru çekmeye çalıştım, umarım başarmışımdır.
Cho
en az heyecanla beklediğim renkti ve çok da seveceğimi ummuyordum. Ama yanılmışım. Cho ışıltılı bir ten rengi, normal ten rengi ojelere göre biraz daha sarı tonlu. Benim ten rengim biraz sarıya dönük olduğu için kendime çok yakıştırdım, çok temiz gösteren bir renk. Bu günden sonra ten rengi oje sürmek istediğim zaman hep Cho'ya yöneleceğimden eminim. Uygulaması çok rahattı, iki kat yeterli oldu.
Cho üzerine
Chloe
,
Opal
ve
Maisie
, her biri tek kat. Fleck ojeleri kendi başına uygulamak istemedim çünkü şu an tırnaklarım hafif yeşile boyanmış durumda. (Aquadelic yüzünden.)
Chloe
içinde kırmızı/yeşil parçacıklar var, baz rengi ise kırmızımsı bir pembe.
Opal
yeşil baz içinde yeşil/mavi parçacıklar,
Maisie
mavi baz içinde mavi/yeşil parçacıklar içeriyor. Opal ve Maisie koyu bir renk üzerinde neredeyse aynı duruyorlar, fakat açık renkler üzerinde farklılıkları daha belirgin oluyor..
Farah
hafif yeşile çalan bir ten rengi krem oje. Böyle hafif kirli renklere bayılıyorum. Bu sanırım daha soğuk tonlu kişiler için yapılmış, fakat ben yine de kendime yakıştırdım. Formülü süperdi, 2 katta mükemmel oldu.
Farah üzerine Chloe, Opal ve Maisie, her biri tek kat.
Bevin
Zoya'ya göre adaçayı rengi imiş, fakat bence Bevin soluk, kirli, yeşile çalan bir turkuaz. Bence tam bir ilkbahar rengi. Formülü diğerleri gibi harika, uygulaması çok kolay.
Bevin üzerine Chloe, Opal ve Maisie, her biri tek kat.
Skylar
bu koleksiyonda burun farkıyla öne geçti ve favorim oldu. Orta tonlu, hafif yeşile bakan bir mavi, bana kot kumaşını hatırlatıyor. İçinde pembe, gümüş ve altın rengi ışıltılar var, bu ojeye aydınlık bir görünüm veriyor ve genel olarak altın rengi bir ışıltısı varmış gibi duruyor. Tam bir manikür olarak sürdüğüm ilk renk bu oldu. Uygulama diğerleri gibi süperdi, iki kat kullandım.
Skylar üzerine Chloe, Opal ve Maisie, her biri tek kat.
Tru
küçük bir farkla ikinci favorim oldu. Sıcak bir mor tonu, içinde altın/bronz renkli ışıltılar var. Bana
Zoya Zara
'nın ablası olabilirmiş gibi geldi =) Işıltılarını yakalarken oldukça zorlandım fakat normalde mükemmel gözüküyor. Diğer arkadaşları gibi formülü harika.
Tru üzerine Chloe, Opal ve Maisie, her biri tek kat.
Lotus
soğuk tonlu, kirli bir mor, içinde ise pembe ışıltılar var. Işıltıların ne kadar güçlü olduğunu pek yakalayamadım ama kesinlikle çok güzel duruyor. Uygulaması diğerleri gibi rahattı, 2 kat yeterli oldu..
Lotus üzerine Chloe, Opal ve Maisie, her biri tek kat.
Sonuç olarak Zoya harika bir ilkbahar koleksiyonu hazırlamış. Renkler son derece yumuşak ve romantik, Fleck effect ojeler ise sürüldüğünde neşeli bir hava katıyor. Koleksiyonda herkese hitap eden bir renk var, üstelik renkler tekrar tekrar gördüğümüz ve sıkıldığımız renkler değil. Zoya ojeler 8$ ve
Zoya.com
'da ya da ebay'de bulunabilir.
*Ojeler tanıtmam için Zoya PR tarafından gönderilmiştir.
Son olarak, Zoya'dan gelen bir e-mail'i paylaşıyorum, Zoya 2012 yaz koleksiyonunu resimde görebilirsiniz.