Hey everyone =) Today I'm going to show you all 10 polishes from Golden Lady Summer 2012 Collection.
Golden Lady
is a Turkish brand, and they've recently started coming up with gorgeous colors. Here are quick swatches of all 10 colors: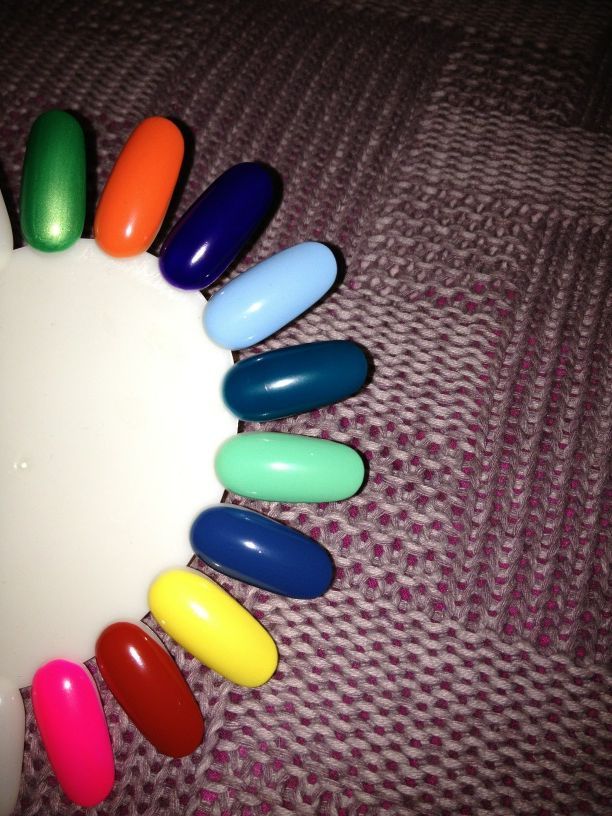 Clockwise from top:
#442 (Metallic Green), #443 (Pumpkin), #444 (Dark Indigo), #445 (Light Sky Blue), #446 (Bright Teal), #447 (Mint Green), #448 (Dusty Blue), #449 (Yellow), #450 (Brick Red), #451 (Neon Pink).
I've decided to do a different review this time. I divided the colors into 5 pairs, and each time I tried to show how the colors looked plain & marbled.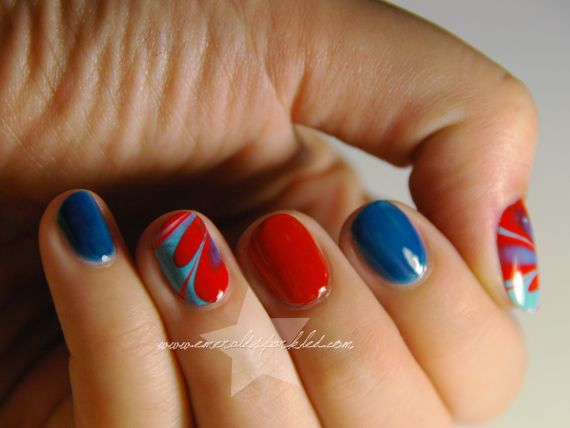 First pair is #446 & #450.
#446
is a bright teal jelly,
#450
is a gorgeous brick red creme. Both polishes apply well, they are 2 coats each. I think these are more fall appropriate than summer.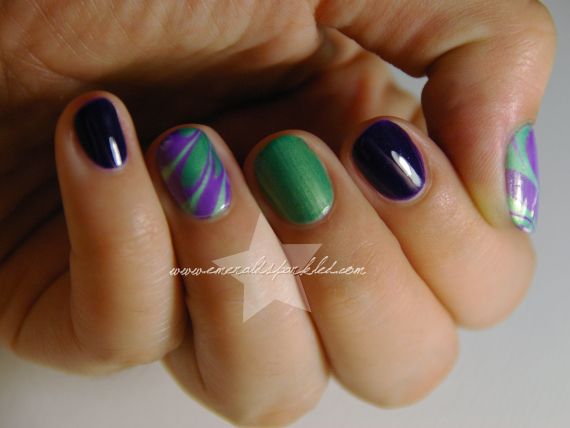 Then we have #442 & #444.
#442
is a metallic medium green. It dries to a satin finish.
#444
is a beautiful dark indigo jelly. It applies awesomely. Both are two coats each.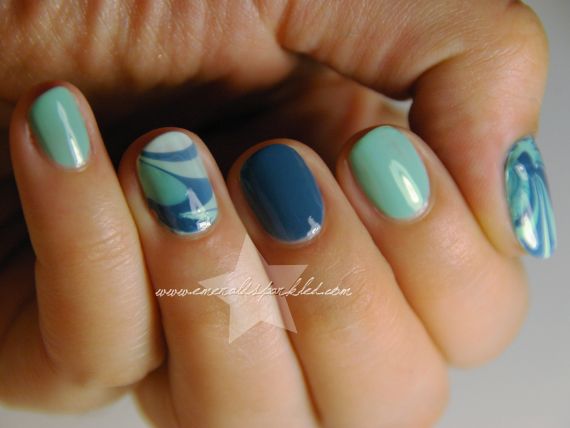 Here are #447 and #448. This is one of my favorite combinations.
#447
is a yellow toned mint jelly. Flawless application.
#448
is a dusty blue creme, I believe this could be a dupe for MAC Blue India. Both are 2 coaters.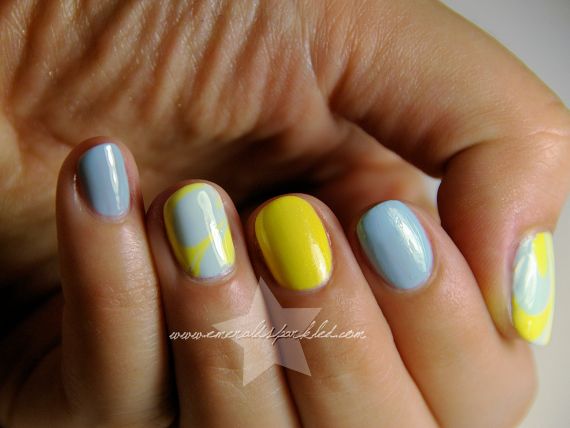 Then we have #445 & #449.
#445
is a pale sky blue creme, and
#449
is a sparkly warm-toned yellow. Both are 2 coats. I love this combination so much, it reminds me of a hot summer morning!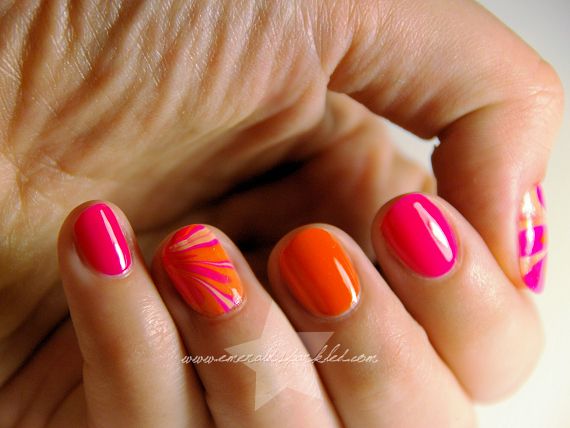 Finally, #443 and #451.
#443
is more pumpkin than orange. It has too much brown in it to be called "summery".
#451
is a bright, BRIGHT neon pink. It's the best neon pink I've ever encountered that was created by a Turkish brand. It's opaque, looks like a creme but applies like a jelly. Gorgeous. Both polishes are 2 coaters.
Finally, I decided to do a summery marble using some of these colors. I used #446, #447, #449 and #451.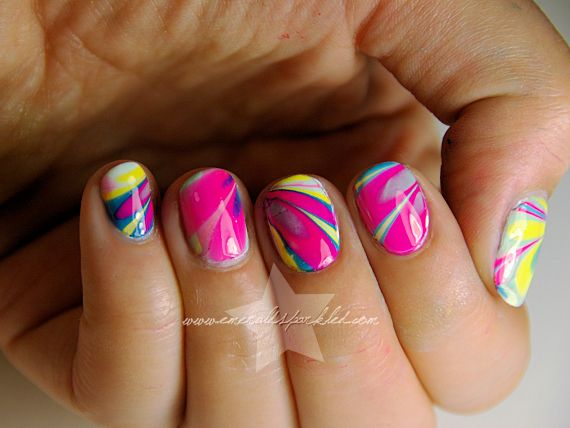 The neon pink is so overpowering, but I like the final look. I don't think Golden Lady polishes are available internationally, but I'm sure they're easily dupe-able.
I hope you enjoyed this post. Take care!
Herkese merhaba =) Geçtiğimiz hafta Golden Lady Yaz 2012 ojelerine ulaşma fırsatım oldu, ben de elim alışsın diye bir tanıtım yazısı yazmaya karar verdim. Bu sefer bir değişiklik olsun diye ojeleri 2'şerden 5 gruba ayırdım, ve her grubu hem kendi başına, hem de ebru deseni olarak gösterdim.
Yukarıdan aşağıya seat yönünde: #442 (Metalik Yeşil), #443 (Turuncu), #444 (Koyu Çivit Mavisi), #445 (Açık Gökyüzü Mavisi), #446 (Turkuaz), #447 (Nane Yeşili), #448 (Kirli Mavi), #449 (Sarı), #450 (Tuğla Kırmızısı), #451 (Neon Pembe).

İlk çiftimiz, #446 ve #450. #446 koyu turkuaz, parlak, jel yapıda bir oje. #450 ise tuğla kırmızısı, krem yapıda bir oje. Ojelerin sürümleri gerçekten inanılmaz rahattı, özellikle jel ojeleri sürerken hata yapmak çok zor. Jel ojeler sıcakta biraz baloncuk yapabiliyor, bu yüzden serin bir yerde sürmeye çalışın. Bu iki renk bence yazdan ziyade sonbahar rengi gibi olmuş, ama ikisini de çok beğendim.

Daha sonra #442 ve #444 geliyor. #442 metalik yeşil bir oje. Mata yakın, saten görünümlü kuruyor. #444'e bayıldım, koyu, jel yapıda çivit mavisi. Çivit mavisi mor ile mavi arası oluyor, ultraviyole gibi, benim çok sevdiğim bir renk. Her iki oje de çok kolay sürüldü ve tırnağımda 2 kat var. Bu arada metalik ve jel ojelerle bir arada ebru yapmayın, biraz uyumsuz oluyorlar =)

Sırada #447 ve #448 var. En sevdiğim kombinasyonlardan biri bu oldu sanırım. #447, sarı tonlu bir nane yeşili. Rengi ve sürümü kusursuzdu. #448 ise tozlu, soluk bir mavi. Eğer yanılmıyorsam MAC Blue India'nın aynısı gibi geliyor bana. İki renk de tırnağımda 2 kat.

#445 ve #449'u bir arada kullanınca tam yaz manikürü oldu! #445 soluk, krem yapıda bir gök mavisi. #449 ise ışıltılı, sıcak tonlu bir sarı. İkisi de 2 kat. Bu kombinasyona bayıldım, bana yaz sabahlarını hatırlatıyor!

Son olarak, #443 ve #451. #443 turuncu bir krem oje, ancak bence yazlık bir one olmak için çok fazla kahverengi içeriyor. Kabak rengi desek data doğru olur =) #451 şu ana kadar bir Türk markasında karşılaştığım en iyi neon pembe oje. Bir kere opak, yapısı jelimsi ancak sürünce krem gibi oluyor, parlaklığından ise bahsetmeyeyim bile, o derece iyi. İkisi de 2'şer kat.

Son olarak, #446, #447, #449 ve #451 kullanarak yazlık bir ebru yapmak istedim. Neon pembe o kadar domine etmiş ki, diğer renkler çok az belli oluyor. Ama yine de hoşuma gitti. Umarım bu yazıdan siz de zevk almışsınızdır!
Golden Lady ojeler bir çok kozmetikçide satılıyor, fiyatları ise 1,5 TL civarı genellikle. Yaz renkleri her yere geldi mi bilmiyorum, ama eminim çok yakında ulaşılabilir olacaklar =) Görüşmek üzere!