I picked this one up while I was in Berlin, thinking that it could be a dupe for RBL Orbis Non Sufficit. I was wrong, because this one is much more blue toned, like a darker and muted version of Misa Dirty Sexy Money. The brand is called
Rival De Loop
, and this one is
#52
. The polishes were about 2 EUR, if I remember correctly. Pretty decent for a 0.5 oz bottle!
I only got this one because it was green, but when I applied it, I fell in love with it. This is such an interesting color, and the jelly-like consistency is perfect, it keeps the polish from flowing into the cuticle and creates a neat cuticle line without much effort. It's a two-coater, and applied like a dream. The color is close to

Viridian
.
I took a few pictures, with direct and indirect light.
Direct light: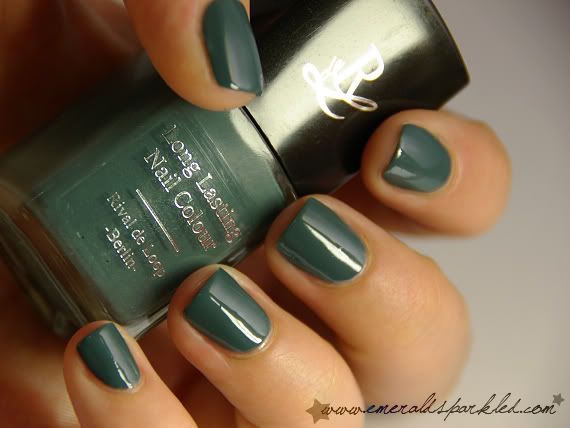 Indirect light:
Then I added lime green & mint green butterflies from Essence Stampy Plate.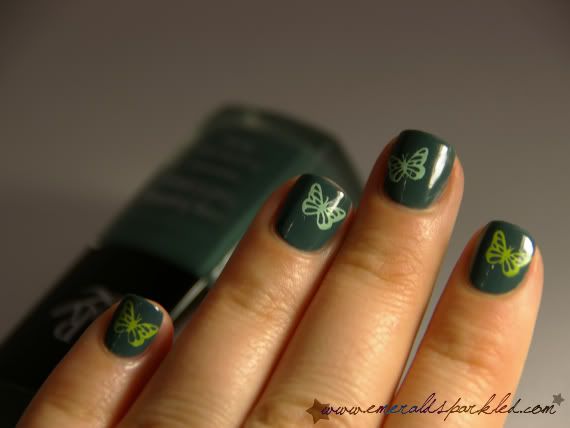 I didn't expect to love this polish that much, I'm so glad that I got it!
Bu ojeyi Berlin'deyken öylesine almıştım, belki RBL Orbis Non Sufficit'in aynısıdır diye düşünerek. Yanılmışım, çünkü bu oje daha mavi tonlu, sanki Misa Dirty Sexy Money'nin koyu versiyonu gibi. Markası Rival De Loop, Berlin'de üretiliyor sanırım. Oje numarası etiketinden anladığım kadarıyla #52. Bu ojeler 2 EUR civarındaydı, eğer yanlış hatırlamıyorsam. 15 ml boyutundaki bir oje için fiyat çok uygun bence.
Bu ojeyi sadece yeşil olduğu için aldım, fakat sürdüğüm zaman resmen aşık oldum. Bence renk çok ilginç, tırnakta şişeden çok daha güzel duruyor, ayrıca jelimsi yapısı mükemmel, fazla uğraştırmadan çok güzel sürülüyor ve tırnak etlerine doğru hareket etme eğilimi göstermiyor. 2 katta opak olan bir oje. Direk ışık altında farklı, gölgede farklı duruyor rengi.
Sonra üzerine Essence Stampy diskindeki kelebekleri nane yeşili ve limon yeşili ile uyguladım.
Bu ojeyi bu kadar seveceğimi hiç ummuyordum, iyi ki almışım! =)