Hello guys =) I started my new job last Monday, and I'm still trying to adapt myself to office hours. I have always been a night owl, never going to sleep before 4 am, but now I have to wake up at 7 am every morning. I never really had time to take pictures of my nails, or do interesting designs, but I will slowly find time as I progress. =) How have you been? The Blogger censor is getting ridiculous, now custom domains like mine are completely unreachable. I'm using a proxy to reach my blog, but other Turkish readers might not now how to do that, since not everyone has to be tech savvy. Therefore I have to put the upcoming giveaway on hold, since everyone deserves the chance. I'm gonna try to figure out how to do it. I'm really sorry, I feel like I promised something and couldn't keep that promise, but trust me, it's not my fault.
*Takes deep breath* Anyway. Here is today's manicure, inspired by poodle skirts =) I used
Essie French Affair
as my base color, then stamped the poodle from bm04 in black, drew the lash and the bone on my pinky using acrylics, added some rhinestones, stamped the thumb with polka dots from m79, and voila =)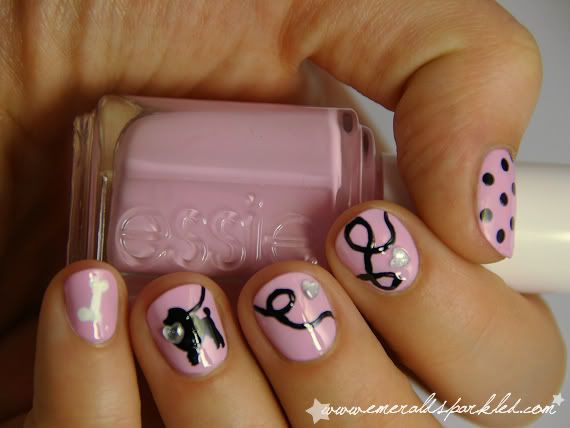 As you noticed, I rounded my nails. This is not my favorite shape, trust me, but I had no other choice since one of my nails got a diagonal tear =/ I'm aiming a more squoval shape, but they need to grow out a bit.
Herkese merhaba =) Geçtiğimiz pazartesi işe başladım, hala ofis saatlerine uyum göstermeye çalışıyorum. Yıllardır gece kuşları gibi yaşayıp saat en erken sabah dörtte yattığım için, sabahları 7'de kalkmak hem garip hem de zor geldi =) Tırnaklarımın resmini çekmeye ya da ilginç birşeyler yapmaya vaktim olmadı, ama ilerleyen günlerde böyle olmayacak, ben de desen yapmayı çok özledim =) Bu arada blog yasakları iyice saçma bir hal aldı, şimdi de özel alan adlarına erişilemiyor. Digiturk, Google'a baskı yapıyor, yasağın etrafından dolaşmayın demeye getiriyor. Dolayısıyla Google yeni bir IP numarası sağlayamıyor. Ben tüm bloglara ulaşmak için tarayıcımda proxy kullanıyorum, ama çoğu insan bunu yapmayacak, biliyorum. Nasıl yapılacağını öğrenmek isterseniz son yazdığım tweet'e bakın. Bu yüzden şimdilik çekilişi askıya almak zorundayım, çünkü herkesin bir şansı olması lazım. İnsanlar çekiliş yazısına yorum bırakamayacağı ya da yazıyı göremeyip bana mail atamayacağı için, bir çözüm bulana kadar erteleyeceğim.
Çok sinirliyim bu konuda, çok lafım var ama neyse. İşte bugünün manikürü, bir zamanlar çok meşhur olan kaniş desenli eteklerden etkilenerek yaptım =) Baz olarak Essie French Affair kullandım, üzerine bm04 diskindeki kanişi siyah ile damgaladım, tasmayı ve kemiği akrilik boya ile çizdim, kalpli taşlar ekledim, baş parmağıma m79 diskindeki puantiyeleri yaptım, bu kadar =)
Bu arada tırnaklarımı yuvarlak törpülediğimi farketmişsinizdir. Kendime yakıştıramadığım bir şekil ama yapmak zorunda kaldım çünkü tırnaklarımdan birinde çapraz bir yırtık vardı ve diğerleri küt, onun yuvarlak olmasını istemedim. Biraz uzayınca küt-oval arası bir şekil yapıp, daha da uzayınca yine küt törpülemeyi düşünüyorum.