Hello! Finally I decided to start this blog about my love for nail polish, nail art, and occasionally make-up.
A little info about me: I'm a 25 year old girl who lives in Istanbul, Turkey. Polishing and designing my nails are some of my absolutely favorite leisure activities. I'm a Senior at the university and my major is Computer Engineering. I love books and spending time on internet, watching House MD or Family Guy, following make-up blogs, etc. I enjoy good movies, nice food, spending time with my guy, playing games on my wii, ds and ps3 (yes, I'm a geek :), going out with friends, photography and art.
For the start, here is a konad manicure I've done lately: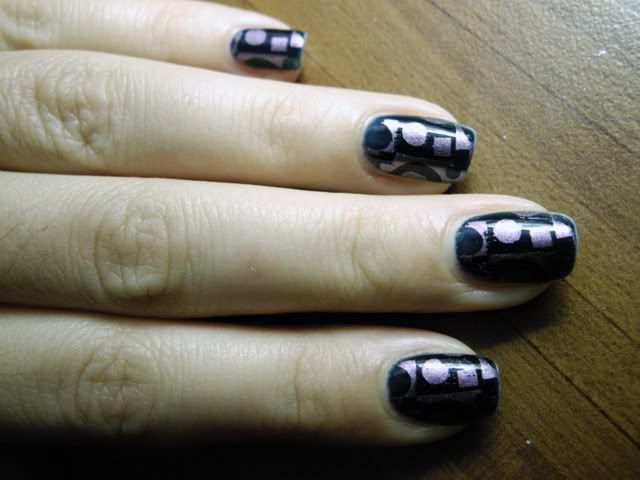 It's China Glaze Harmony over a dark navy polish by Claire's (no number), and Konad image plate m65.
Make yourselves at home and enjoy my blog =)
Merhaba! Sonunda ojeler ve ara sıra da makyaj ile ilgili yazılarımı paylaşmak amacıyla blog açmış bulunuyorum.
Kendim hakkında biraz bilgi vermek gerekirse: İstanbul'da yaşayan 25 yaşında bir kızım. Tırnaklarımı boyamak ve üstlerine desenler yapmak en sevdiğim boş zaman aktivitelerinden biri. Üniversite son sınıf öğrencisiyim ve Bilgisayar Mühendisliği bölümünde okuyorum. Kitapları, interneti, House M.D. ve Family Guy izlemeyi, oje ve makyaj blogları okumayı seviyorum. Sinemaya gitmeyi, yemek yemeyi, sevgilimle vakit geçirmeyi, Wii, Nintendo DS ve PS3 oynamayı, arkadaşlarımla çıkmayı, fotoğraf çekmeyi ve sanatı da öyle.
Başlangıç olarak Claire's lacivert oje üzerine China Glaze Harmony ve konad disk m65 ile yaptığım deseni görebilirsiniz.
Umarım blogum hoşunuza gider =)