So after the Konad failure yesterday, I've decided to try out another konad design. Actually I was tired of removing all the layers of polish with acetone-free remover, because the one mom got is really bad, it doesn't do my cuticles and my hands well, I don't like it. I tried to avoid it till yesterday, but I ran out of my regular polish remover, so I had to use it. Anyway, I kinda half-heartedly put on some pink polish, then I decided I didn't like it very much and stamped it with the white fishnet design. Then I stamped the flower design from the same palette, m57, in black. Finally I did some freehand black tips. I don't really like this manicure very much, but it stays until I get my regular polish remover back in stock, and till I have better manicure ideas. Because sometimes I lose my mojo and no polish of mine seems to work that day for me.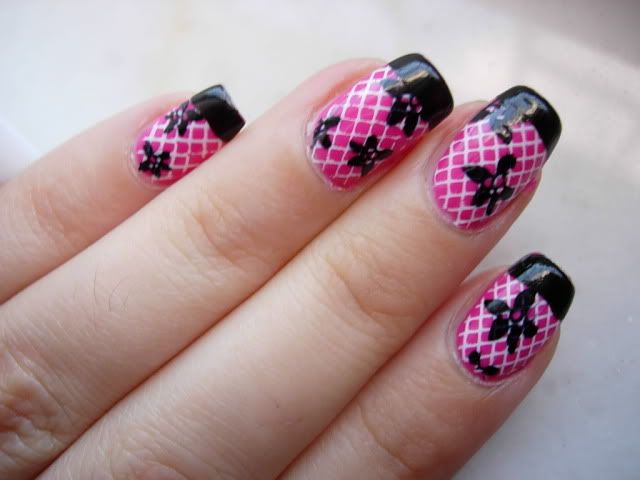 Just look at my cuticles. No matter how well I moisturize them after using acetone-free remover, they stay this way for at least a day. Eww.
Dünkü konad deneyiminden sonra, başka bir konad deseni yapmaya karar verdim. Aslında annemin aldığı asetonsuz oje çıkarıcı beni canımdan bezdirdi. Ellerime ve tırnak etlerime hiç iyi gelmedi. Aslında kullanmaktan düne kadar kaçınabilmiştim, ama asetonum bitince kullanmak zorunda kaldım.
Önce pembe oje sürdüm ama pek beğenmedim, üzerine beyaz file deseni, onun üzerine de siyah çiçekler ve siyah french bandı yaptım. Aslında güzel olduğunu söyleyemem ama doğru düzgün bir aseton alana kadar kalacak artık. Bazı günler ilhamımı kaybediyorum ve öyle zamanlarda hiçbir oje yakışmıyor sanki.
Tırnak diplerimin haline bakın. Asetonsuz çıkarıcı bu hale getiriyor işte.