Hey guys =) After watching Nihrida's Water Marbling Tutorial a few days ago, I thought I'd give it a try. It didn't come out exactly as I expected, I thought I'd post it anyway. My nails are in a bad condition right now and my cuticles hurt as well. Next time I'm going to be more patient do a neat job. Here is what I've come up with: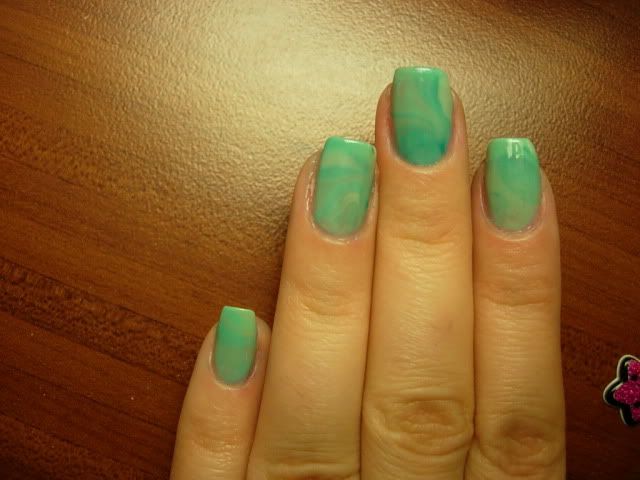 I used Claire's polishes in aqua blue (dupe of China Glaze Shower Together) and a dark blue jelly. The base is a jelly-like mint green franken I did some time ago. I can't wait to repeat this in better colors.
Selam herkese =)
Nihrida'nın water marble videosunu
izledikten sonra, ben de denemeye karar verdim. Çok da kolay olmadı yapmak ama ben yine de buraya koyuyorum. Tırnaklarım pek iyi durumda değil ve tırnak diplerim de çok acıyor. Bir daha sefere daha sabırlı olup daha temiz iş çıkaracağım.
Baz olarak nane yeşili, kendim yaptığım bir ojeyi kullandım, üzerine de turkuaz ve lacivert ile water marble yaptım. Daha farklı renkler kullanarak da deneyeceğim bunu.