I'm no Essie virgin anymore! =D Truth to be told, I've never really been interested in Essie before. I saw it as a brand of reds, pinks and sheers, and occasional interesting colors, which I already had dupes for. But in the last months, Essie has outdone itself by releasing many different and edgy colors along my taste. And finally, I decided to give it a try =)
I got four colors, two from The Resort Collection, and two from The Summer Collection.
Here they are: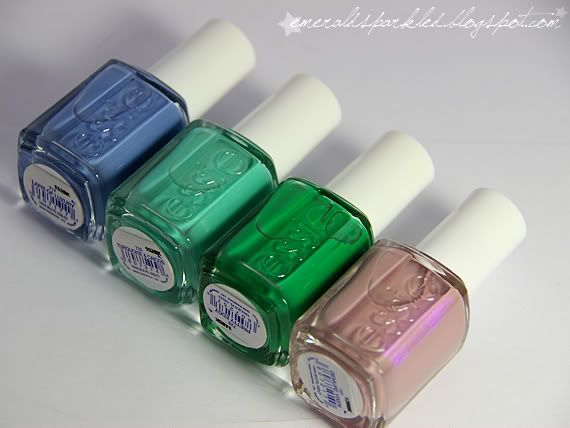 From Left to Right:
Lapis of Luxury, Turquoise & Caicos, Pretty Edgy, Demure Vixen.
First three are jelly-like cremes, and the last one has a pretty fuchsia flash. I'm very happy with all the colors I got, just need Haute as Hello =D
Artık benim de Essie ojelerim var =) Açık söylemek gerekirse, daha önce Essie hiç dikkatimi çeken bir marka değildi. Her zaman kırmızı, pembe, ve sıkıcı renklerle dolu, nadiren değişik bir renk üreten bir marka olarak görürdüm Essie'yi. Ama son aylarda, Essie bir sürü ilginç renk piyasaya sürerek kendini aştı. Ben de en sonunda bir deneme yapmaya karar verdim =)
Dört renk aldım, ikisi Resort koleksiyonundan, ikisi de Yaz koleksiyonundan.
Soldan sağa: Lapis of Luxury, Turquoise & Caicos, Pretty Edgy, Demure Vixen.
İlk üçü jelimsi krem yapıda, sonuncusu da solgun bir renk ama içinde fuşya ışıltı var. Aldığım renklerden çok memnunum, istediğim bir Haute As Hello kaldı =)