NOTE: Updated this mani with some flakies!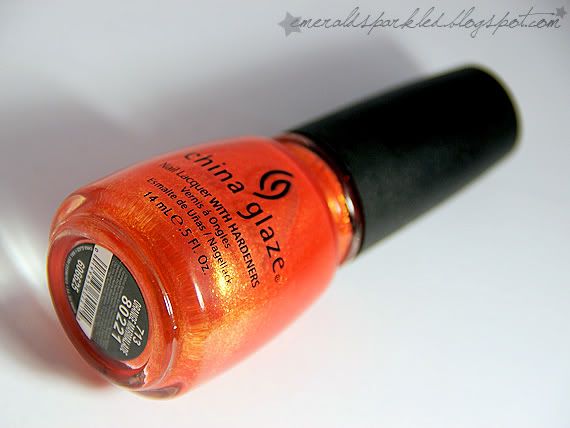 China Glaze Orange Marmalade is an orange glass-fleck polish from their 2009 Summer Days Collection. This color absolutely screams "Summer!" =) It's a bright orange with yellowish-orange glass flecks. The finish really makes it glow. I'm sure this would even look better on tanned skin, but I'm truly happy with it.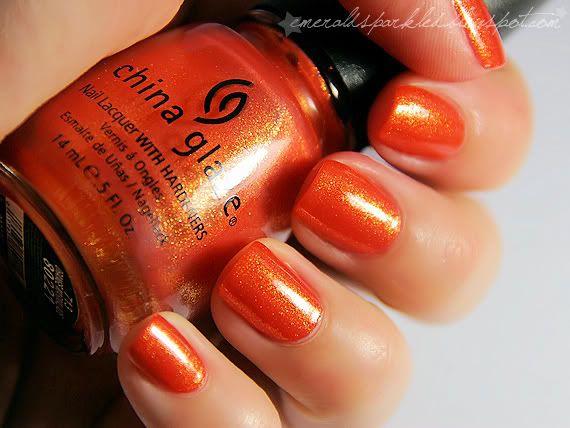 It really glows from within! I did three coats, but I still have some VNL, it could be a better idea to layer this on a matching orange, in my opinion.
W/ flash: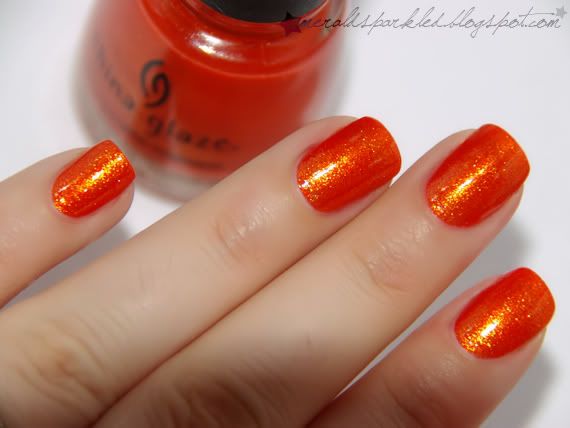 Oh, how this sparkles! So lovely! Even better than glitter =D
I can't believe how fast my nails are growing now that it's summer. The pineapple mani was only a week ago!
ETA:
I applied Inglot #202 flakies over Orange Marmalade. Coral flakies with greenish flash over microglitter gave my nails a foily, Minx-like look. It looks even better in real life =)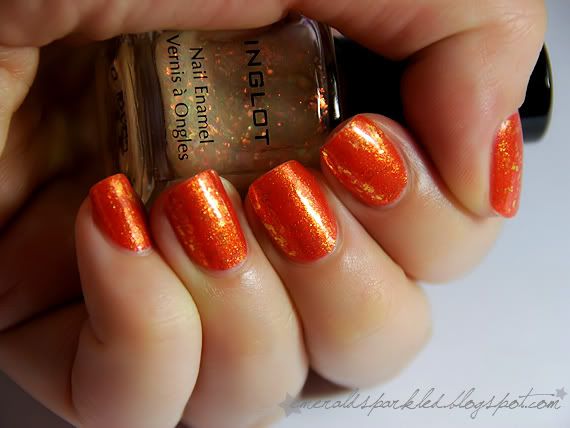 China Glaze Orange Marmalade, 2009 Summer Days koleksiyonundan turuncu bir oje. Bu yapıda ojelere "Cam Parçacıklı" deniyor, çünkü sahiden içinde kırık cam parçaları ışıldıyormuş gibi. Bu renk sanki "Yaz geldi!" diye bağırıyor =) Çok parlak bir turuncu, yine sarımsı turuncu mikrosimler var içinde. Sanki içinden ışık veriyormuş gibi. Eminim ki bronz tenlerde daha güzel durur, ama ben kendimde bile çok beğeniyorum.
Üç kat uyguladım ama tam opak olmadı. Bence önceden sürülmüş bir turuncu üzerine uygulamak en doğrusu olur, hem daha az oje harcamış olursunuz.
Öyle güzel parlıyor ki =) Pullu ojelerden bile daha göz alıcı =D
Şimdi yaz geldi ya, tırnaklarımın ne hızla uzadığına inanamıyorum.
Ekleme: Orange Marmalade üzerine Inglot #202 sürdüm. Mercan rengi, yeşilimsi parlayan pullar turuncu oje üzerine sürülünce metalik, Minx gibi bir görünüm oluşturdu. Gerçekte resimden bile daha güzel gözüküyor =)