Hello my lovely polish-loving friends =) I'm back from my trip to Berlin. It was foggy, rainy and cold; plus my feet were sore all the time from walking non-stop, but it was so worth it. I've also visited Dresden and Potsdam. I'm happy to inform that I was able to consume the amount of fruit yogurt enough for a lifetime =) Other than that, I tried to collect polishes but I didn't get as many as I thought I would. Catrice was hard to find, the core collection of Essence wasn't very appealing, but I was very happy about the wide selection and availability of P2 polishes =)
Here is a quick mani I did today,
Essence Underwater
sponged with
Essence Choose Me
and stamped with the flower image from Essence Stampy Image Plate in gold.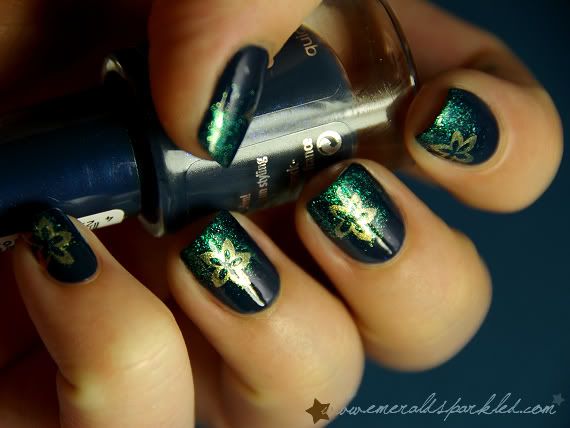 I'm happy to be back! =)
Merhaba oje sever arkadaşlarım =) Berlin gezisinden döndüm. Hava sisli, yağmurlu ve soğuktu; ayrıca hiç durmadan yürüdüğüm için ayaklarım sürekli ağrıyordu, ama değdi. Dresden ve Potsdam'ı da ziyaret ettim. Bu arada ömrüm boyunca yetecek kadar meyveli yoğurt tüketmiş olmanın haklı gururunu yaşıyorum =) Bunun dışında, tahmin ettiğim kadar fazla oje alamadım. Catrice bulmak çok zordu, Essence ojeleri bana pek hitap etmedi, ama P2 ojelerinin gerek ulaşılabilirliği, gerekse renk çeşitliliği çok hoşuma gitti =)
Bu bugün çabucak yaptığım bir manikür, Essence Underwater üzerine süngerle Essence Choose Me uyguladım ve Essence Stampy diskindeki çiçeği damgaladım. Tamamen Essence ürünlerinden oluşan bir manikür oldu yani ;)
Döndüğüm için çok mutluyum! =)