Hello everyone =) I just discovered that Flor Mar has come up with this line called "Supershine Miracle Color". It consists of sparkle polishes, similar to recent Zoyas and Orly Cosmic Collection. There are about 20 colors (?) and I've already seen dupes for Orly Out Of This World, Zoya Mimi, Zoya Alegra and China Glaze White Cap.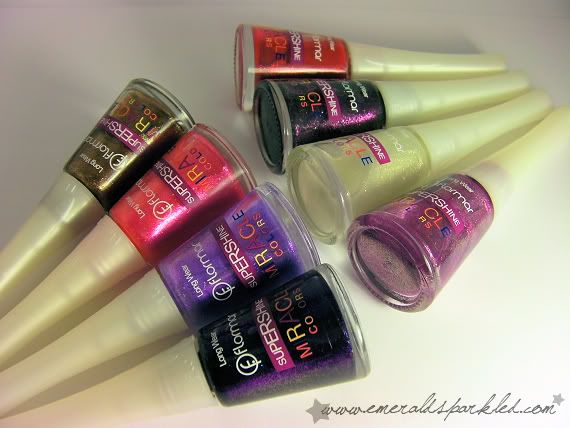 Here are the 8 colors I've bought. They retail for about $1.70 each.
Top, L-R:
U14, U18, U01, U15
Bottom, L-R:
U11, U05, U28, U08
Here is a comparison of Orly Out Of This World and U18. They looked like dupes in the bottle, they have the same duochrome effect, but U18 is warmer. U18 is magenta sparkle in a black base, and Out Of This World is purple sparkle in a black base. By the way, this one is not the OOTW dupe I was talking about. I didn't get that one.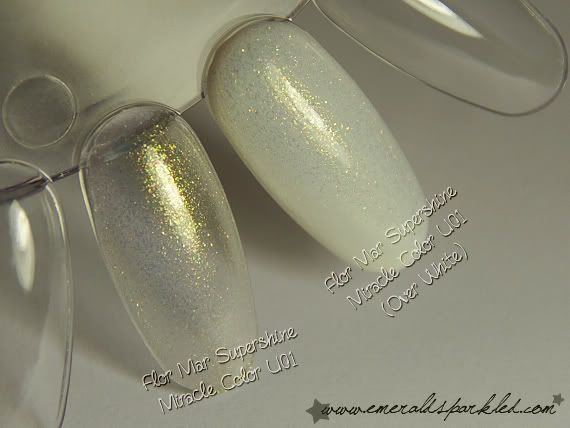 This is U01, which I think is a dupe for China Glaze White Cap. It's golden sparkle in a clear/yellowish base, and it's great for layering. This is 3 coats and impossible to become opaque on its own, on the right you can see it layered on white.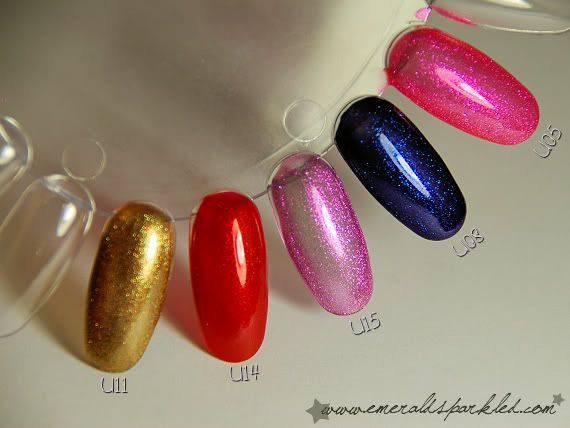 Quick swatch of the other 5 colors. Sorry I forgot to take a good picture of U28 (lilac). It's also very sheer on its own, I'm going to layer it over a matching lilac creme.
I really like U08, it's a true navy sparkle with some purple duochrome and it's much darker than Orly Lunar Eclipse.
Finally, I layered U15 over a no-name lilac creme, and I love it. I couldn't really capture the beauty of the combination, think Zoya Danni, but lighter. =)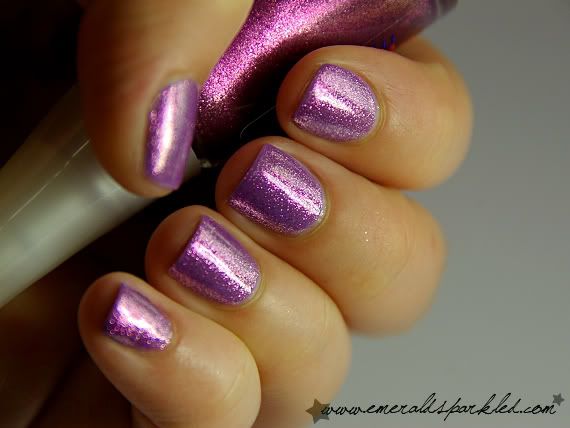 That was my quick review =) As far as I know, some of you guys can find Flor Mar in your country, and I think this lot is going to be available for you soon =)
Herkese merhaba =) Bugün Flor Mar'ın "Supershine Miracle Color" diye bir seri çıkardığını öğrendim. Cevahir'e fatura ödemeye gittiğimde kioska bir göz atayım dedim, gerçekten de birkaç gün önce baktığımda olmayan seri bugün oradaydı =) Bu seri yapı itibariyle Zoya ojelerine ve Orly Cosmic koleksiyonuna benziyor. Sanırım 20 civarı (?) renk var ve güzel bir haber size, Zoya Mimi, Zoya Alegra, China Glaze White Cap ve Orly Out Of This World gibi ojelerin aynılarını gördüm =)
Ben şimdilik 8 oje aldım. Oje başına 2.5 TL.
Üst sıra, soldan sağa: U14, U18, U01, U15
Üst sıra, soldan sağa: U11, U05, U28, U08
Öncelikle Orly Out Of This World ve U18'i karşılaştırdım. Şişede çok benziyorlar ama U18 daha sıcak tonda. Bahsettiğim Out Of This World'un aynısı olan oje bu değil bu arada, onu almadım.
Bir sonraki oje U01, ve sanırım China Glaze White Cap'ın aynısı. İçinde altın renkli cam kırıkları olan şeffaf bir oje. Kendi kendine opak olması imkansız gibi bir şey, sağ tarafta beyaz üzerine sürülmüş halini görebilirsiniz.
Sonra diğer beş rengin sürülmüş hali. U28 yani lila olanın resmini çekmeyi unutmuşu, hoş görün.
U08 benim favorim oldu, hem lacivert olması, hem sedefli değil cam kırıklı olması ile gönlümü kazandı. Orly Lunar Eclipse ile kıyaslamak gerekirse ondan daha koyu ve onun gibi mora dönük değil.
Son olarak U15'i leylak rengi krem ojenin üzerine sürdüm. Çok güzel oldu, her ne kadar makineyle yakalayamasam da. Zoya Danni'yi düşünün ama onun daha açık rengi =)
Bugünlük benden bu kadar, umarım bilgilendirici olmuştur =)