Today is Day 27, nails
INSPIRED BY ARTWORK
.
The only manicure that was determined from the start was this one. I seriously love this work by Katsushika Hokusai, it's called
"The Great Wave Off Kanagawa"
. I used to have a journal featuring this woodblock print, but I gave it to my brother's girlfriend as a gift, because she's better at keeping journals than me =)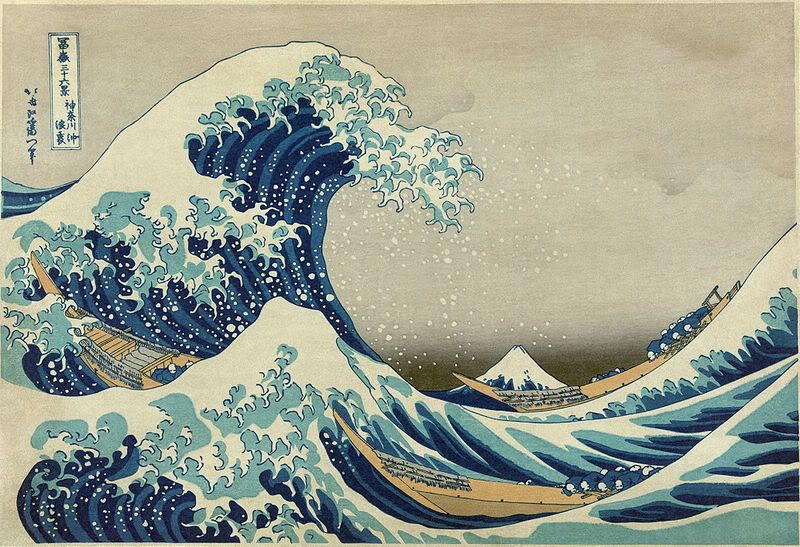 The Great Wave Off Kanagawa
I started this manicure with
Essie Playa Del Platinum
, the rest is acrylic paint. Here is the only picture of the manicure that came out decent: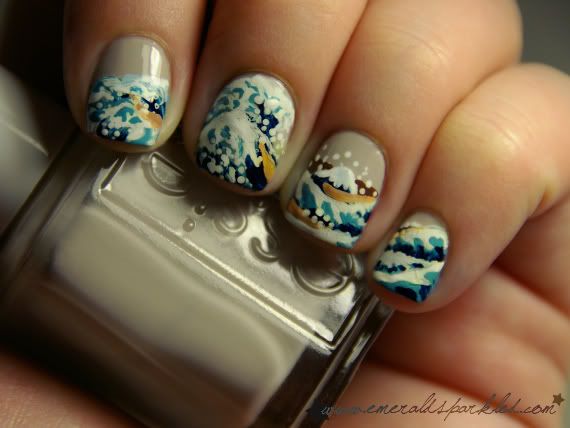 The Great Wave inspired Nail Art
I hope you liked this one. Only 4 more manicures left! =D See you on Day 28!
Bugün 27. Gün, konu ise BİR SANAT ESERİNDEN İLHAM ALAN TIRNAKLAR. Benim bugün yaptığım manikür, daha bu 31 Gün manikürleri serisine başlamadan önce yapacağımdan emin olduğum tek manikürdü. Katsushika Hokusai'nin tahta üzerine mürekkeple yaptığı "The Great Wave Off Kanagawa" (Kanagawa Açıklarında Dalga) eserini her zaman çok beğenmişimdir, hatta üzerinde bu eserin resmi bulunan çok güzel bir günlük defterim vardı, hiç yazmaya kıyamadığım. Sonra onu kardeşimin sevgilisine hediye ettim, yazmayı çok sevdiği için benden daha iyi değerlendireceğini düşündüm =)
Önce 3 kat Essie Playa Del Platinum sürdüm, geri kalanı için de her zamanki gibi akrilik boya kullandım. Sadece tek bir düzgün resim çekebilmişim, bu seferlik de böyle olsun =)
Sadece 4 manikür kaldı, çok mutluyum =) 28. Gün görüşmek üzere!