After about 3 whole months, I'm almost at the end =) Today's nails are
INSPIRED BY A TUTORIAL
. My inspiration was the
Snowflake Tutorial
by
Nailside
, but I changed it quite a bit. I drew smaller snowflakes, each one different than the other. My base color is a franken, then I used white acrylic paint for the flakes & dotting tools for the snow.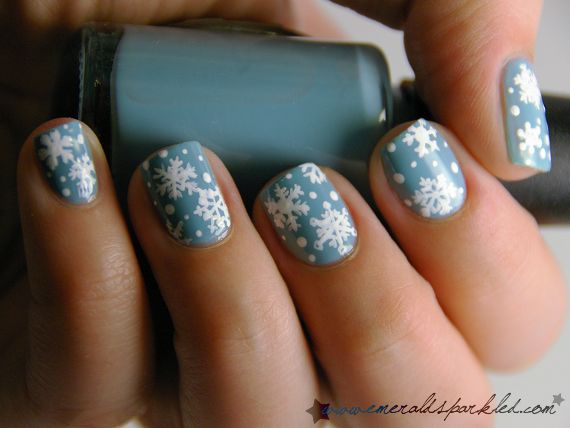 Snowflake Nails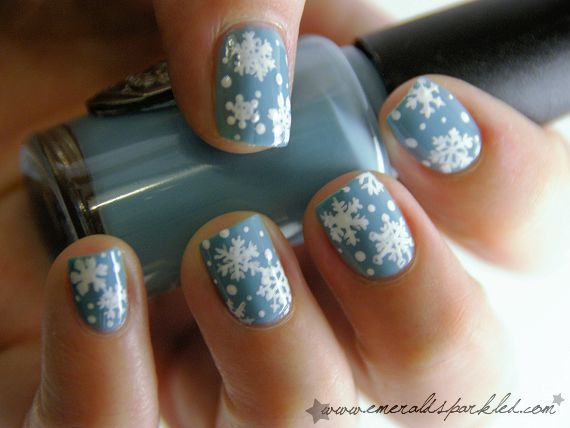 Snowflake Nails
If you're a beginner at freehand & want to draw snowflakes, Nailside's tutorial is very easy to follow =) Remember, snowflakes are always six-armed! Any snowflake with more or less than six arms won't have the same effect =)
That's all for today, see you on the Final Day!
Neredeyse 3 aydan sonra 31 Gün Manikürleri serisinde sona yaklaşmış bulunuyorum =) Bugünün tırnakları
YAPILIŞ AŞAMALARI GÖSTERİLEN BİR MANİKÜRDEN
esinlenmiş tırnaklar. Çeviri saçma oldu, ama "tutorial" kelimesinin tam bir Türkçe karşılığı yok ne yazık ki...
Benim ilham aldığım manikür,
buradaki kar tanesi manikürü
oldu. Blogun sahibi ise
Nailside
. Yalnız ben manikürü biraz değişik yaptım, kar tanelerini daha küçük ve hepsini birbirinden farklı çizdim. Baz olarak kendi yaptığım mavi ojeyi kullandım, kar tanelerini ise beyaz akrilik boya ile çizdim, sonra da benek yapma aleti ve kürdan ile kar görünümü vermesi için benekler ekledim.
Eğer tırnaklarınıza kar taneleri çizmek istiyorsanız ama el becerinize güvenemiyorsanız, yukarıda verdiğim tutorial tam size göre. Adımlar oldukça basit ve kar taneleri büyük olduğu için yavaş yavaş çizerek yapabilirsiniz. Yalnız unutmayın, kar tanelerinin her zaman altı kolu olur, ne eksik ne fazla =) Beş ya da sekiz kollu çizilince aynı görüntüyü vermiyor =)
Bu günlük de bu kadar, Final Günü görüşmek üzere!