I've reached 100 followers this week, thank you my friends, for your interest and support =))) I love you all!
I'm really disappointed about Emerald Sparkle. When I ordered this polish from eBay last year, I had no idea that there were two versions around. Then I found out about it and asked the seller, but she didn't give me any information. When I received the polish, it looked like gorgeousness in a bottle, but something was a little off, the glitter was small and too dense, and had nothing to do with the jelly I expected. I'm still not 100% sure if this is the "bad" version, it looks kinda inbetween to me. But it's not the green glitter suspended in a black jelly base, and has a more foily finish, so I'm almost certain. Ironically my blog is named after this polish, I wanted it sooo bad!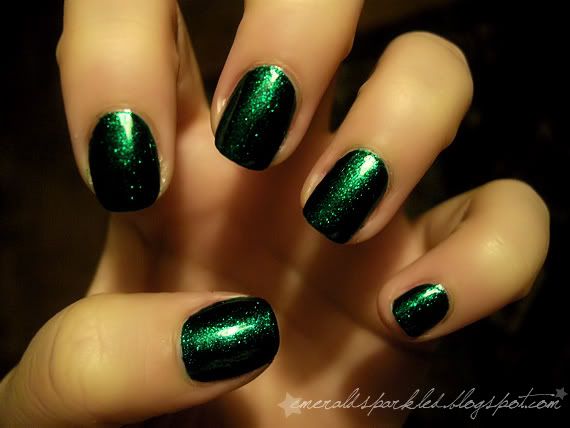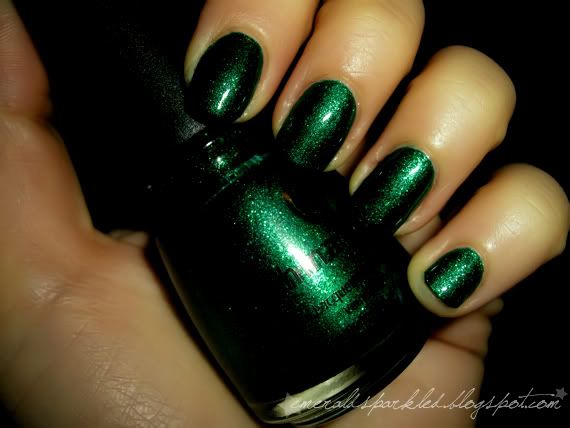 Colors are corrected to look like IRL. Camera actually showed the tealish-base, which wasn't supposed to be. This polish is still really lovable on its own, but I just want that gorgeous original Emerald Sparkle! Today I checked out Transdesign, and they're out of stock! And I was about to order it! Arrrgh! I emailed them, and they said they're not sure and I'd better check the site regularly. So I'm asking you: Would anyone from the US help me to get the original Emerald Sparkle if I'm unable to get it in the following weeks? Head2Toe isn't shipping China Glaze internationally, and 8ty8beauty doesn't provide insurance. (I have serious problems with stolen post, if it's not trackable.) I'd appreciate any offer, and of course I'd pay for everything. I just need a friend to redirect the order to my address, using Priority Mail International (Not Flat Rate), which is trackable. If someone is willing to do this for me, I'm going to contact them when I'm sure I can't get it myself...