Hello Everyone! I wish you a very happy New Year, may health, love and success always be with you!
I had to wear something classic on New Year's Eve, a burgundy creme with tiny reddish glitter. It was actually very nice, but I couldn't take a good picture, sorry... This manicure was hastily done, and I'm not very good at clustering images on the nails, I normally do full images and now I fancy stamping small images multiple times =) I hope I'll get used to it! Anyway, the name comes from, as you might have guessed, Harry Potter books. J.K. Rowling often describes Dumbledore's robes as "magnificent dark purple, emblazoned with golden stars". And Albus Dumbledore is my #1 book hero of all times, so I decided to name this manicure after him =)
I started off with a very bad quality black creme polish. It was streaky and gloopy and overall terrible, but I had no other black option at the moment. Then I did the tips diagonally with a gorgeous purple glitter in a dark purple base, a recent local-brand discovery. It's so beautiful that it deserves a mani on its own, which will follow. Finally, I did the stars from plate m42 with China Glaze 2030, and the year "2010" on my ring finger. It could be so much cleaner and nicer, but like I said, I was in a hurry. I hope you like it!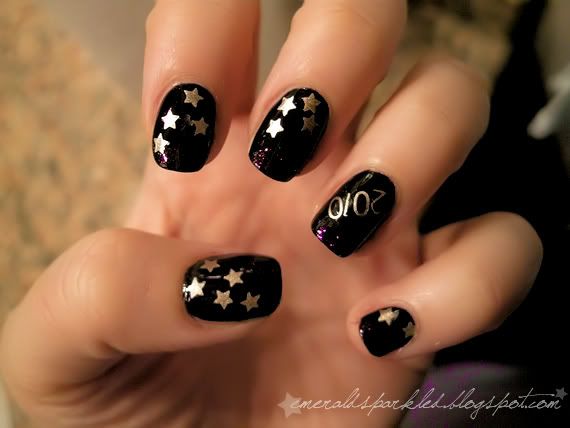 Oh, how I cried a river when Albus Dumbledore died!