Hey guys =) I'm sorry for the lack of posting in the last days, I had a difficult time... But I'm feeling better now. On top of that, I broke both index nails, and therefore I shortened all my nails again. I'm out of topcoat, and I'm really broke for the rest of April, therefore my nails are bare. The lovely Golden Rose Quick Dry topcoat is out of stock, and they don't know when they will have it back in stock again. Grr! I frankened myself a topcoat using some old, gloopy Sally Hansen Insta-Dri, a new, not-so-quick drying local brand topcoat, and some leftover Golden Rose. The result was not bad at all! At least it can hold until I get my hands on some decent topcoat =)
By the way, this week I got some kick-ass package from the States =) With the help of my dear friend, Elizabeth, I was able to get my first Zoya's, Nubar and some other stuff I've been lemming for, plus some surprises! Yay! I'll shut up now and let the pictures talk: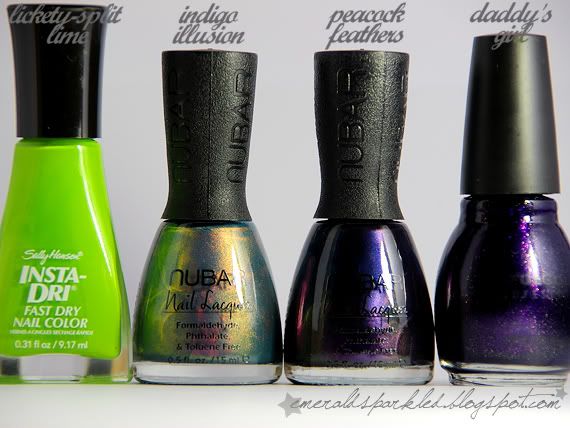 L-R: Sally Hansen Lickety-Split Lime (Yaaay, Shrek Green! Finally!), Nubar Indigo Illusion, Nubar Peacock Feathers, Sinful Daddy's Girl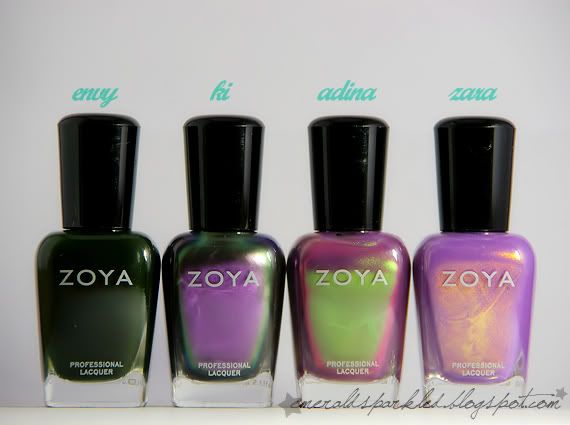 L-R: Zoya Envy, Ki, Adina, Zara, which I all ordered when there was a Buy 2 - Get 2 Free! sale going on.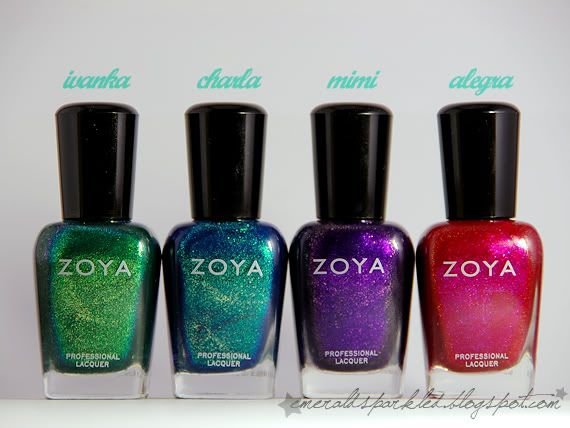 L-R: Zoya Ivanka (Oh. My. God), Charla (*swooon*), Mimi (*thud*), and finally Alegra, which was a surprise from Liz! <3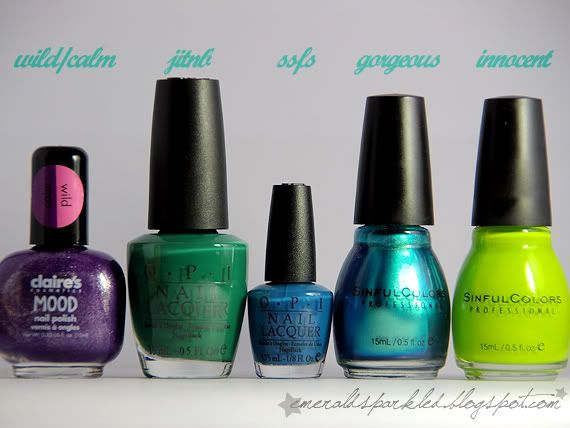 Finally, the extras! L-R: Claire's Mood Polish in calm/wild, OPI Jade Is The New Black, OPI Suzi Says Feng-Shui, which is the tiniest polish I've ever seen; Sinful Gorgeous and Innocent (Yaaaay, another Shrek Green!!!)
I'm so happy for all those polishes, especially Zoya's. The Sparkle collection is one of the best collections I've ever came across, unbelivably beautiful in the bottles and also on the nails. I'm so happy I've almost fulfilled all my wishes in the past months =D Thank you so much, Elizabeth, you rock my little polish world!
PS:
Did you notice how almost all polishes are either green or purple? =D