Hey everyone =) Remember the "Dipping & Swiping Technique" I talked about a few posts ago? Well, I've been trying to master that technique for tutorial reasons, and it turns out that I'm by no means good at it, plus that the technique is not very reliable. The first time I got it right was sheer luck, I guess =/ But I'm going to do a tutorial about how I do my freehand french tips, and I'm almost good at it, too =)
These tips are freehanded, and 3 coats over black to be visible, but of course I prefer less coats. With more suitable colors, it's possible to get it correctly done in one coat =)
These nails are a bit dark but girly at the same time. Black base, China Glaze Sneaker Head tips, and China Glaze 2030 & plate m03 for the stamps.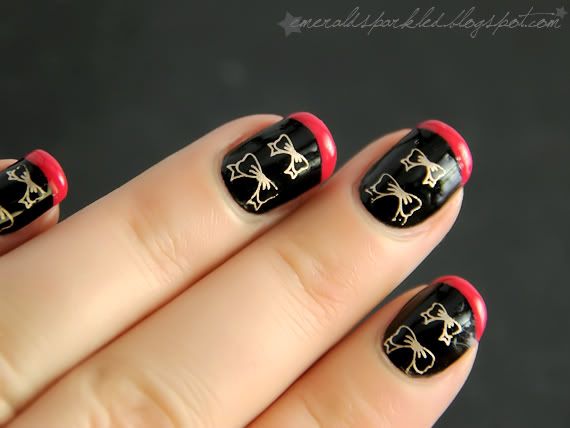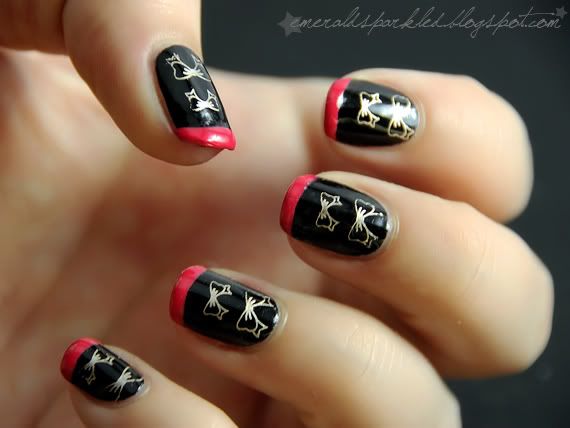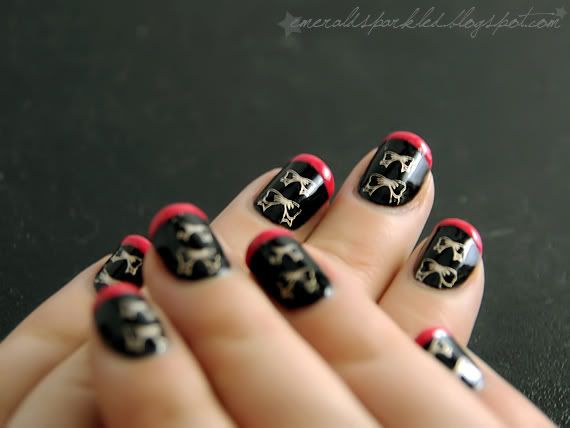 I lent one of my double ended stampers to a newbie friend, and I was using the short stamper, but although it's easier to control, it's harder for me to align the designs. So I'm back to my double ended stamper for now.
Well, although the execution sucks, there is still the idea =)
Herkese merhaba =) Birkaç yazı önce bahsettiğim pratik Fransız manikürü tekniğini hatırlıyor musunuz? Eh, bir video çekmek için o teknik üzerinde uzmanlaşmaya çalışıyordum, ve uzmanlaşmayı bırakın, aslında beceremediğimi ve o teknikle düzgün yapmanın çok da garantili olmadığını anladım. Sanırım ilk sefer başarmam tamamen acemi şansıydı =/ Ama normalde Fransız manikürünü elimle nasıl yaptığımı mutlaka göstereceğim, üstelik o teknikte iyi bile sayılırım =)
Uçlarını elimle yaptım, siyah üzerine üç kat pembe sürdüm. Aslında bir kat beyaz üzerine bir kat pembe sürebilirdim ama beyazım yoktu. Başka renk kombinasyonlarında bir katta bile rengi gösterebilirsiniz, eğer düzgün sürerseniz =)
Bu manikür biraz karanlık ama aynı zamanda tam bir kız manikürü. Siyah baz üzerine China Glaze Sneaker Head kullanarak bant çekildi ve China Glaze 2030 & m03 diskiyle damga yapıldı.
Bu işlere yeni başlayan bir arkadaşıma iki uçlu damgalarımdan birini ödünç verdim, bu yüzden küçük damgamı kullanıyorum. Aslında daha kolay kontrol edilse de, desenleri hizalamakta çok zorlanıyorum. Bu yüzden iki uçlu damgama şimdilik geri döndüm.
Eh, uygulama kötü olsa da, en azından fikir verebilir =)