Hey guys =) Now the voting has closed, I'm counting the votes and adding up the entries =) The contest winner and the ultimate winner will be announced today. (I hope!) Excuse me for being slow, it's too hot in here! Just to remind you, regardless of the ultimate winner, the contest winner will receive a special prize =)
Some information about today's NOTD:
The Evil Eye Beads are very important in Turkish culture. These glass beads of various sizes are amulets that protect you/your home/your car from the bad energy that comes from envious looks by drawing the attention on themselves. If a bead gets broken, that means it has done its duty and just warded off an envious look that could harm you. Of course it's all superstition, but we still use them as decorations & accessories, because it's part of our culture =)
For more info visit: http://www.nazarboncugu.com/


Yesterday, Jen posted
a manicure
in her blog,
Nevertoomuchglitter
, featuring Evil Eye Beads. I'm a Turkish girl, and I couldn't believe I never thought of this myself! Many girls in my country like to do little Evil Eye designs on their french manicures, but I'm a little more extravagant than that, and Jen's idea was awesome, because she turned her whole nail into an Evil Eye Bead! =)
So, here is my manicure: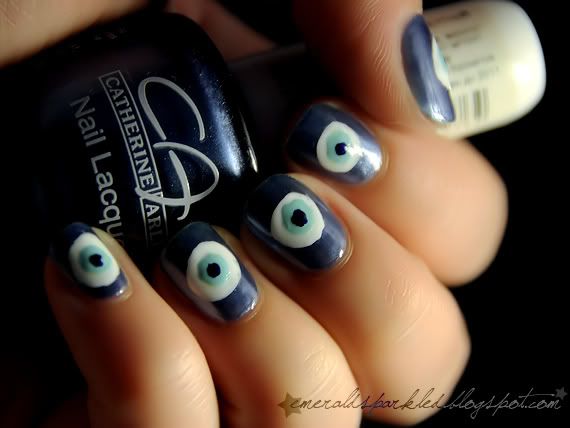 Only one picture today, sorry for that.
I used a very old polish as a base, it's a very transparent denim blue, and I guess the finish is either metallic or frost, I can't really tell. I never really put it on, but it's very suitable for the glass look. I freehanded the white, then dropped the blue inside, finally added some navy shimmer in the center with a dotting tool. It's a fairly easy manicure to do.
Merhaba =) Oy sonuçlarını göz önüne alarak kazananın belirlenmesine çok az kaldı. Umarım sonucu bugün sizlerle paylaşabilirim. Çok yavaş olduğum için kusura bakmayın, hava öyle sıcak ki... Bu arada hatırlatmak istiyorum, kazanan kim olursa olsun oylamanın birincisi de benden özel bir ödül alacak =)
Bugünkü tırnaklarım nazar boncuğundan esinlendi. Aslında nazar boncuğunun kendisiymiş gibi yaptım tırnaklarımı. Dün
Nevertoomuchglitter
blogundan Jen, bir nazar boncuğu manikürü yapmış, dedim "Eee ben de Türk'üm, benim neyim eksik?" Biliyorum Türk kızları arasında tırnaklara nazar boncuğu yapmak çok moda, ama tüm tırnağı nazar boncuğu yapmak gibi abartılı bir fikir biraz daha benim tarzım.
Baz olarak oldukça şeffaf yapılı, metalik mavi bir oje kullandım, cam hissini vermesi için. Sonra sırayla beyaz ile bir daire çizdim ve içini boyadım, sonra açık mavi ile daha küçük bir daire çizdim ve son olarak lacivert ile ortalarına birer nokta koydum. Yapımı oldukça basit =)