Hey guys =) This shade just may be my favorite from the new Rimmels, and when I think about I was so hesitant to buy it! But I'm so glad I did. I was starting to grow bored of all those taupes, then the brands decided to mix in some different colors! I adore Chanel Khakis polishes, and I also love the new purple-taupes (Paradoxal, Purple Grey) This one is a very nice taupe, leaning rose. It's visibly different than the other taupes we've seen last year (YDKJ, Prince Charming, etc.), they all look on the cool side when compared to this one.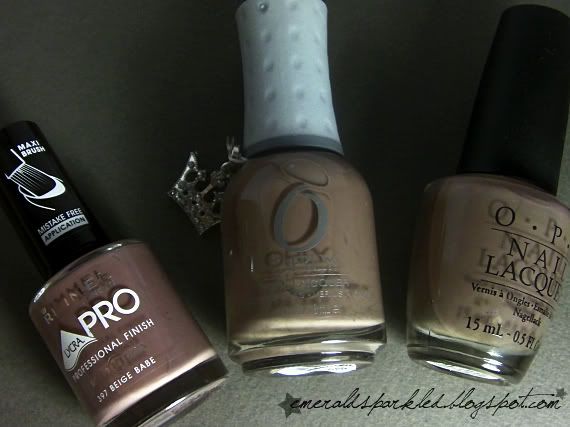 I think this might be defined as

Rose Taupe
. The consistency was just perfect. The polish applied itself, as I stood there and watched. LOL. The only drawback was the minimal dragging. The opacity was great in two coats, but I did three to cover the slightly dragged areas. By the way, this is the first wide brush I don't hate. It's not ginormous like Sally Hansen Salon brushes, yet shaped the same way to fit the cuticle perfectly. I didn't clean up after application, see below:
I really really love this. Perfect for fall.
See you, maybe tonight, in another blogpost =D
Selam =) Yeni aldığım Rimmel ojeler arasında belki en sevdiğim renk, üstelik sırf almış olmak için aldığımı düşünecek olursak! Yeterince gri-kahve ojem olduğu için almakta çekimser kalmıştım, ama çok iyi yapmışım. Gri-kahveler tam baymak üzereyken, bu sene içine başka tonlar karıştırmaya karar verdi oje firmaları. Favorilerim mor karıştırılmış gri-kahve (Paradoxal, Purple Grey) ve Chanel Khakis ojeler. Özellikle Chanel Khaki Brun ve Chanel Khaki Rose çok hoşuma gitti. İşte bu renk de geçen yıl boyunca gördüğümüz gri-kahvelerden farklı, daha çok gül rengine kaçıyor ve diğerleri bunun yanında soğuk tonlu duruyor.
Bu arada ojenin yapısı tek kelimeyle muhteşem, üstelik geniş fırçalı olmasına rağmen fırçasını çok beğendim, tırnak etinın şekliyle uyum sağlıyor. Sürdükten sonra tırnak diplerimi asetonla biraz temizlerim genelde, ama bu sefer hiç gerek olmadı. Tek kötü yanı sürülürken az miktarda sürüklenmesi, bu yüzden üç kat sürmek zorunda kaldım, yoksa iki katta opak oluyor.
Gelecek yazıda görüşmek üzere. Belki de bu akşam. ;)