I somehow forgot to post about this amazing polish.
P2 Dating Time
is a very squishy, pale green jelly with a hint of mint. On the pictures it might look like it, but it's not a yellow-leaning green like Orly Green Apple, it's along the same line with OPI Gargantuan Green Grape. On the nails it looks so awesome, slightly translucent, very pale, slightly minty green goodness. I love it!
I needed 4 coats to get it opaque, but as jellies are pretty much chip resistant, it won't be lifting for a few days. Plus, jellies don't crack on the second day like pastel cremes, which is a huge plus! Another thing that I love about the jellies is that they always stay put because of the high viscosity. I barely need to clean up after applying a jelly, the cuticle line is always neat =)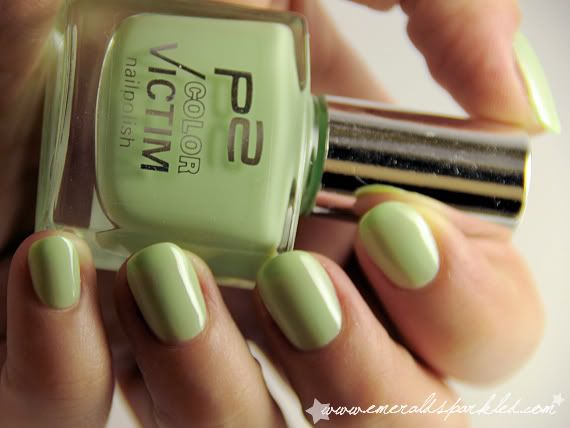 P2 Dating Time, 4 Coats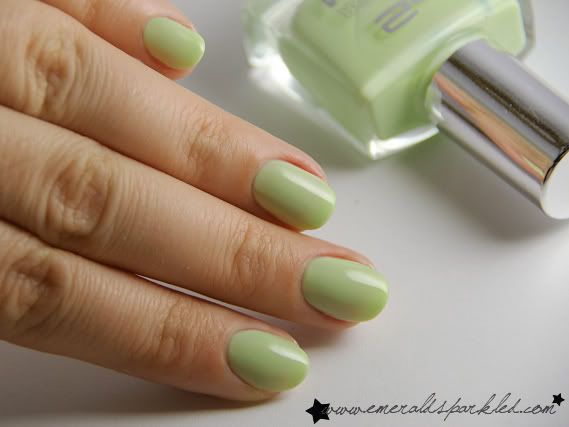 P2 Dating Time, 4 Coats
Look how clean it looks without any clean up!
I got this one a few months back, I hope it's still available for you guys who'd like to get it. It has only recently started to feel like spring here, and this polish is perfect for this weather =)
Bu ojeyi sürmüşüm ama sonra hakkında yazı yazmayı unutmuşum. P2 Dating Time, oldukça ıslak görünümlü, jel yapıda, açık yeşil bir oje. Resimlerde öyle gibi gözükse de aslında sarıya dönük bir yeşil sayılmaz, daha çok nane yeşiline dönük, ama çok hafif. Tıpkı OPI Gargantuan Green Grape gibi. Hafif şeffaf oluşu çok güzel bence =)
Opak olması için yaklaşık 4 kat gerekiyor, fakat jel ojeler krem ojeler gibi kolay kolay soyulmadığı için, birkaç gün boyunca problemsizce durdu tırnağımda. Ayrıca jel ojeler pastel renkli krem ojeler gibi ikinci gün çatlamıyor, bu da büyük bir avantaj. Bir de jel ojelerin akışkanlığı farklı olduğu için, sürer sürmez belli bir şekil alıyor ve nasıl anlatılır bilmiyorum ama düzgün, birarada duruyor. Tırnak diplerine doğru akmıyor mesela =) Bu yüzden jel oje sürdükten sonra neredeyse hiçbir zaman temizlemeye gerek kalmıyor, tırnak dipleri kendiliğinden düzgün oluyor.
Resimde tırnak diplerimi hiç temizlemedim, normalde ufak tefek hatalar olursa asetona batırılmış bir fırça ile düzeltiyorum.
Ben bunu birkaç ay önce Berlin'den almıştım, alamasanız bile elinizdeki ojelerle kolayca yapılabilir. Rengi tutturduktan sonra jelleştirmek için içine şeffaf oje dökmeniz yeterli =)
İlkbahar yeni yeni geliyor, bu renk de tam baharlık bence! =)