I was lucky to find the Essence Blossoms Etc. Collection before it disappeared from the shelves. I got four of five polishes, only leaving out My Yellow Fellow, which didn't say much to me. I'm in love with these polishes, they are all very unique. Today I'm going to show you A Hint Of Mint.
A Hint Of Mint
is a pale

Olivine
shade, with subtle green shimmer. It reminds me of Catrice Sold Out Forever, the Chanel Jade dupe; but A Hint Of Mint is more yellow toned, lighter & less saturated.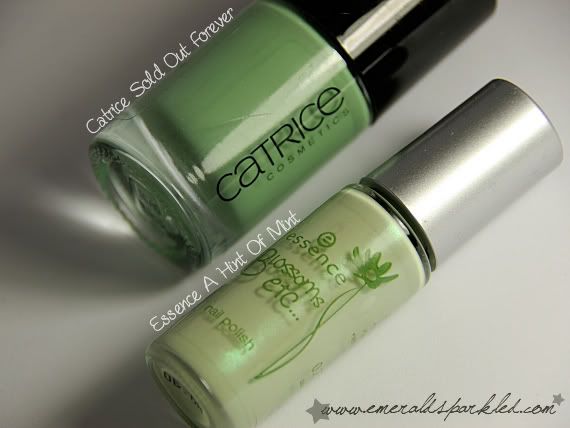 Catrice Sold Out Forever & Essence A Hint Of Mint
I applied two coats here, and it dried really fast. I also like the flat brush of the Essence polishes, the application was pretty easy. The only downside is the gloopy consistency of these polishes. It causes the polish to apply a bit too thick and streaky, but the end result was just fine.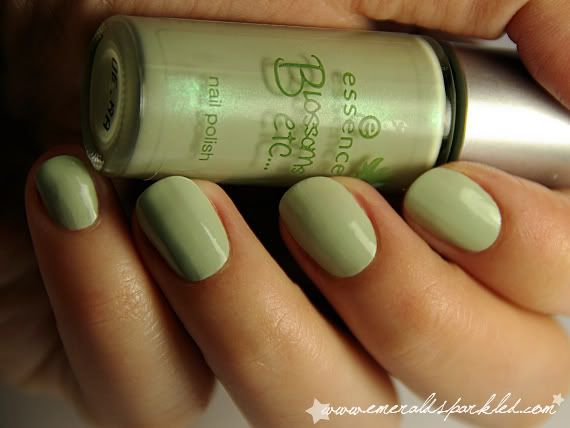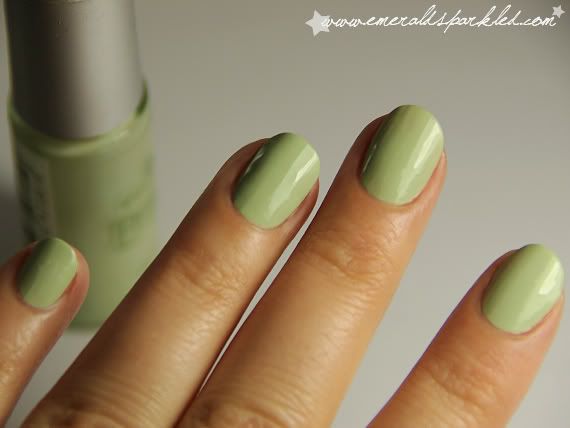 I also love the bottle art of these. The labels are all color coordinated, which is always a nice touch. Overall, I think this is a great spring collection, and I can't wait to try the other colors I've got.
Forgive my lobster hands, and have a nice day/evening =)
Essence Blossoms Etc. koleksiyonu raflardan kaybolmadan önce alabildiğim için çok mutluyum. Almanya'ya bu gidişimde sadece bir gün açıktı dükkanlar, ben de hemen bu koleksiyonun dört ojesini kaptım, My Yellow Fellow ismindeki sarı ojeyi almadım, sedefli açık sarı pek ilgimi çekmedi. Bu ojelere gittikçe daha çok ısındım, iyi ki almışım. Sahip olduğum ojeler arasında benzerleri var ama bu şekilde hem kremsi hem ilginç bir renkte ışıltıya sahip oje bulmak zor oluyor... Bugün göstereceğim ojenin adı A Hint Of Mint.
A Hint Of Mint soluk, açık bir yeşil, oldukça sarı tonlu. Kirli bir renk değil, pastel olduğunu söyleyebilirim. İlkbahar için (eğer gelirse) muhteşem bir oje bence =) Hafif bir yeşil ışıltısı var, bana Catrice Sold Out Forever'ı hatırlatıyor, ancak A Hint Of Mint daha sarıya yakın, daha açık ve daha soluk bir renk.
İki kat sürdüm ve oldukça çabuk kurudu. Essence fırçaları yassı ve geniş olduğu için oldukça rahat sürülüyor. Demek ki ben de bu tarz fırça sevebiliyormuşum, erken konuşmuşum =) Tek kötü yanı aşırı yoğun olması sanırım bu ojelerin, biraz fazla kalın sürülüyor ve bu da dalgalanma olmasına sebep oluyor. Ama kuruyunca yüzeyi gayet düzgün oldu.
Ayrıca şişeler de çok hoşuma gitti, etiketler ojenin rengine göre tasarlanmış, ince bir detay. Ayrıca renkler tam ilkbaharlık =) Bu tarz renkler bulursanız mutlaka alın hatta beyaz ojenin içine renkli oje damlatarak pastel ojeler elde edebilirsiniz =)
Bu arada ıstakoz kırmızısı ellerimi bağışlayın diyor, iyi akşamlar diliyorum =)