By the way, the comment box seems to have disappeared. I don't know what's wrong with Blogger these days, but I'm going to answer your comments as soon as it's available!
Hey guys =) Yesterday I saw these polishes at the Flor Mar counter, and I wanted to give the green one a try. It looked like a tropical green shimmery polish in the bottle, and I'm not a very shimmer type girl, but I thought the color was absolutely stunning.
Supershine #50
is a green leaning turquoise, and when I swatched it on a piece of paper, I realized that it was very opaque in a very thin coat. I immediately thought that it would make a fabulous stamping polish, and when I tried it on, I couldn't believe how beautifully it showed up on many colors, including black. This must be a dream, a tropical green stamping polish! =)
I stamped the zebra pattern from m57 on top of
Essence Trust In Fashion
. Trust In Fashion is a very dark, green leaning teal creme. It's similar to Essie Going Incognito, but it's much more vibrant.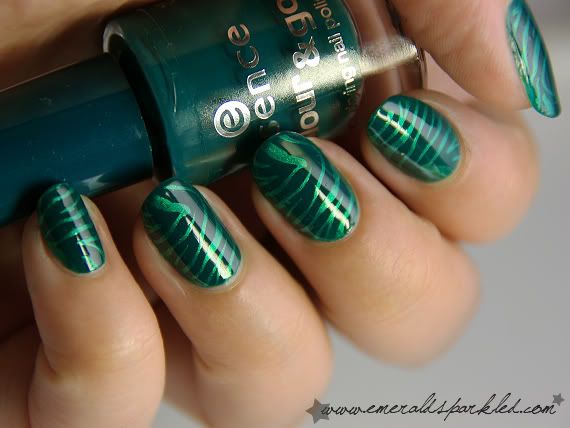 Essence Trust In Fashion, Flor Mar #50 & m57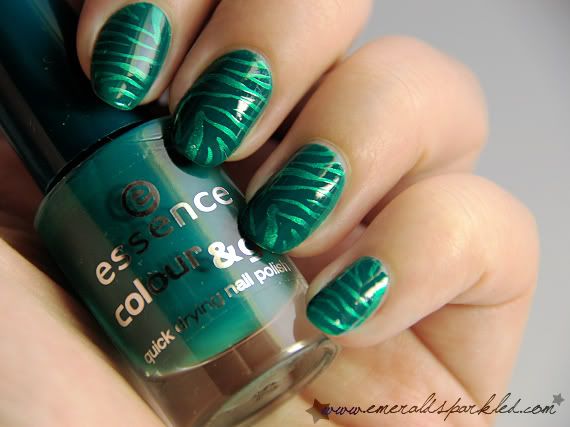 Essence Trust In Fashion, Flor Mar #50 & m57
I also have the other Supershine metallic-shimmery polishes that recently came out, but the images I stamped with them are subtler. They also dry shiny, whereas #50 dries matte, like a chrome polish.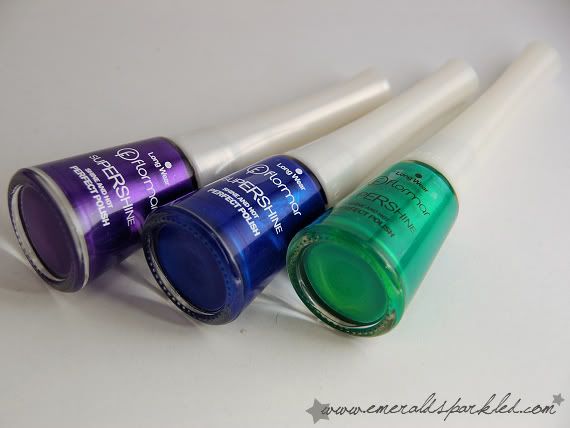 Flor Mar #48, #47 and #50
I hope you like my jungle zebra =) Have a great day!
Bu arada yorum kutusu kaybolmuş şimdi de, Blogger'da çalışan bir salak veritabanını mı ezdi son zamanlarda ne yaptı bilemiyorum ama üst üste bir sürü saçma sapan şey oluyor. İlk fırsatta yorumlarınıza cevap vereceğim =)
Herkese selam =)
Dilek
ve
Nemo Latte
'nin bloglarında bahsettiği gibi, Flor Mar Supershine yeni ojeler kiosklara geldi. Benim gözüme çarpan ojeler arasında
Supershine #50
de vardı. Fırça çizgisi oluşturmamasını umarak aldığım, sedefli-metalik arası bitişe sahip bir oje; rengi ise muazzam bir tropik yeşil =) Rengin hastası oldum, ve Flor Mar'ı bu cesur renkten dolayı tebrik ve takdir ettim. Supershine #50'yi bir parça kağıt üzerine sürdüm ve şaşkınlıkla ne kadar opak olduğunu gördüm. Aklıma hemen bu oje ile konad yapılma olasılığı geldi, ve denediğim zaman siyah da dahil olmak üzere birçok renk üzerine net bir şekilde gözüktüğünü gördüm. Resmen rüya gibi, tropik yeşil bir damga ojesi =)
Ben de m57 diskindeki zebra desenini
Essence Trust In Fashion
üzerine damgaladım. Trust In Fashion oldukça koyu, yeşile çalan teal bir krem oje. Renk Essie Going Incognito'ya benziyor, fakat onun çok daha canlı hali. Kamera tam yakalayamıyor böyle renkleri ne yazık ki...
Yeni gelen bu tarz metalik gibi ojelerden mavi ve mor olanını da aldım, fakat onlar bu oje kadar net çıkmadı. Yine de onlarla da oluyor, alırken bu özelliklerini göz önünde bulunduabilisiniz =) Ayrıca onlar normal kururken, #50 mat bir şekilde kuruyor.
Umarım balta girmemiş orman zebrası temalı manikürümü beğenmişsinizdir =) Hepinize iyi günler/akşamlar! =)