Remember the
Essie Turkey Best Combination Contest
I was talking about a while ago? Well, I was one of the two winners =) Today I received five bottles of polish from Essie, handpicked by me. I actually wanted to wait for the Braziliant Collection to arrive, but then I changed my mind and picked these instead: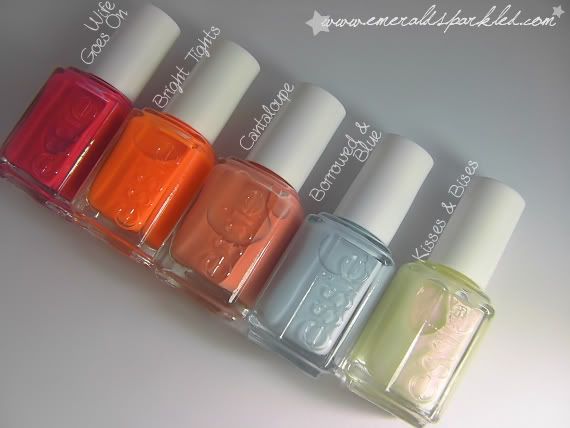 L-R: Wife Goes On, Bright Tights, Cantaloupe, Borrowed & Blue, Kisses & Bises
Do you remember me not wanting to get Kisses & Bises?
This picture by Kari Anne
totally changed my mind about it, and I was sure I needed it in my life. So glad I picked it, it really looks amazing over pastels and dark, murky colors =D
Today I have
Essie Bright Tights
on my nails. I thought it would be more opaque, but it's actually quite sheer. This is three coats over white. My white was quite streaky, and Bright Tights is quite streaky, too. The end result - a cuticle drag fest. Next time I'm going to try this over a better white. And believe me, Bright Tights needs a white polish underneath. If you don't use white, it will never be opaque. Been there =)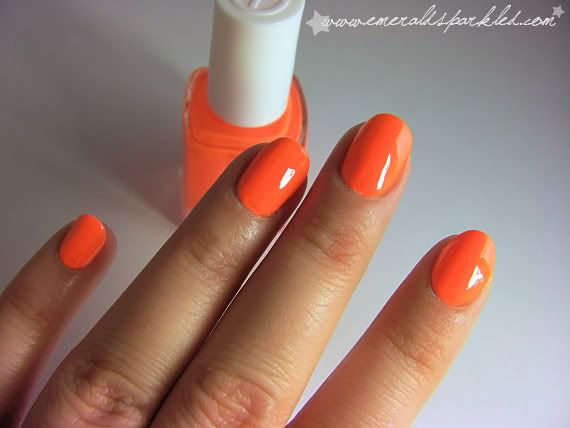 Essie Bright Tights, 3 coats over white
I also took some fancy pictures using my brother's blue LED, just to show you how intense the neon effect can be. Please proceed with caution, as the pictures may damage to your retinas permanently.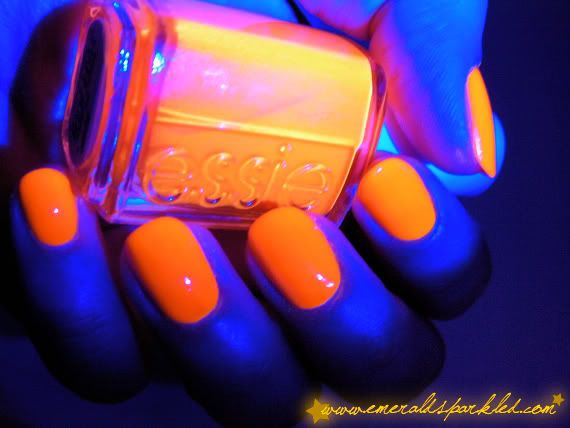 Essie Bright Tights, taken under blue LED
Doesn't it look like I'm holding something radioactive in my bare hands? It's so glowy.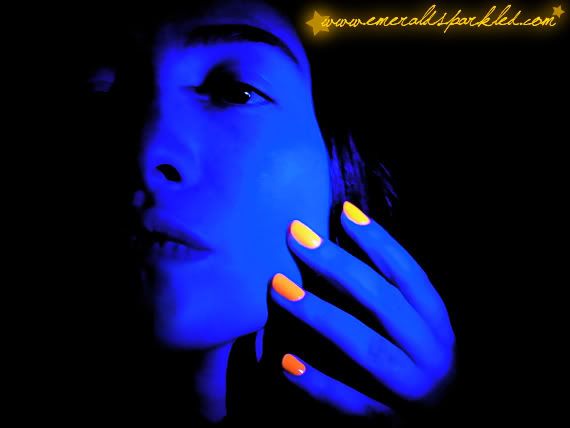 Essie Bright Tights, taken under blue LED
This one makes me think of Warhol =)
I really want to wear this to a club now!
Hani
Essie Turkey Kombinasyon Yarışması
'ndan bahsetmiştim ya? Kazanan iki kişiden biri ben olmuşum =) Bugün Essie'nin hediyesi olan 100 TL değerinde ojelerim geldi. Anneler Günü indiriminden de yararlanarak 5 oje seçtim. Aslında Braziliant koleksiyonunun gelmesini bekleyecektim, fakat sonra karar değiştirdim ve resimde gördüğünüz ojeleri aldım.
Soldan Sağa:
Wife Goes On, Bright Tights, Cantaloupe, Borrowed & Blue, Kisses & Bises.
Kisses & Bises benim tarzım bir oje değil, almayı düşünmedim demiştim, hatırlıyor musunuz bilmiyorum.
Kari Anne'in bu resmi
fikrimi tamamen değiştirdi ve kesin olarak almaya karar verdim. Birkaç oje üzerinde denedim şimdilik, pasteller ve koyu, kirli renkler üzerinde aynı derecede harika duruyor =)
Bugün tırnaklarımda
Essie Bright Tights
var. Ben şahsen bu ojenin biraz daha opak olacağını düşünmüştüm, fakat oldukça şeffaf yapıdaymış. Beyaz üzerine üç kat sürdüm. Beyaz ojemin yapısı çok kötüydü, sürükleniyordu. Bright Tights da aynı şekilde çabuk sürüklenen bir oje olduğu için, tırnak diplerinde çok fazla açıklık oluştu. Bu yüzden bir dahaki sefere daha düzgün bir beyaz oje üzerine süreceğim. Bu arada neon ojelerin altına, eğer bir de opak olmuyorsa, mutlaka beyaz oje sürmenizi tavsiye ederim. Hem renk patlayacak, hem de tırnak çizginiz belli olmayacaktır böylece.
Kardeşimin meşhur mavi LED'ini kullanarak bazı resimler çektim, neon etkisinin ne kadar güçlü olabileceğini göstermek için. Dikkat edin, retinalarınız kalıcı olarak yanabilir.
Sanki elimde radyoaktif birşey tutuyormuşum gibi gözükmüyor mu?
Son resim de bana biraz Warhol resimlerini hatırlattı =)
Sanırım hakkını vermek için bunu sürüp bir club'a falan gitmem gerekiyor =D
Bu arada
Essie Turkey
'e hediyeler için çok teşekkür ederim, çok cömertsiniz =)