After yesterdays mani, which frustrated me a bit, I did another mani and I was pleased with it. It started off as blank OPI Chick Flick Cherry, 3 coats. I could have probably gotten away with 2, though.
Taken with flash: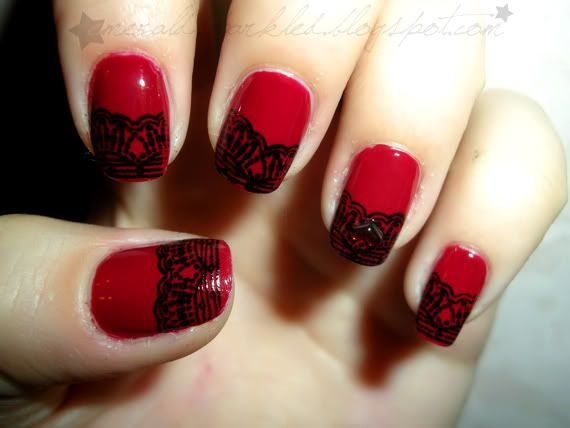 Then I stamped the tips with special black polish and lace design from m71. This is my first time using this plate, I always save things I love for better times =) Sigh... Anyway, it turned pretty decent, as I'm getting the hang of aligning the designs horizontally. Then I decorated my ring fingers with red heart rhinestones. I wanted to add a golden fishnet design to the bottom, also from m71, but the pattern is so tiny, that it dried in a milisecond and didn't wanna stamp. Normally it would, but I used China Glaze 2030 for the stamping, and I had to align it so that it wouldn't overlap the black tip design, and that took me a couple of seconds which made such a delicate design unable to transfer. So I switched to m74, and tried it with the blossoms.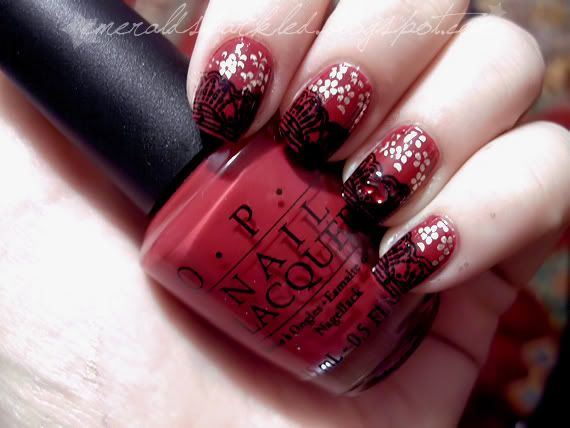 Some blossoms are not whole, I know, but working in a tight space, not trying to overlap, makes stamping more difficult =) And they don't draw too much attention on the nail.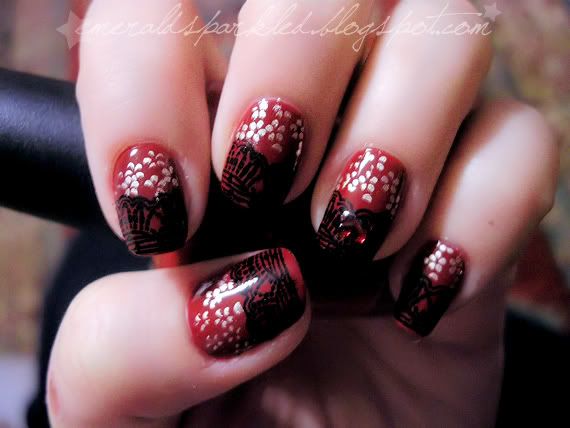 I really like my mani this time, so it's going to stay until it chips =)
By the way, I just realized that the color combination is just like
powerlifterchick
's
Asian inspired manicure
! OMG, talk about subliminal! (I loved that mani very much =)))