This is one of the rare times where I didn't love a China Glaze polish as much as I expected. When I first saw pictures of Meteor Shower, I wanted it so badly that it literally hurt. (lol =) But it's much thicker than I expected, and looks kinda lumpy on the nail. Maybe I applied badly, it's nighttime here and maybe I could have applied it thinner and more even. Of course I love the color and the glitters, and would never toss it aside like I did with China Glaze Tantalize Me (ew!), it's actually a lovely polish. Finally I decided to mattify it to make it even. I used China Glaze Matte Magic and I like the result, my nails look like sparkly dark blue stones.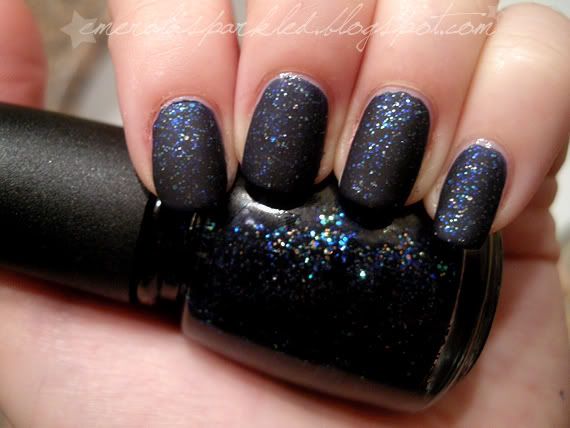 It felt kinda lonely, and I stamped it using plate m59 and China Glaze Metallic Muse. Does anyone have tips on how to stamp the ribbon images well? They are kinda too big for my fingernails. The only option seems like stamping them diagonally, but that woud be when I have them longer.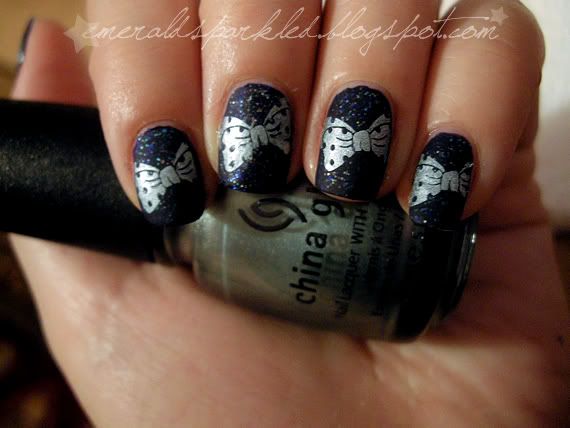 Not too horrible. This is without another topcoat, the khromes look even better without one.
After yesterdays manicure brainstorming, I'm out of all ideas. I open my drawer and just stare at polishes, unable to decide what to wear. I love other people's manicures and wanna copy some, is it considered as idea theft? =)
Btw, please vote on my poll regarding watermarks. Thanks =)